Now, MGR in an animation film!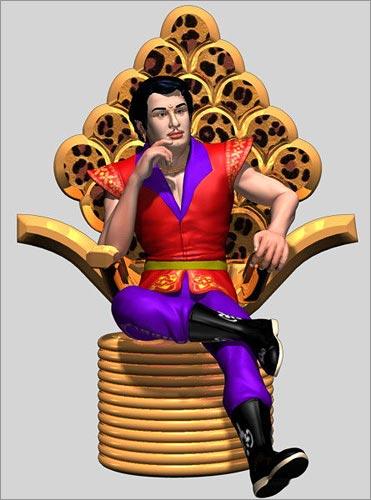 Tamil superstar Rajnikanth [Images] may just lose to a legend from the same industry. We're talking about M G Ramachandran who is all set to appear in an animation movie, perhaps even before Rajnikanth's first animation film Sultan, the Warrior.
After MGR first acted in films, two generations of actors have come to rule Tamil cinema but that has not diminished the aura that surrounds the man who later became the Chief Minister of Tamil Nadu. More than two decades have elapsed since he passed away but his name still exudes charisma and mystique.
How else can one explain the excitement that surrounds the animation film Puratchi Thalaivan, with MGR as the hero that is made for today's generation?
The animation is the second project of Mayabimbham Media (their first was a 3D Tamil animation film titled Inimey Naangathan V4 released in September last year. Ilaiyaraja, Valee, B Lenin, Sivasankar and Valee were part of it).
Puratchi Thalaivan (a title that was given to MGR), which is also in 3D, is being directed by Venky Baboo and produced by Sridevi [Images] Rao for Mayabimbam Media Private Limited.
While Inimey Naangathan was made on a budget of Rs 4 crores, Puratchi Thalaivan is expected to be a comparatively big budget venture. The film will have a running length of 100 minutes.
The trailer of this animation film will be showcased on January 17, Puratchi Thalaivar's birthday.
Though the makers of Purtachi Thalaivan have not finalised the technicians, they are sure that the animation film will be as entertaining as his original films. But they want the fans of MGR to keep guessing who the heroine would be! Will it be Saroja Devi, or Jayalalitha or Latha? Or, will it be Trisha [Images], Nayanthara or Shriya?
Text: Shobha Warrier
Email |
Print | Get latest news on your desktop