Home > Movies > First Look

Inimey Nangathan: A cool Tamil animation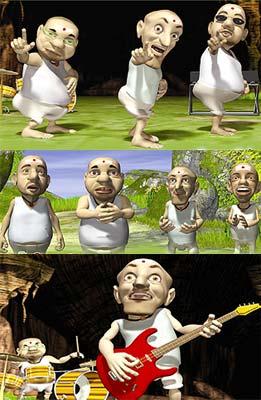 Vochu, Varathu, Vaithi and Govind are four friends and Kathakalakshepam (the traditional way of story telling in villages) artistes.
They want to become rich and famous. An old lady advises them to meet a Swamiji who, she tells them, would help them achieve their ambition. The Swamiji agrees to help them but on one condition -- they should retrieve a holy necklace from Rakshasas who live in a cave.
The four friends set out to the cave where they meet a colourful character from the sea, a dancing fakir, a gold palace, and of course, the Rakshasas too.
No, this is not a tale from Panchatantra. It is a story by S Venky Babu, called Inimey Nangathan.
Inimey Nangathan is a 3D Tamil animation movie. According to Nag Ravi of Asian Sky Entertainment, who is the worldwide distributor of Inimey Nangathan, the film is at par with any such movie made elsewhere in the world though "it is a 100 percent local product."
This will be the first film to be released in analogue, digital, IMAX and 3D versions.
As the story is about four Kathakalakshepam artistes, music is an integral part of the film. Ilayaraja composes the music; lyrics are penned by Valee. Ilayaraja also sings in the film.
The 96-minute film will release in Tamil Nadu by the end of this year.
Text: Shobha Warrier


What do you think about the story?








Read what others have to say:





Number of User Comments: 1








Sub: Super cool effort

Guys congratulations on coming up with an innovative product, hope it is as good as my expectations are. I appreciate your idea of breaking out ...


Posted by Sameer






Disclaimer