Home > Movies > Columns

Remembering Smita Patil

Dinesh Raheja | December 13, 2006 16:09 IST



Today, when a Chitrangada Singh, a Smriti Mishra, a Seema Biswas or a Vidya Malvade, catches one's attention for her earthy sensuality and her keen sensitivity, it instantly brings forth images of their precursor, Smita Patil.

 

Today, when an off-beat film rides to fame on the current multiplex wave, it owes its debt to Smita Patil for being part of the quartet of actors (alongside Naseeruddin Shah, Shabana Azmi and Om Puri) who nurtured and cherished the art movement in its nascent stages in India.

 

Today, when any feminine character forges her own identity in Hindi cinema, it seems to reverberate with some echo from Smita's haul of strong-woman performances. And you wonder how the actress would have interpreted the role.  

 

Today, 20 years after she passed away due to complications from child birth on December 13, 1986, Smita Patil remains strikingly relevant.

 

Perhaps the word that describes Smita best is 'intense'. It is this blowtorch intensity which brands her forever into the minds of those who see her best films -- albeit even years later on DVD. There was so much that was quintessentially Smita. She had that rare blend of inner strength overlaid with outer frail femininity. One never predominated the other. Her dusky, aboriginal beauty helped her tremendously as an actress; but finally it was her ability to emotionally penetrate her characters that marked Smita as one of the best actresses Hindi cinema has ever known.

 

Smita before films

 

Born to idealistic parents, Smita grew up wanting to make a difference. Conventionality was not her long suit. While still graduating from college she took on the job as newsreader on Mumbai television. Even then, she would pay heed to the rules but give them her own spin. Smita would wear jeans to the studio, but just before a telecast, wrap a saree over her upper body.

 

Smita won attention even on television. She was dusky but Indian society was emerging from its stereotypes. Commercial cinema sultan Manoj Kumar says he saw her on TV and predicted that 'this girl would be a very major actress one day.'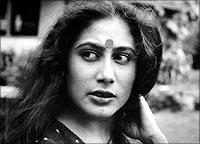 The first seven years of pure art cinema
Drawn to the visual arts, Smita made her debut in Shyam Benegal's childrens' film, Charandas Chor  in 1974. Fortunately for Smita, she entered films at a time when there was a struggle brewing against the shackles of commercial cinema. And Smita found she fitted right into the new idiom espoused by a select few.  
After Shyam Benegal had tested her with a supporting role in Nishant (1975), he cast her in the lead in Manthan where Smita seemed to merge right into her character of a rustic woman. But her tour de force came with Benegal's next film, Bhumika (1977), in which she portrayed a troubled actress. She won the National Award and the film established the arrival of a formidable talent.
Smita actively supported the art film movement. She was willing to act in unconventional regional films too and the result was some fine cinema like Jait Re Jait in Marathi and Bhavni Bhavai in Gujarati.
But while Smita had her own following among filmmakers, she felt hurt that certain art film directors did not cast her because she didn't have the reach that came with commercial films, something Smita had thus far stubbornly refused to do. So after remaining faithful to art cinema for seven long years, Smita went about creating a name for herself in Bollywood.
Smita's balancing act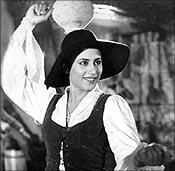 For years, mainstream superstars like Amitabh and Vinod Khanna had been lavish in their praise for Smita. Powerful scriptwriters Salim-Javed had tried to get her to act in their films. Smita finally relented in the early 80s and was flooded with films.
Namak Halal
and
Shakti
(both 1982) were opposite Amitabh Bachchan (she was part of the original cast of
Silsila
too) and these films immediately put Smita in the A-list.
But Smita was sadly indiscriminate in her choice of films -- and the 80s was when Hindi cinema was churning out a lot of dross. Smita's work in many of these films was erratic, but true to her nature -- each performance was from her heart.  
The Shabana factor
Shabana and Smita were sisters under the skin who felt the same way about a lot of things, but there was an undercurrent of sibling rivalry, heightened by the constant comparisons made between the two.
Smita's first feature film Nishant itself pitted her against her senior Shabana. In the art film world they became direct competitors. After two films with Shabana, Benegal made two with Smita in the lead. In this either-or situation, friction was obvious. Smita won her second National Award before Shabana; then Shabana won three in a row. So it went on. It carried into the commercial world. Both were favourites with Rajesh Khanna. But Shabana had never been cast opposite Bachchan till Smita was alive, and so people felt that Smita had stolen a march there.
In their films together, Mandi and especially Arth, it was presumed that Shabana had won the round. In his bid to exorcise his personal demons Arth director Mahesh Bhatt told the story from the wife's point of view, but Smita's performance too came in for its share of praise. However, Shabana and Smita never worked together again.
In retrospect, pitting the two against each other was like finding a first among equals.
The people's person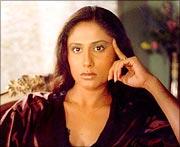 Smita personal beliefs were reflected in the movies she chose. She played strong but all-too-human women who make tough life choices in a variety of movies like
Umbartha
(and its Hindi version
Subah
),
Ardh Satya
,
Aaj Ki Awaaz
,
Akhir Kyon
and especially the wonderful
Mirch Masala
, in which she stands up to male tyranny with a handful of well-directed red pepper powder.
Her marriage to the already-married
Raj Babbar
made many fans question her actions. Yet she remained well-liked. I remember the time she didn't like the fact that a lady journalist was standing and sportingly shared her chair. Her friends in the industry called her Smee. From Jaya Bachchan to contemporaneous firebrands like Amrita Singh, they cheered her awards, and she was honoured with a prestigious retrospective at the Cinematheque Francaise.  
Bollywood also admired her grit -- for taking part in a film industry morcha and walking in the sun when she was eight months pregnant.
But all too soon, tragedy struck this actress' life. The industry was hosting a grand event called Hope 86 in December, 1986; the fateful night became a vigil for some when news filtered in that Smita was fighting for her life in a hospital.
Smita passed away that night, but her work continues to live on.


What do you think about the story?








Read what others have to say:





Number of User Comments: 5








Sub: stars who died young

where's divya bharti? she died youngest - at the age of 19.


Posted by obs









Sub: Actress with Commitment

I always admired and appreciated her acting. She had a special charism of blending traditon, innovations, right values, art and emotion in her film carrier. ...


Posted by Fr. Chacko









Sub: Smita Patil

My family has enjoyed watching Smita Patil's movies. She emoted so beautifully, very realistic acting. India lost a great actress when she passed away. Our ...


Posted by Radha Kottoor









Sub: One of the finest actress !

Smita Patil has always been one of the finest actresses the Hindi film industry has ever had !!


Posted by Sangeeta









Sub: Well written article

Hi Your article remembering Smita Patil is really very well written highlighting the actres's achievements and her performances. I also appreciate your comparison between Smita ...


Posted by Pavan






Disclaimer