Is Shah Rukh Khan feeling insecure?
One can't help but wonder why the actor needs to release a DVD on his life, called The Inner And Outer World Of Shah Rukh Khan.
The official reason is that it is an interesting concept and people would love to know more about King Khan. It could even be a collector's item.
But rumours circulating in the industry suggest that Shah Rukh is suddenly feeling left out this year.
His only 2005 release, Paheli, bombed.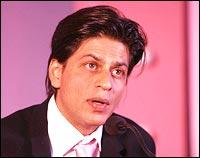 His new endorsement, Lux, may have backfired, as his fans feet he should have not done the advertisement. SRK in a bathtub full of rose petals is not a very macho picture. 
He has no other release this year, and so does not want to fade from public memory. Answer: DVD.
Another rumour doing the rounds is that SRK is feeling threatened by Saif Ali Khan. The Chotte Nawab is clearly making inroads into the Yash Raj camp, and is doing another film with them while the original favourite, SRK, has none with them.
Shah Rukh did clarify in an interview recently that there were no differences between Yash Chopra and him.
Maybe true, Shah Rukh. But can be there be smoke without fire, is the question doing the industry rounds...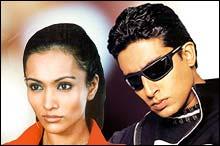 Poor Journos!
There were strong rumours that Abhishek Bachchan would attend Ekta Kapoor's Koi Aap Sa party. After all, the film stars Dipannita Sharma, his alleged girlfriend.
For those who don't know much about Dipannita, here is some info about her. She started her acting career with Mani Shankar's December 16 in 2002 and was last seen in Onir's My Brother Nikhil.
A model, she has yet to make a mark as an actress.
Alas, everyone waited in vain for Bachchan Jr at the party, as he did not make his appearance at all.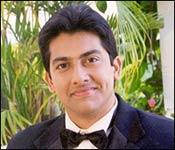 Aftab Shivdasani: A superstar?
Whenever you meet Aftab Shivdasani at press meets, he appears busy. He tells the interviewer to be short and crisp.
At Ekta Kapoor's Koi Aap Sa do, Aftab, who plays the lead in the film, was seen throwing tantrums.
It's high time he learnt some etiquette, otherwise the little attention he gets from the media will also disappear.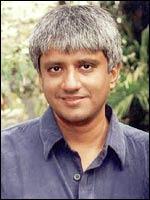 Is Vikram Bhatt running out of ideas?
There was a time when Vikram Bhatt was considered to be a hot shot director. But after giving five consecutive flops in three years, the director is now banking on a film based on his life. 
We have been told that the film deals with his alleged affair with Sushmita Sen that broke his marriage.
But this sounds unfair, Vikram. If things aren't working for you professionally, why bring your personal life on celluloid?
And what about Sush, does the film have her approval?
Or else, he may have to quote the famous line: All's fair in love and war.