Home > Movies > Southern Spice

Raasi plays vamp, rockets to the top

Vijayalakshmi | June 10, 2003 12:43 IST



Raasi is one of the most sought-after actresses in the Telugu film industry, thanks to the oomph she displayed in her latest release, Nijam.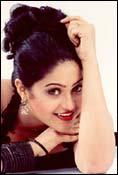 The former child artiste, who played the vamp in Nijam, rose to fame with Subakanshalu. She was labelled 'traditional' after Gokulamlo Seetha. But later hits like Snehithulu, Pandagah, Devulu and Gilligajalu proved her mettle as an actress. She also played a snake goddess in Trinethram.
When Raasi's career started taking a nosedive, she took to doing item numbers in Tamil films like Samudram.
Teja's Nijam gave her career a much-needed boost. "I shed over 15 kilos for the role," she claims proudly.
No one knows why she decided to accept a negative role. But her gamble has paid off and she has signed Sriramachandrulu, opposite Rajendra Prasad.
Palnati Brahmanaidu totters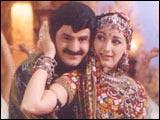 Despite a good opening, Palnati Brahmanaidu is tottering at the box office. The film, which was sold for more than Rs 20 crore (approximately US $4.26 million), released in over 300 theatres in Andhra Pradesh.
"Buyers could lose over 50 per cent on their big investments," said a trade analyst.
On the day of its release, some morning shows were cancelled, thanks to the late arrival of prints. Producer Metikonda Muralikrishna could not release them on time since Telugu and Kannada distributors -- who had lost money on his earlier films -- demanded repayment. He was forced to reach an understanding with them.
Palnati Brahmanaidu is the first flop from actor Balakrishna and director B Gopal. The duo had earlier delivered four big hits -- Lorry Driver, Rowdy Inspector, Samarasimha Reddy and Narasimha Naidu.
Gunasekar, Mahesh return with Arjun
After the superhit Okadu (Mahesh Babu, Bhoomika Chawla), the Telugu film industry waited for director Gunasekar and Mahesh to team up for another film.
This one, called Arjun, attempts to recreate Okadu's magic. Shirya plays Mahesh's girlfriend in the film. It has been produced by Mahesh's brother Ramesh and its music has been composed by Manisharma.
Okadu was the second highest grosser in the annals of Telugu cinema. The film was about a kabaddi champion (Mahesh), who rescues a girl (Bhoomika) and lets her stay in his room secretly.
The film was a welcome break for Mahesh, who needed a hit after having delivered duds like Bobby. Gunasekar, known for his crisp and innovative song picturisations, also silenced his detractors with this mega hit.
Incidentally, Mahesh's previous film Nijam (Taluri Rameshwari, Raasi) was a damp squib at the box office. He hopes to erase the memory of that failure with Arjun.
Sriram, Aarti Chabria team up
Tamil star Sriram will make his Telugu film debut under the noted Anandi Arts banner. Bollywood actress Aarti Chabria (Awara Paagal Deewana) plays his love interest in the film.
"It is quite challenging to do a multi-dimensional role," says Sriram. He thanked producer Kiran and director Rasool for waiting for his dates since they felt he 'suited the role'.
Sriram's Tamil film Rojakuttam, which released recently in a dubbed Telugu version Rojapoolu, bombed at the turnstiles.
The actor, who rose to fame with hits like April Matham and Parthipan Kanavu, is determined to make a place in his home state with his 'performance-centric' role. He added that he would concentrate on choosing solid roles in the future.
Ramya Krishna's second innings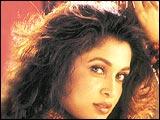 Ramya Krishna is back in the Telugu film industry. This time she stars in a film opposite Srihari and will also do an item number with N T Rama Rao Jr in Simhadri.
The sultry actress, who ruled the roost with hits like Allari Mogudu, Allari Priydu, Alluda Mazaka and Hello Brother, was the Telugu film industry's uncrowned glamour queen. Her roles as a goddess in Ammoru and a possessed lover in Ayanaki Iddaru won her much appreciation.
She also played a goddess in her last hit, Devulu, before shifting to Tamil films.


What do you think about the story?








Read what others have to say:





Number of User Comments: 9








Sub: sreekanth

while he started his career in tamil his original name was srikanth. when hi started his career in telugu he changed his name because in ...


Posted by ramesh









Sub: Wrong photo

The photograph of cinematographer P.C.Sriram is wrongly identified as actor Sriram(Srikanth in Tamil).Why does rediff keep making such mistakes when it comes to South Indian ...


Posted by Ajay









Sub: Raasi

Madem Samudram is the telugu film where rasi did an item number. she also did an item number in seenu. you looks like have half ...


Posted by sriatluri









Sub: Rassi

The rolse raasi played in the film Nijam is very disappointing. Temporarily she may appear to be gaining. But in the long run it won't ...


Posted by Vasu









Sub: Great Goof Up

The actor who acted in Rojakottam and Parthiban Kanavu was Shrikant and not Sriram. Also you have the photo of P.C.Sriram who is a cinematographer ...


Posted by Rajesh






Disclaimer