Apple is hoping to assemble in India 25 per cent of all iPhones produced globally to reduce its heavy dependence on China.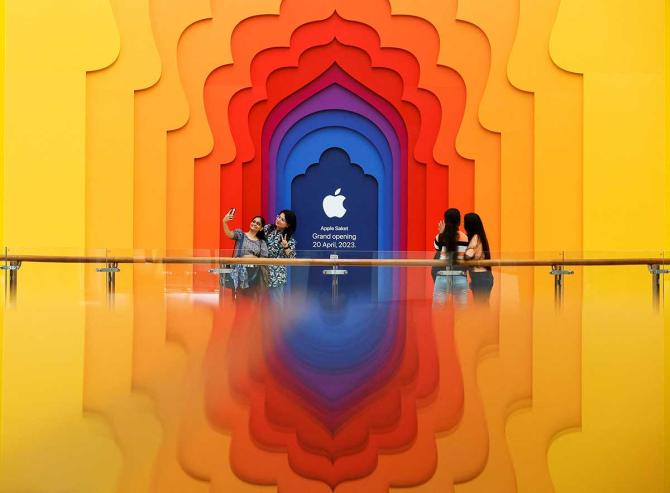 Can Apple Inc become for India what Samsung is to Vietnam in the mobile devices export sweepstakes?
For Samsung it has been a long haul -- starting from 2009 when the Korean major decided to slowly shift manufacturing operations from China till it moved out completely in 2019.
That strategic decision transformed Vietnam into Samsung's mobile device assembly hub, investing $18 billion in factor­ies, supply chains and R&D.
Vietnam, which also liberalised a range of policies to accommodate foreign direct investment, catapulted itself to become the world's largest exporter of mobile phones after China.
Apple Inc has regularly been hitting the headlines as it expands its operations in India, but the question is whether the tech giant can replicate what Samsung has done in Vietnam.
The conglomerate is hoping to assemble in India 25 per cent of all iPhones produced globally to reduce its heavy dependence on China.
Consider the reality. In 2022 Samsung's exports from Vietnam were $65 billion, of which mobiles and parts accounted for the bulk.
This has helped Vietnam push its total electronics exports to $115 billion (of which mobiles accounted for $59 billion), implying that Samsung accounted for more than half the Indo-Chinese nation's overseas sales in this category.
Direct comparisons with India are difficult because New Delhi started its exports push later, principally under the government's signature production-linked incentive (PLI) scheme for mobiles, which began in FY21.
Apple's three vendors -- Taiwan-based Pegatron, Wistron and Foxconn -- are an integral part of the PLI scheme.
In other words, Samsung has a 15-year head start in Vietnam.
That is why India's exports of mobile phones in FY23, though impressive, pale in comparison.
The figure is just one-fifth of Vietnam, and Apple's value of exports is not even a tenth of Samsung's overseas sales from that country.
The contrast in the depth of association between each global mobile device giant and the respective country of investment is even more palpable.
Vietnam accounts for half of Samsung's global mobile phone production. India accounts for 7 per cent of Apple's global production.
The Korean company has already invested $18 billion; Apple's three vendors have put in over Rs 3,000 crore (Rs 30 billion) as stipulated under the PLI scheme, though new investments have been announced like $300 million in Karnataka.
In terms of localisation of sup­ply chain, Samsung is far ahead in Vietnam and built up its domestic networks bit by bit.
Over a decade, the Seoul-headquartered chaebol created a domestic supply chain that includes 50 home-grown tier I suppliers (in 2014, Samsung had just four and that too only in paper packaging).
So far, Apple has only developed the Tata group as its first domestic supplier. That slow pace is partly because Apple takes three to five years to develop a local supplier and does not prefer shortcuts in the development process.
According to a spokesperson of the Indian Cellular and Electronics Association, the policy focus in India should now be on narrowing this gap over time. But can the gap between Apple in India and Samsung in Vietnam be bridged more quickly and comprehensively?
One test case is clearly FY26, the last year of the PLI scheme for mobiles.
The government's ambition is that by this financial year India would have a vibrant electronics production of $300 billion, of which mobile devices would be 40 per cent (or $120 billion).
Exports of mobile phones alone are expected to hit $50 billion by then.
Clearly Cupertino, California-headquartered Apple and its vendors will have to play a big role in reaching this target.
It is expected to export 70-80 per cent of the $20 billion-$25 billion worth of phones made in India. But the government export target of $50 billion in FY26 has been surpassed by Vietnam in 2022.
And even if Apple achieves its target, it will still be less than half of what Samsung already exported in 2022.
Also, the exports in FY26 look difficult to reach because both home-grown players and the Chinese brands have failed to deliver on their export targets.
Many analysts say the eventual test for Apple would be whether it pushes the pedal even further, especially after FY26 by shifting iPhone capacity more quickly to India. But it is also building Vietnam as an alternative assembly destinat­ion with iPad, wearables and also MacBook production.
How fast it moves in India will depend on how the government negotiates certain issues, tariffs being a key one.
Vietnam has one of the lowest tariffs for inputs plus the certainty that the ruling Communist government won't change its mind frequently.
A study of 120 tariff lines showed Vietnam's average tariff was at 5.7 per cent compared to India at 9.9 per cent, putting the country at a disadvantage.
Indian labour laws, in terms of hiring and firing, flexibility in shift schedules and permissions for women to work night shifts, also militate against greater productivity that multinationals need to service global supply chains.
For instance, an amendment to the Factories Act by the government of Tamil Nadu, which houses several Apple vendors, to offer factories the option to restructure working hours was hastily withdrawn following protests from trade unions.
In contrast, Vietnam changed labour rules to extend work hours.
How efficiently the Centre and state governments can lower these hurdles will determine whether Apple in India will do a Samsung in Vietnam.
Feature Presentation: Ashish Narsale/Rediff.com