Krithi Krithivasan is the kind of person one might look to when the need is to calm things down and put things back on track.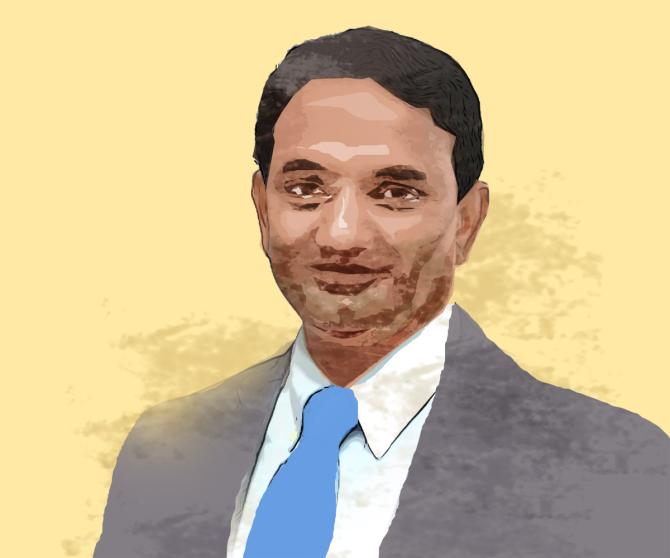 An apocryphal story -- it could be true -- says that during the leadership transition at Tata Consultancy Services (TCS) this year, someone who truly matters said the company had more than half a dozen people who could take charge as its chief executive officer (CEO).
This revealed three things -- a strong top team, a succession plan, and the significance of K Krithivasan's appointment to he top job.
Krithi, as the new CEO and managing director, is universally known (even his profile on the TCS Web site refers to him this way), had been heading the BFSI vertical -- short for banking, financial services, and insurance -- which brings in more than a third of TCS's revenues.
That would have counted. What must have also counted is that Krithi, who joined TCS in 1989, is the kind of person one might look to when the need is to calm things down and put things back on track.
He is known to be measured, down to earth, and someone who stands by his team. Above all, he is seen to have strong people skills.
Not surprisingly, his first e-mail to employees after assuming charge as the CEO on June 1 said: 'I have had the opportunity to work with many of you and built long-lasting friendships which I cherish the most.'
The surprise came in an internal e-mail on July 29 after he completed nearly two months as the CEO.
The e-mail said the company would have a new operating structure based on verticals (see: Verticals Strike Back).
This meant reorganising the structure Krithi's predecessor, Rajesh Gopinathan, had announced in April 2022.
Gopinathan tried to move away from the vertical focus. He announced a new structure with three groups -- a relationship incubation group that looked at small deals, an enterprise growth group looking at mid-size deals, and a business transformation group that looked at large deals.
Curiously, Krithi, when asked if he was going to make structural changes, had earlier told journalists: 'It is a continuum. It's not that as every CEO changes, we come up with a new strategy or new set of priorities.'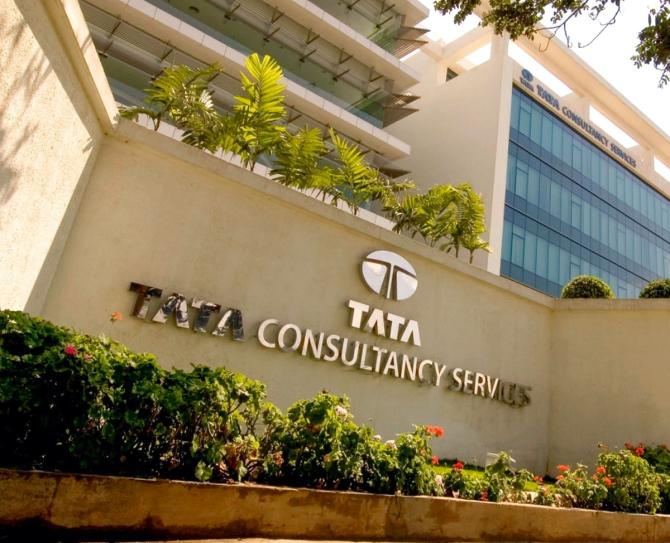 So, what really happened?'
It seems the latest reorganisation had been in the works for some time.
"The discussions were going on for more than a year, as the macro-environment had changed drastically. Besides, a lot depended on customer feedback, to whom the industry focus matters," says a senior TCS executive who does not want to be named.
Other insiders say the target of being a $50 billion company is something that is very much a focus and a target for TCS.
In 2022-2023, TCS generated $27.9 billion in revenues with more than 600,000 associates across 50 countries.
"Looking at the current macro, there is no room to look at a strategy that will disrupt the growth opportunity. Getting back to the industry focus is just the best thing now," says an insider.
The structure Gopinathan created last year had raised eyebrows. This was perhaps the first instance of a well-entrenched information technology services company moving away from verticals to a client-focused model.
Globally, IT services players work on a vertical-focused model, which allows them to pursue large deals and be close to the client.
"Vertical focus is the way to go as there is no pure-tech sales anymore. Sales is consultative and consulting-led. So, one needs domain knowledge," says Abhisek Mukherjee, partner, YCP Auctus, a management consulting firm.
"The latest structural change at TCS is a step in this direction aimed at adding the highest value to the customers with vertical domain knowledge," adds Mukherjee.
"I believe that TCS's scale and culture make a focus on small clients impractical," says Peter Bendor-Samuel, CEO of Everest Group, a research firm. "There is plenty of time and material available in large clients and TCS is well positioned to go after these."
"The smaller client market presents significant obstacles for TCS and they should focus where their strengths align," Bendor-Samuel adds,=.
Still, not everyone thinks Gopinathan's strategy was off. It is just that his timing may have been off.
"Had the global environment been stable, the earlier rejig of TCS would have worked as well. But, with the current macros, the vertical-focused structure works well," says Pareekh Jain, an IT outsourcing advisor.
However, Jain believes TCS might need to move to a new structure sooner or later. In a rising trend, multinational corporations are moving to the geography focus.
"You go deeper into a geography irrespective of verticals and get more deals from a geography," Jain adds.
An industry veteran explains that IT players have focused on creating domain specialists. However, he says: "The downside of the vertical system is that there is no cross-pollination or cross-selling."
Accenture, the world's largest IT services company, has reorganised itself according to three geographic markets -- North America, Europe, and Growth Markets -- instead of operating groups.
TCS's smaller rival, Wipro, has an operating model anchored in both sectors and markets. Its four strategic market units are: Americas 1, Americas 2, Europe, and APMEA (Asia Pacific and Middle East).
Americas 1 and Americas 2, the largest markets for the company, are still structured by sectors.
Europe and APMEA are structured by countries, with focus on identified sectors.
At TCS, though, Gopinathan's structure -- though people had begun to get used to it after working with it for more than a year -- reportedly made senior executives feel that they were losing control. Interestingly, Krithi's BFSI vertical was kept out of it.
Krithi, 58, is older than his three predecessors were when they got the top job: Gopinathan was 46 (he is now 52), N Chandrasekaran was 45, and S Ramadorai was 51. But, at a time of change, one won't mind looking towards a few grey hairs to calm things down.
Besides, when the time comes to change, TCS will not have to "come up with a new strategy or new set of priorities".
It can just go back to the Gopinathan model, which the company insists has not been undone.
Feature Presentation: Rajesh Alva/Rediff.com