'In the end, investing is about people.'
'If you get the right people, they make things happen,' Mengistu Alemayehu tells Shyamal Majumdar.
Illustration: Rediff.com/Dominic Xavier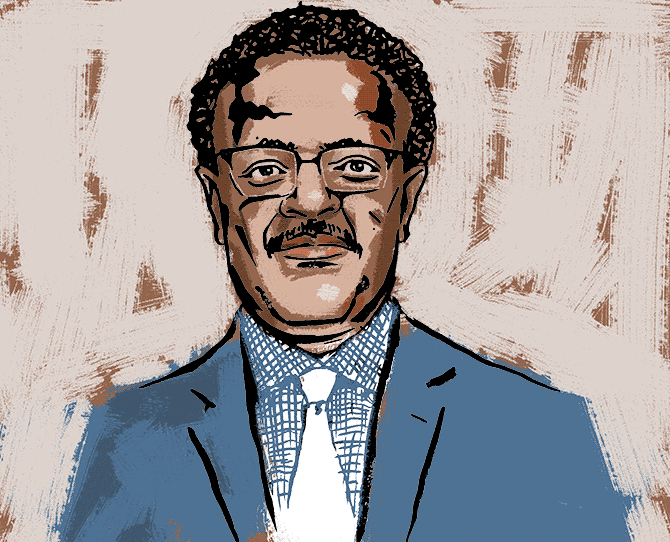 Mengistu Alemayehu says he has been to more countries than he can count, ("I know more than a hundred of them reasonably well"), courtesy his job at the International Finance Corporation.
By that yardstick, the 49-year-old bachelor has spent a long time in India -- close to three years as IFC's director, South Asia.
Though he stays in Washington, DC for 20 days a month even now, Alemayehu, who grew up in the mountains in Addis Ababa, says India -- Hindi movies, in particular -- is familiar territory. That's because of his Indian English teachers since Grade VI in Ethiopia.
Mother India is an all-time favourite, as are the movies of Dharmendra and Hema Malini.
Of late, he looks forward to Aamir Khan movies during his flights to other parts of the world. Isn't that a politically correct thing that every expat working in India loves to say?
Alemayehu replies in a deliberate, measured voice: "India reminds me a lot about my home country. I studied in a system that, much like India's, involved a lot of memorising and students getting squeezed at national-level examinations," he says, as we settle down in the farthest corner of the restaurant at the Ethiopian Cultural Centre in New Delhi's Chanakyapuri.
That's why he grabbed the opportunity of going to the US for a master's in business administration and a degree in international finance after a stint, right after college, as a special assistant to the education minister in Ethiopia.
He found the curriculum in the US universities easy as it was all about finding solutions and the teachers gave away the questions before an examination.
But food was another matter.
One of his biggest problems, when he landed in the US, was having to eat alone.
"Back home, I don't remember a single meal we ate alone. But in the US, I saw everybody eating alone. Your and my country are similar," Alemayehu says.
Lunch begins with a hot beverage, and Alemayehu orders a steaming ginger-honey-lemon drink for us.
"We will get a mix of veg and non-veg. I want you to taste them. What you like, we will get more," he says.
The chef, an Ethiopian woman, greets Alemayehu and they speak in Amharic, the dominant language in Ethiopia.
The result of that conversation is soon visible. Food arrives in a large, round, heavy, metal plate, probably brass.
The base of the plate is covered with a layer of what looks like a steamed chapati. On top of this layer are dollops of food, a lot of it look like lentils and salads.
Neatly arranged around the periphery is a number of rolls, which look to be of the same material as the base layer covering the plate.
There are two side dishes -- lamb and chicken -- in bowls.
True to the Ethiopian tradition, we are supposed to eat from the same plate, with fingers, not cutlery.
He explains that the chef has given us a little bit of everything -- spicy lentils, carrots, cabbage, beetroot salad, beans and chickpea.
Pointing to the rolls, Alemayehu says it is like chapati, and is called injera; but unlike chapati, it is steamed.
Back home, this is made from a grain called teff, which is like millet and high in fibre.
Here, they made it from a combination of rice, corn, and barley. It is fermented for a few days before being steamed.
I am also told that Ethiopian food has no sugar, very little oil, and no deep frying.
"This is how a family eats. And there are always guests. Since you are the main guest today, you get the egg and the biggest chicken piece," he says, putting them on my side of the plate.
Now I know why my generous host hates eating alone in the US.
He must be having enough like-minded people giving him company for his lunches and dinners in India.
IFC under him has been having its most productive years in the country: Last year (ended June 2017), Alemayehu invested close to $2 billion in India -- a record, and nearly double the previous year's figure.
In addition, there is a big advisory programme. This year, he is expecting to exceed that.
His investment philosophy is simple: Look at people who can solve a problem and make a difference.
"When you are solving a big problem, on a sustainable basis, money will come. There is no contradiction between value and sustainability. I have seen that all over the world," he says.
IFC got involved in India in microfinance during the Andhra Pradesh crisis. At that time, it would have been easier to break bread with the bigger players. But IFC looked at people who were focused on solving the problem of inclusion in this country.
That is why IFC chose to invest in Bandhan, which has given it super-returns post the recent listing.
Bandhan Chairman Chandra Shekhar Ghosh, he says, is not an easy guy to negotiate with, but his values are strong. He does not forget where he started and the village he came from.
"In the end, investing is about people. If you get the right people, they make things happen. There is a big difference between being smart and being clever. If people are not solving a problem we understand, chances are we will not work with them."
In India, after he came, IFC looked at the key development gaps the country has, how to prioritise them, where the private sector fits in and where IFC's experience, track record and orientation fit in.
That explains why he invested in BigBasket. The founders have a vision and are working at building the hard part of the business, the network. They are not chasing gross merchandise value.
BigBasket, he says, solves a number of problems in agriculture and food, logistics being one of them.
Byju's is another.
"Byju Raveendran (founder of Byju's) still thinks of himself as a student and is solving a huge problem India faces -- education, Alemayehu says.
Byju's has 8 million subscribers and he agrees it is not accessible to many poor Indian students. But that is where he has started, not where he has stopped and one of the discussions Alemayehu has had with Raveendran is how the cost for students can be lowered.
"We want to influence education in a way that it becomes relevant to the life of people," he says.
Would he like to take part in the restructuring of India's public sector banks? "Yes, yes, yes," is the response.
Privatisation, he thinks, is just one of the many solutions. There are State-owned banks in some countries that are doing very well, but their governance is independent and there are commercial incentives and accountability.
"Everybody runs into this ideological debate (about privatisation). But we need a comprehensive approach to tackle this, not a tunnel vision." Alemayehu says.
He gives an example. IFC was doing privatisation of the largest bank in Tanzania, called National Bank of Commerce. All sorts of vested interests attacked him.
He explained to the unions, 'If you guys continue this way, there will be no bank tomorrow. So, what's the fight about?'
To the borrowers, he said, 'There will be no bank to borrow from.'
It took a while, but IFC did it.
It was hard to convince the Tanzanians because the partners IFC was getting were South Africans.
In Africa, one has to manage some cultural things.
It's over two hours into our lunch, but Alemayehu isn't finished as yet.
One of his favourite pastimes in Delhi, as in other parts of the world, is to talk to ordinary people: Taxi drivers, street vendors etc as sometimes they are the most informed people.
What they want are jobs and efficient delivery of services.
"These are proud, dignified people, who work hard. They just want opportunities. They do not have complicated requests," he says.
After the food is finished, another round of the hot ginger-honey-lemon drink comes. We prefer it to dessert or coffee.
On our way out, Alemayehu gives me a tour of the museum near the exit gate. He stops in front of two photographs -- one of 'Lucy', a collection of fossilised bones that once made up the skeleton of someone who lived in Ethiopia 3.2 million years ago. It was the most ancient early human ever found.
The other picture is of a picturesque valley -- he grew up very close to the place. For once, he looks wistful.