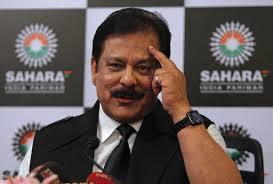 Despite burning its fingers in Mirach Capital, the Sahara group seems to have picked a controversial group for its 'last and final' chance to save itself from receivership.
A receivership is essentially a corporate bankruptcy in which a court appoints a person or entity to run the company.
Corporate and court records in India and Hong Kong showed Karan Ajit Judge and his firms had a chequered past.
They are expected to play a key role in raising thousands of crores to bail out Sahara chief Subrata Roy.
Sahara counsel Kapil Sibal told the Supreme Court on Monday Ajit Judge had agreed to help the group raise $975 million from its foreign hospitality assets and had inked a memorandum of understanding with Aamby Valley (Mauritius).
The latter is a Sahara group vehicle that has interests in three hotels -- London's Grosvenor house and New York's Plaza and Downtown.
Kolkata-based Judge was in the court when Sibal produced a letter from a Spanish bank, BBVA SA, that addressed Judge and Nouam and confirmed the arrangement.
A Reuters report from Madrid said BBVA had denied any such arrangement with Sahara.
Nouam Financial Consultants Ltd, a Mumbai-based firm in which Judge is a director, was incorporated in February 2014.
NFCL had an authorised capital of Rs 500,000 and a paid-up capital of Rs 100,000.
Judge's contribution to the latter was Rs 60,000. A Mumbai-based director, Bharat Mehta, contributed Rs 40,000.
In a recent filing on February 24, NFCL told the Union ministry of corporate affairs it had raised its authorised capital to Rs 2 crore (Rs 20 million).
That day Sahara had first told the Supreme Court about "three new plans" after a debt deal involving Mirach collapsed amid allegations and counter charges of fraud and forgery.
On Monday, amicus (an advisor to a court) Shekhar Naphade, had complained Sahara had not given full details of authorised and paid-up capital of Nouam.
In response to an e-mail on Judge and his entities, a Sahara spokesperson said, "They have a financial background and have a capability in executing such transactions.
"An independent law firm has verified the details and has done due diligence. Besides, they also have a global presence."
The spokesperson added Sahara had chosen this deal, among other reasons, because of the flexible terms and their taking care of the requirements with transparency, as compared with offerings by others.
All documents were vetted by an independent law firm and banks before being presented to the Supreme Court, the spokesperson said.
Asked about the low capital base of the local firm, Sahara said "the transactions are being handled by Nouam, headquartered in Hong Kong, and with a paid-up capital of 100 million Hong Kong dollars (Rs 80 crore), and not by NFCL."
E-mails sent on Tuesday to NFCL and its Hong Kong counterpart did not get a response.
According to Hong Kong corporate registry records, the Hong Kong firm has had three name changes in the past five years.
At the time of the registration in 2009, it was Shalimar Appliances. A year later, Enosis.
In July 2014, Nouam. The latter had a paid-up capital of 100 million Hong Kong dollars and had another director called Preetika Shivpujan Chaubey. She was Judge's colleague on the boards of some Indian firms.
The website of Nouam described itself as a global financial services firm and listed "cross-border understanding to service global customer needs, strong industry focuses, 200-plus man-year of experience in devising specialised product suites" among its key features.
It listed two Indian deals in its news column. Both took place in December 2014.
One read, "14/12/2014.
"NFCL joined hands with a major pharmaceutical company based out of northern India for debt-cum-equity participation".
The registered address of Nouam, on its website and on the Hong Kong company registry matched the registered address with its company secretary firm, Akin Professionals, appointed in November 2014.
The address: 20/F Champion Building. 287-291 Des Voeux Road Central Sheung Wan, Hong Kong."
Months before Shalimar Appliances became Enosis in October 2010, Judge became a director in at least four companies, which were named Enosis in India.
These were Enosis Mercantile, Enosis Consultants, Enosis Entertainment, and Enosis Constructions.
Of these, the construction and entertainment companies are in the process of being shut, according to MCA records. Apart from these, Judge was a director of VRSS Facilities Management Services since 2011.
While NFCL records did not show any fresh subscription to shares after a change in its authorised capital in February 2015, the company had filed a fresh memorandum of association (a key statutory document) that included activities such as "business as a financial advisor, procuring bank and institutional finance, including cash credit facilities, overdraft facilities, subscription of debentures and term loans, to assess the needs of short- and long-term credit facilities and raising of resources from India and abroad", among its main business aims.
In October, NFCL, based in a housing society in Mumbai's Khar (West) locality, had inducted Rajesh Karan Rai as one of its directors. Thirty-five-year-old Rai's address was in a chawl across the Western Railway line.
It read "TA-1-A, Dipajyoti Chawl, Jawahar Nagar pipeline Bhag 6, Khar East. Mumbai-51."
Court orders of Punjab and Haryana high court reviewed by the Business Standard had showed that in August, Judge had filed a bail application after summons from a lower court over a dispute involving Rs 71 lakh (Rs 7.1 million).
The application was later disposed after he paid a substantial portion of the disputed amount.
Image: Sahara chief Subrata Roy; Photograph: Reuters