And the reason has everything to do with box office collections, says Vanita Kohli-Khandekar.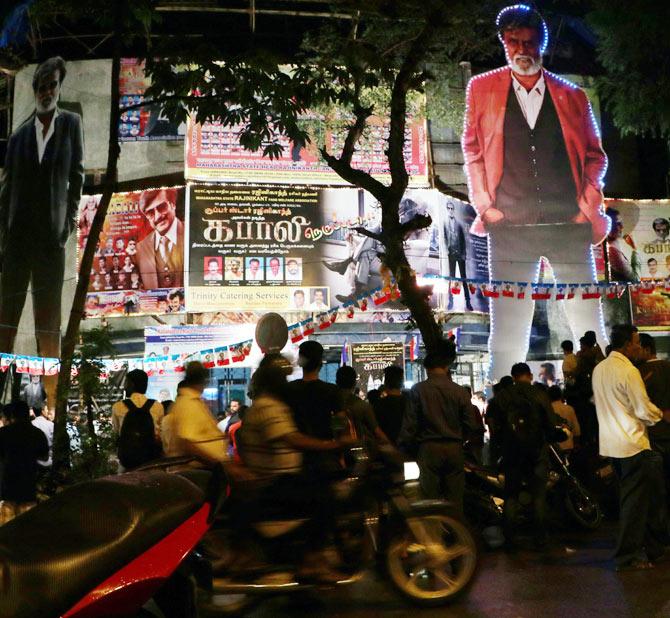 IMAGE: Mumbai's Aurora theatre looks festive during the release of Rajinikanth's Kabali. Photograph: Hitesh Harisinghani/Rediff.com
Dangal, one of the biggest hits in Indian cinema, grossed ₹375 crore in the country.
But if you do the numbers based on average ticket prices, only 3.1 per cent Indians watched it on a cinema screen. The reason -- "the lack of screens. It could have been twice that if there were more screens," says P V Sunil, chief executive officer and director, Carnival Cinemas.
He's put his finger on the biggest reason Indian box-office revenues have continued to crawl for three years in a row.
More than three-fourths of the ₹13,820 crore the film industry made in 2015 came from a fast-disappearing box office.
From 12,000 screens about five years ago, there are now about 9,000 left for 1.3 billion people. That is one screen for every 154,000 Indians, compared to, say, one for 7,950 Americans or 35,109 Chinese, according to data from Box Office India.
While multiplexes are adding 150-200 screens every year, single screens have been shutting at twice that rate.
That is pushing small-town India and large pockets of metros unwilling or unable to pay ₹200 and more for a ticket out, reckons Siddharth Roy-Kapur, president of the Film and Television Producers Guild of India.
Much of the growth in the past few years has come from raising ticket prices, not because more people are watching films.
The action on the ground suggests that things could change soon.

In December 2016, the Rs 800-crore Carnival Cinemas signed a memorandum of understanding with the Odisha government to develop family entertainment zones, each costing ₹5-6 crore, in 32 districts. For these, the state government will give the company land on long-term lease.
Within two years of the land allocation, which has begun, the zones -- each will comprise a food court, shopping area and a multiplex, with two to three screens (total 150 screens) -- should be operational.
Carnival signed a similar pact with the Jharkhand government for 25 districts (75 screens) in August 2016.
A deal with the Rajasthan government is under process.
"The vision is to reach 1,000 screens by the end of 2017," says Sunil.
In towns such as Alwar, Ganganagar and Byawar in Rajasthan and Anand in Gujarat, Ratan Jain's Gold Cinemas is finding that offering a clean, air-conditioned film-watching experience is enough to get audiences back.
The cinemas are typically two-screen miniplexes, with 400 seats between them, and tickets priced at ₹120-150 each.
The ₹572-crore UFO Moviez, one of the oldest digital cinema firms, just launched Nova Cinemaz.
This franchisee model tries to develop screens either through renovation, brownfield or greenfield projects.
The target: 1,000 screens in four years.
At Mukta A2 cinemas, the 50-screen chain owned by the ₹90-crore Mukta Arts, average ticket prices are₹110. "Whether it is rural or top-end areas, our model is low price," emphasises Rahul Puri, managing director, Mukta Arts.
K Sera Sera and SRS Cinemas, among others, are also finding ways around the litany of problems -- real estate costs, state regulations, the sheer time taken for getting licences and permissions -- and all the other things that hamper the building of more screens.
It costs ₹5 crore in big cities and ₹1.5-2.5 crore in smaller ones to put up a screen meeting all regulations, including fire, hygiene, et al.
At an average ticket price of ₹200 or so, plus advertising and food revenues, big-city break-evens are faster.
However, in smaller towns, at a maximum of ₹80-120 per ticket and very little ad and food revenues, "the operational numbers don't stack up," says Nitin Sood, chief financial officer, PVR Cinemas.
About 45 per cent of operating cost of a multiplex chain in India is fixed.
"We can't compromise on the quality of audio, lobby, safety and other things and, therefore, multiplexes are not affordable there (in small towns). So, though there is a demand-supply gap, we are not sure if a business model can be built," says Devang Sampat, director, strategic initiatives, Cinepolis India.
Many of the smaller, low-cost players, however, do not have the same templates.
Gold, for instance, pushes capital costs to an impossibly low ₹60 lakh a screen, breaking even in eight-nine years. It employs six-seven people who multitask plus one cleaning agency on contract.
"We have no vice-presidents or CEO. The manager can do anything and no staffer is paid over ₹25,000 a head a month in salary," says Jain.
At an average occupancy of 40-45 per cent, way over the 30-35 per cent industry norm, Mukta's two-screen theatres break even in two-five years.
New low-cost models are questioning every element of cost and working around the bureaucracy of opening a theatre through MoUs.
The second thing they are doing is improving the spread of theatres across the country.
According to Gaikwad, of the two billion tickets sold in India, about 1.7 billion are in tier-2 and -3 towns, where the screens counts are the lowest.
Nitin Tej Ahuja, publisher of trade magazine Box Office India, points out that even within metros, growth has been lopsided. "One road in Mumbai will have six multiplexes, but large swathes of Mira Road or Bhayandar (areas bordering Mumbai) will have nothing."
The third is segmenting the market to mine the audience.
About one-fifth of TV viewing in India is films.
There are no estimates on how many people watch pirated films. If lower prices and better spread of theatres help capture these, average revenues could go up two-three times.
It also means an increase in employment and more taxes, which take away roughly one-third of a film's gross box office.
India could be adding about 3,000 screens in three years.
But the larger chains are not entirely wrong on the sustainability of the Rs 80-120 ticket-price model. At least two of the low-cost chains are already on the block, says one investment banker who vetted one such deal.