While pursuing his MBA, Sinha launched his first venture, Aquabrim, a water solution company, which, incidentally, is still in operation. That was also the time when he met the woman who would be his future wife.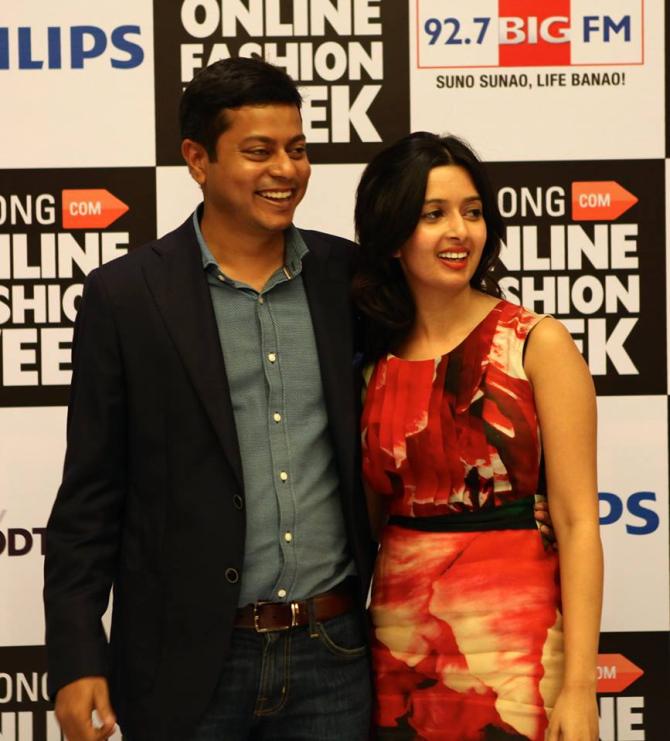 Image: Praveen R Sinha with his wife Shayal Taunk; Photograph: Kind courtesy, Sinha's Facebook page

Entrepreneurs, so the legend goes, dream of selling a toothbrush to every Chinaman.
If our lunch companion has his way, he would sell everyone the entrepreneurship dream.
Praveen R Sinha spends weekends mentoring start-ups as an advisor.
That is also the way he de-stresses after his regular 14-hour workday at fashion portal Jabong.com, which he set up in 2011.
"I love my work and I know how to unwind," Sinha says as we sit down for lunch at the Amaranta restaurant in The Oberoi, Gurgaon.
"The idea is to move your mind away from what you are doing. So I could be consulting with another start-up one day, I could be watching a movie or reading a book the next. I also do a lot of unplanned trips."
"We had not expected to find Sinha quite so down to earth.
For a start, his choice of restaurant is not promising -- he originally suggested we meet at the Piano Bar, which might be good for a corporate meeting, but lunch?
There is also the matter of the grey jacket.
One of our colleagues had met him twice before and found him carrying the same one around.
The one he is wearing today definitely looks like the one our colleague had described to us in great detail.
Budget 2015: Complete Coverage
Yet the man who extends a warm handshake and immediately agrees to switch restaurants on our suggestion shows no signs of being tiresome.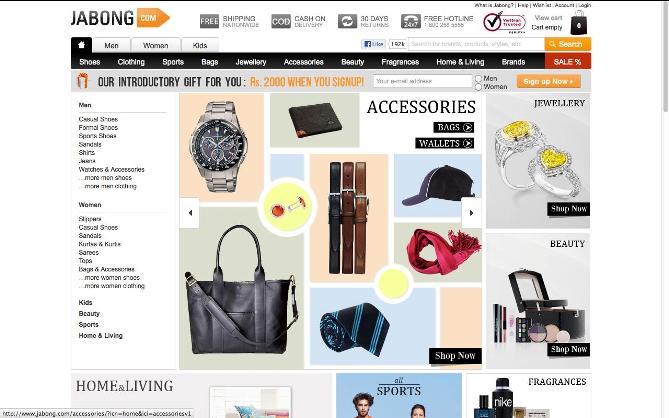 Dressed in a simple black trouser and ageing grey shirt, he looks cool compared to the nattily dressed business people whizzing in and out of the restaurant.
If it hadn't been the book in his hand (a biography of Apple co-founder, Steve Jobs), we could almost have been having lunch with the guy next door.
As we start scanning the menu card, the very efficient-looking restaurant chef walks up and suggests we try the sea food, which is Amaranta's piece de resistance.
Sinha, who doesn't come across as being a foodie, makes a quick choice -- fish curry with appams and steamed rice -- which turns out be an excellent one.
Budget 2015: Complete Coverage
So how did it all begin, we ask the easy question first.
Entrepreneurship hasn't been a cakewalk for him, says Sinha.
After passing out of the Delhi College of Engineering, he got placed in Maruti Suzuki in 2001. He worked there for five years before deciding to go for an MBA.
"I realised I wanted to create something of my own, but first I needed to hedge my bets.
Given my family background, I had to think twice about taking risks.
So I decided to do an MBA because it would give me a networking platform as well as time to think. I thought of all the probabilities, all the things that could go wrong.
I knew if I failed, I would still have four options: Maruti, Hyundai, Toyota and Tata," he laughs.
While pursuing his MBA, Sinha launched his first venture, Aquabrim, a water solution company, which, incidentally, is still in operation. That was also the time when he met the woman who would be his future wife.
"I met her during our internship at Microsoft.
Being a straight-forward person, I told her "I had two objectives -- one was to get the pre-placement offer from Microsoft and two that she should start dating me.
"Towards the end of the internship I was finally able to convince her." They got married in February 2012.
All along, Sinha was clear in his mind that he wanted to be full-time entrepreneur come what may.
"I got an opportunity in 2010 when the Rocket Internet Group was looking to set up a fashion portal in India."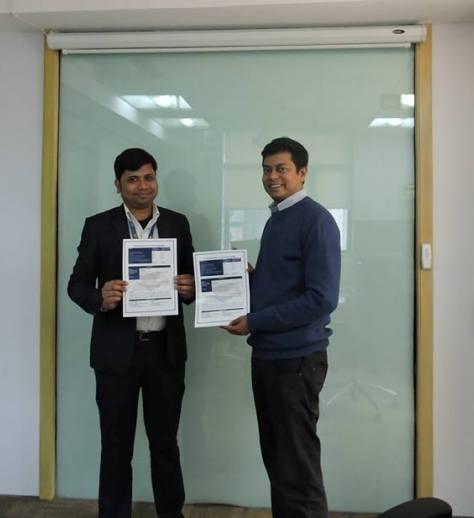 Image: Ravish Roshan, board member/secretary at Centre for Education Growth and Research, with Praveen R Sinha; Photograph: Kind courtesy, Sinha's Facebook page

Going by what he says about his very 'conventional' upbringing, didn't his parents throw a fit when they heard he wanted to chuck up that cushy job and plunge headlong into the uncertain and often capricious world of entrepreneurship?
"Well, I took a lot of decisions that were not conventional, but my parents were always supportive.
"With the benefit of hindsight, I can say I played my cards well; being the youngest of four siblings also helped," he smiles.
Entrepreneurship didn't run in the family, but it does in his blood, we can see.
But is there a chance that Jabong will lose its identity as it becomes part of the Global Fashion Group?
The GFG was formed in September last year, when the Berlin-based venture capital firm and start-up incubator Rocket Internet consolidated five of its multi-brand fashion e-commerce businesses -- Dafiti (Latin America), Lamoda (Russia and CIS), Namshi (West Asia), Zalora (Southeast Asia and Australia) and Jabong (India) -- into one Euro2.7-billion (about $3.5-billion) entity.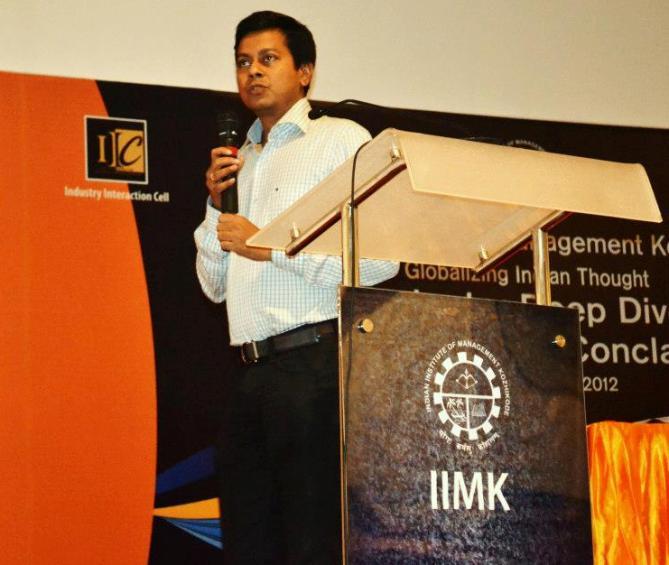 Image: Praveen R Sinha speaking at the IIM-Kozhikode; Photograph: Kind courtesy, Sinha's Facebook page

Sinha says the whole idea is about creating a platform to build scale. "It will make sourcing easier," he says matter-of-factly.
Jabong has also been in the news lately for being in talks with Amazon for a possible stake sale. Sinha politely dodges the question.
"If there is synergy, we are open to talks. E-commerce is fast evolving and we are looking at opportunities that are synergistic and can fit into our line of business."
Our meen vattichathu -- which is a traditional Syrian Christian fish curry -- steamed rice and appams make their way to the table.
Sinha takes a small portion of the fish curry with rice and we continue our discussion on the e-commerce market.
E-commerce is a big opportunity, he says, but there is lot of "bleeding" involved in the process and a lot of investments required to sustain it.
"Today, most e-retailers are catering to an aware, evolved set of customers. But there is a huge market beyond that, which has not been touched yet.
"For instance, the security guards who work for us are shopping online even though their monthly salary is not more than Rs 25,000. That means there is a natural pull; once the customer knows it is the right price point and there is some value for the money he is spending, he will buy."
The real problem arises, he says, when players think of it as online versus offline.
Going forward, all offline players will find a way to have an online presence and vice versa.
It is a question of natural progression.
"Just remember, landline users will definitely have a mobile phone but mobile users might not have landline."
Talking of natural progression, will Jabong ever become a general merchandiser given the huge growth horizontal players have seen? Sinha shakes his head vehemently.
"We never wanted to enter books, electronics and so on. In three years, fashion will become the biggest category.
"While general merchandisers are entering fashion, we are very comfortable on our space.
"In fact, we are the leader here, we are building a curated catalogue and we are getting international brands faster."
Jabong is also trying to build an ecosystem for fashion, Sinha tells us.
On the lines of the talent hunt-based shows on television that see huge participation from the Indian middle-class, Jabong has introduced online fashion weeks, through which it hopes to hunt for designers, photographers, stylists, models and so on.
We are almost at the end of our lunch.
As we start sipping our cappuccinos, Sinha reels off the challenges e-commerce businesses have to overcome.
There are a lot of potential customers who still haven't transacted online; internet penetration is low in the country; many cities are not yet covered by cash on delivery.
"It is a solvable problem if e-commerce companies collaborate in the way telecom companies have done to share towers.
"E-retailers should looks at strategic alliances to facilitate speedy deliveries in far-flung areas."
And so, the big question: what will be the game changer going forward?
"Someone who cracks both fashion and electronics will be the biggest in the business but no one has been able to do that successfully yet.
"Everywhere, general merchandisers have tried to build on fashion but fashion merchandisers have scaled faster and become bigger faster."