Beauty, Nykaa's founder Falguni Nayar realised, is a very long-tailed business and with e-commerce picking up in India, it seemed like a good idea to venture into, reports Veenu Sandhu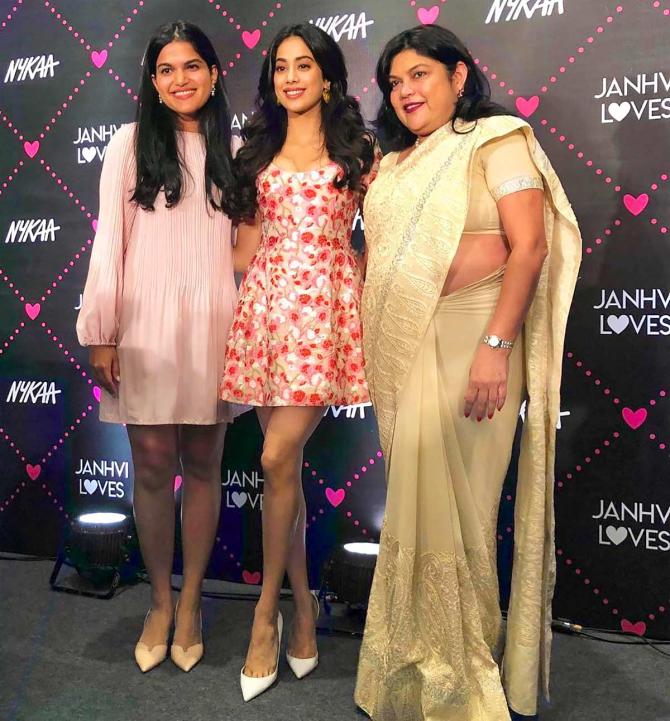 Some eight years ago, while researching for an article on the dying languages of India, I met Anvita Abbi, a linguist who has worked deeply on the distinct and disappearing languages and culture of the Great Andamanese.
She was full of stories about the lives of the island dwellers. One of those stories has stuck in my mind for it spoke about how intensely similar human desires are, no matter how remote our lives may be from one another.
The women of one tribe, Abbi narrated, catch a certain non-venomous snake and then they rub it against their skin.
As the snake writhes to escape, it releases a secretion that makes the women's skin look healthy, shiny and beautiful.
Beauty. How we long for it. And the lengths we'll go to for it, especially if we know that there is something out there that can be trusted to deliver it.
If there is one person who is aware of this, it is Falguni Nayar, who has built an empire called Nykaa around it -- all in a span of nine years.
Nayar, who I am e-meeting for a coffee, is in Mumbai and I'm in Delhi.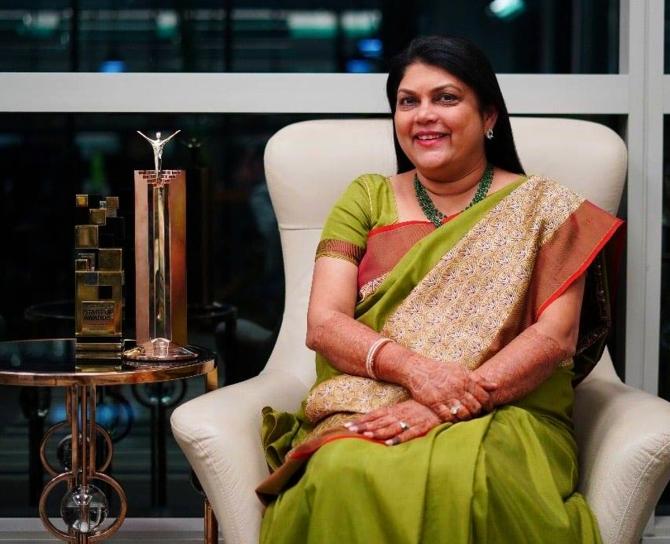 Nayar's Nykaa journey is a stuff of dreams. An investment banker, who quit her job in 2012 after close to 20 years, Nayar says there was a reason she decided to venture into beauty.
Beauty business in India, she says, was underdeveloped; neither stores nor parlours ever had a full offering from a single brand. "I had lived in the US, shopped in stores like Sephora. Even in department stores in Europe, the ground floor is full of beauty products," she says, taking a sip of her coffee.
Beauty, she also realised, is a very long-tailed business and with e-commerce picking up in India, it seemed like a good idea to venture into. But the real deal would be to make Nykaa stand out.
Turns out that the beauty industry is also full of counterfeits. Nayar decided that Nykaa would deliver only the authentic.
Easier said than done. "We did the hard thing and decided to go by the inventory-led model: Buying from the brand partners, running quality checks in our warehouses and only then sending the product to our customer." In short: Doing the hard work on behalf of the customer.
Carrying a brand logo on the site if a brand didn't approve was a no-no.
In the early days when, for instance, Victoria's Secret wrote to say they were not in India and so the products on the site were not genuine, Nykaa promptly unlisted those.
Genuine-only became the mantra. Another decision was to under-promise and over-deliver rather than the other way round.
Customers soon began to take notice. And success came early. "Within three-four months of the launch, we started getting 65 orders a day," she says. But there was a problem. They didn't have the ERP system up back then and things started crumbling very soon.
So by October, they stopped taking orders, stabilised the site and by December, were back to doing 100 orders a day.
"It taught us we had to be ahead of the curve because the business had really taken off in the consumer's mind," she says.
And in the last few years, it has practically exploded. Starting with Korean brands and Huda Beauty, Nykaa has recently brought in some of the world's finest beauty brands: Charlotte Tilbury, Lime Crime, e.l.f. Cosmetics... It's launched three of its own beauty private labels; branched out into fashion with Nykaa Fashions that includes lingerie brand Nykd; and is launching a horizontal destination for men (Nykaa Man).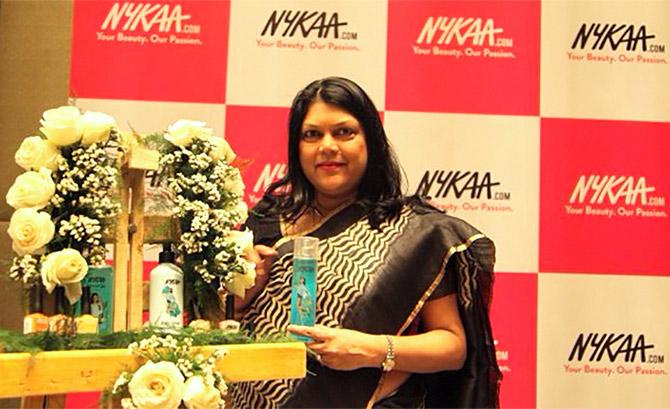 The overall fashion business is growing at 3-4x in FY21 over FY20. And Nykaa Fashion's platform (Web site and app) is growing even faster, at 6x.
If one were to look purely at the numbers: It retails over 2,000 brands and 200,000 stock-keeping units (SKUs) across its platforms; has 75 beauty offline stores across 34 cities; and Nykaa Fashion opened its first physical store in Delhi in December last year.
Nykaa's valuation, as of March 2020, is over $1.2 billion. Its highest proportion of the shoppers is from the 18-35 age group -- buying the same kind of products, big city or small.
Sitting at home, her whipped, hot coffee -- a favourite -- by now nearly over, Nayar is unpretentious and comfortable in her skin.
She's clearly not a woman who's afraid to dream. Women and their dreams, which many of them push away, is an area she feels strongly about.
"A woman needs to be the nayika (the lead lady, from where Nykaa comes) of her life," she says.
An IIM-Ahmedabad passout, who grew up in an "empowering Gujarati nuclear family in South Mumbai", Nayar says among the people who have inspired her were the many entrepreneurs she worked closely with and the IPOs of whose companies she handled as an investment banker. "They totally believed in their vision and were not afraid of naysayers."
An early riser, who's up between 4 am and 6 am, Nayar likes to be outdoors once the sun is out, looking at the birds and flowers, playing with the cat the family took in during the lockdown that they spent in their home at Alibaug, going for a swim.
For someone with that big a business to handle -- her twins, son and daughter (30), have now joined her -- she's quite relaxed.
"One of the most important philosophies, from the Gita, that we believe in as a family is, Karm karo, phal ki chinta mat karo (Do your duty, don't worry about the results)," she says.
If there is one word to define her, it would be: Unafraid. And the second: Adventurous.
She mentions a poem -- Ithaka by Greek poet Constantine Cavafy -- that her daughter gave her when she was starting out. It has defined her journey.
It goes like this:

As you set out for Ithaka
hope your road is a long one,
full of adventure, full of discovery...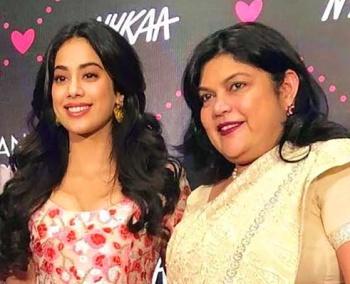 Feature Presentation: Rajesh Alva/Rediff.com