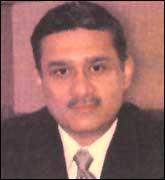 He is the dark horse who, according to some, pipped J Walter Thompson India's president, Kamal Oberoi, to the finishing line.
Colvyn Harris, 46, till recently, the president of Contract Advertising, was busy shaking hands with JWT India's clients after being anointed its new chief executive officer.
It is needless to say that the industry and the media will be watching his moves. After all, Harris is stepping into the shoes of JWT's high profile head honcho Manender 'Mike' Khanna, who will retire this New Year's Eve after being at the helm of affairs for the last two decades. Moreover, he is taking over at a time, when in the last couple of years, the agency has lost many "good guys," say competitors.
Besides, he will now head India's largest advertising agency, part of the Martin Sorrel-owned WPP group. Add to this the fact that JWT and Contract, of late, have lost some steam on the creative front, what with agencies like Leo Burnett, McCann Erickson and Ogilvy & Mather, another WPP group agency, sweeping acclaim and awards for their strong creative output.
But, Harris is not one to get stumped by this. "JWT has never been out of the reckoning. It is a power house, with more market leaders in its portfolio than any other agency. How else would an agency retain the awesome line up of blue chip clients it has for so many years: Pepsi, Horlicks, Hero Honda, Ford, and Sunsilk. Where has it lost its lustre," he asks.
Colleagues, present and past, say that given his track record of turning around JWT's operations in Chennai and Colombo, this should not be an issue with him. "The challenge, as I see it, is change and leading the industry benchmarks," says Harris.
Like his predecessors -- Subhash Ghosal and Mike Khanna -- Harris too has been a Thompsonite, as they are called. He joined the then Hindustan Thompson Associates as a management trainee in 1979, working on brands like Pepsi, Nestle, Hero group and GSK.
A decade ago, he was posted to JWT's Chennai office as senior vice-president. Once again, he got big ticket clients like Pond's, Reynolds and Citibank to push the small Rs 10 crore (Rs 100 million) branch towards a whopping 800 per cent growth in four years.
The Chennai branch won the Ad Club, Chennai's  Agency of the Year award twice during his tenure.
He was sent to turnaround JWT's Sri Lankan office in Colombo. Once again, he is credited with restructuring the agency, leading it from years of losses to profitability.
Four years ago, he joined JWT's sister agency Contract, as president in May 2000.
So what is that one quality that has really seen him through his journey to the top? A calm, collected demeanour and a great sense of humour, say those who know him.
"Harris has the knack of doing what he has to do without ruffling feathers. He goes about his work in a certain quiet and pleasant way," says a friend, who has known him for over two decades. But, underneath that easygoing  pleasant nature is a firm stance that gets work done, he adds.
Harris is not the silent types though. He may not carry an in-your-face attitude, but is boisterous all the same. The man is the life of any party and partying is what he loves to do, say his colleagues.
According to a former colleague puts it, "Harris is boyish in some ways -- he lacks the gravitas  that a CEO should have." But as a senior citizen of the ad industry put it: "With so many good people leaving JWT, Harris is the most capable of the lot left behind."