After Chanda and Deepak Kochchar, the Kudvas are the second power couple in the financial world to come under the regulatory glare.
Joydeep Ghosh reports.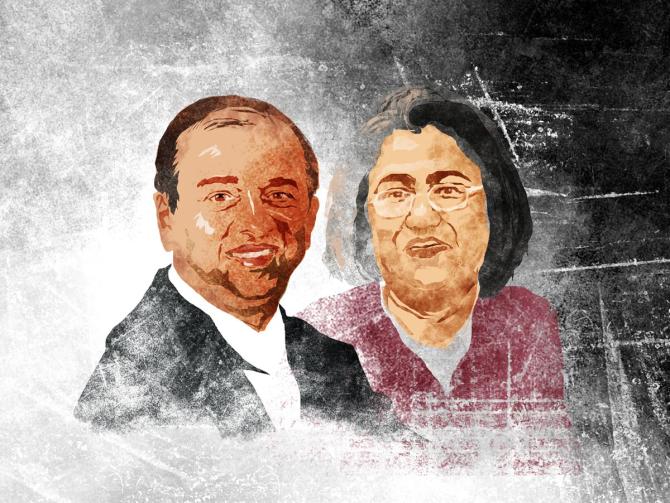 'I hold that the redemption of units by the Noticee No 1 (Vivek Kudva) on his own behalf and on behalf of Noticee N 3 (Vasanthi Kudva) while being privy to material non-public information is an 'unfair trade practice'... further... the facts and circumstances and timing of the redemptions made by Noticee No 2 (Roopa Kudva) lead to a distinct likelihood that the said redemptions were also based on material non-public information passed on by Noticee No 1..'
This is the gist of the Securities and Exchange Board India's order on Franklin Templeton's Asia Pacific distribution head Vivek Kudva, his wife and Omidyar Network India managing director, Roopa Kudva, and Vivek's mother Vasanthi Kudva.
Both Vivek, 61, and Roopa, 57, have been barred from securities markets for one year, and asked to pay a Rs 7 crore (Rs 70 million) penalty.
The Kudvas may approach the Securities Appellate Tribunal or higher courts, but this is not the first time an allegation has been made against a Kudva family member.
In 2017, Infosys Co-founder N Narayana Murthy had made scathing comments against Roopa Kudva, then an independent director, for seeking a non-disclosure agreement from him for revealing why the board chose a hefty severance pay to Chief Financial Officer Rajiv Bansal. Roopa Kudva retired from the board in February 2020.
After Chanda and Deepak Kochchar, the Kudvas are the second power couple in the financial world to come under the regulatory glare. And given that they are icons as successful professionals, there is a cause for concern.
More so because their behaviour was unfair for investors, who didn't get an exit route from the funds.
"If the facts presented in the order are correct, Sebi is giving out a strong signal that managements in fund houses need to be more prudent with their choices and decision-making," said J N Gupta, former Sebi executive director and currently managing director, Stakeholders Empowerment Services.
The Kudvas' sympathisers say the Sebi order is harsh because there are grey areas in the rules.
In terms of personalities, the two are the opposite: Vivek was extremely low-profile while Roopa Kudva is known to be quite aggressive.
Vivek Kudva studied at IIT Delhi and IIM Ahmedabad. In the late 1990s when he was head of wealth management, HSBC, distributors remember him as someone who did not believe in churning portfolios to soup up returns.
"It was rare in those days because the industry was in its infancy and there was high pressure to earn income and show inflows," said one.
A mutual fund industry professional, who knows him from his early days in Franklin Templeton, said he is punctual to a dot.
"When we first met, he was new to the Indian mutual fund industry and wanted some insights. At 9 am sharp, he was at the venue while I was still getting ready," he said.
And he proved himself to be quite adept at adjusting to top management changes.
Vivek Advani, former managing director, FTIL, had brought him into the firm. But when Advani stepped down, Kudva was able to hold his own, said professionals.
Roopa Kudva, a management professional, studied at IIM Ahmedabad.
Currently MD and partner with Omidyar Network India, she is best known for her long stint as MD & CEO of rating agency Crisil.
"During her Crisil days, where she served for almost two decades, the media team was always under pressure to keep Crisil in the news every day," said an industry professional.
She was also a member of the Banks Board Bureau and other committees of the Reserve Bank of India.
At Omidyar Network, an investment firm set up by eBay, she plays the key role of identifying start-up companies that hold promise.
She is also on the Nestle board, and is regarded as an expert on corporate governance.
So, how did things come to such a pass? Most mutual fund insiders believe that Vivek Kudva's action, in hindsight, could have been due to a spur of the moment reaction to the schemes' dwindling fortunes.
The problem arose when the schemes shut down around the same time, causing outrage, and the ensuing investigation.
"In the fund management business, things are very dynamic. Schemes are shut at a very short notice, based on liquidity and redemption pressures. Even 48 hours before the closure of six schemes, FTIL managers would not have known it -- just like the US-64 shutdown that happened out of the blue," said an industry veteran.
What could FTIL have done differently? After the closure of the schemes, it should have informed Sebi about Vivek and his family's transactions.
It could have also said the family is willing to take guidance from the regulator for their actions.
That would have earned the fund house and family brownie points," said a former fund manager.
Now if the global fund house has to file this with the US Securities Exchange Commission, things could become more complex.
Most believe, however, that Sebi's action will set out ground rules for management behaviour.
"It is an unfortunate incident, but will serve as a lesson for all," said the fund manager.
Feature Presentation: Rajesh Alva/Rediff.com