From virtual yoga to empathy, the pandemic has prompted the e-commerce giant to double down on building innovations focused on improving remote work culture especially employee well-being, both mental and physical., says Peerzada Abrar.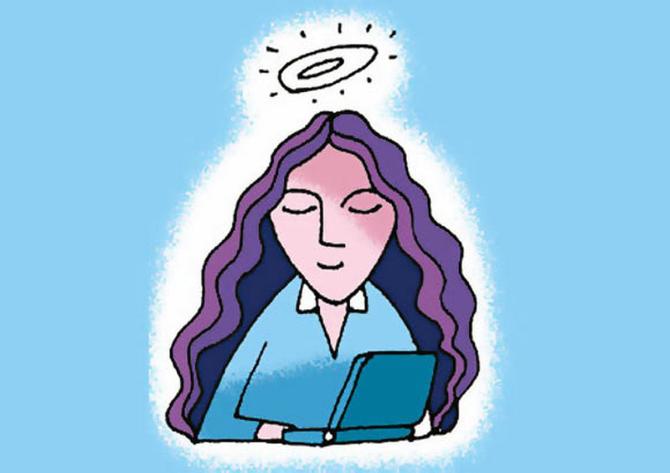 Swati Rustagi, director of human resources at Amazon India has been able to spend more time reading stories to her kids after the coronavirus triggered 'work from home' for thousands of employees at the e-commerce giant last year.
Rustagi has now taken this activity to another level where she reads stories to the underprivileged children and shares the recordings with them with the help of her team.
Similarly, the coronavirus pandemic has driven Rustagi and her team to scale up innovations at Amazon revolved around improving work culture for employees working from home or remotely.
These are mainly focused on employee well-being, both mental and physical.
The Jeff Bezos-led firm is doubling down on virtual wellness programmes which cover areas of mental wellbeing, meditation, yoga, fitness and experiential sessions.
They help in de-stressing and promote overall employee well-being.
To ensure employees are not stressed with ambiguity around Covid-19 and related treatment, the company has also set up a comprehensive support mechanism.
"The pandemic forced us to look at things which we probably would have approached in a normal sequence of events possibly a couple of years later," said Rustagi.
"The focus was on ensuring that employees understand the importance of wellness.
"Someone could be deeply stressed, emotionally disturbed or impacted due to the pandemic.
"We wanted to ensure that they got the right support.
"The other big change is that there is a lot of empathy that people are (showing) to support each other."
Amazon had already created a wellness initiative branded as 'Svasthya' for the employees.
This has been an evolving initiative over the years and has programmes like online wellness support, diet and nutrition counselling and doctor tele-consultation.
Some of these initiatives are also available to the family members of the employees.
The 'employee assistance programme' forms a key part of this initiative and supports in managing stress, which an employee or their immediate dependents might be facing.
Along with its various wellness initiatives, the company is increasingly encouraging employees to participate in virtual fitness sessions.
These include gamified wellness events conducted by the firm.
The employees can also choose from various virtual fitness programmes made available to them at a discount.
Since last year, these initiatives have scaled and evolved to address the prevailing situation.
These are also catering to diverse needs across all employees.
"It's very normal now for a working mother to say in the middle of the call that 'hey, I'm going to be back in a minute because I need to give food to my kid' and nobody blinks an eyelid about it," said Rustagi.
Amazon has also told employees who work in a role that can effectively be done from home are welcome to do so until June 30, 2021.
The company employs almost 100,000 workers in India directly, including tens of thousands of employees in the many global technology teams based out Bengaluru.
It is also scaling up multiple initiatives to bring diversity, equity and inclusion in the workforce.
This includes increasing women-operated and owned delivery stations as well as virtual customer services facilities.
The firm has taken the lead to engage with women, create unique job opportunities in the logistics space with its 'delivery service partners' in Gujarat and Tamil Nadu.
There are few delivery stations which are completely managed and run by women.
Women deliver packages on two-wheelers, covering a radius of 2-3 km from the delivery station.
Amazon had also piloted an initiative designed to create opportunities for persons with hearing impairment in its fulfilment centre (FC) in Hyderabad.
The pilot started with a handful of associates with hearing impairment, who were trained to pack shipments at the FC.
This initiative has now rapidly expanded to more than eight cities including Bengaluru, Chennai, Indore, Mumbai, Pune, and Hyderabad.
The company has created opportunities for transgenders in its operations network including fulfilment centres, sort centres and delivery centres.
It is also hiring more number of military veterans.
The firm has also set up 'all-women virtual customer service (VCS) centre' in Bengaluru.
Through this initiative, Amazon is providing women who may be homemakers, new mothers or single parents, with a channel to integrate themselves into the professional world as well resume their careers.
Amazon is at an inflection point in the country, as the Covid-19 pandemic has accelerated the adoption of e-commerce and tech by consumers and small and medium businesses.
Last year Amazon founder Jeff Bezos announced that the company planned to invest $1 billion to help bring 10 million traders and micro, small, and medium enterprises (MSMEs) across India online, enabling $10 billion in cumulative exports by 2025.
The firm also said it planned to create 1 million jobs in India by 2025 through continued investments in technology, infrastructure, and its logistics network.
Under Bezos's leadership, Amazon identified India as a strategic market as early as 2013.
Amazon has so far committed over $6.5 billion to the India market.
However, in a surprise move, Bezos stepped down as CEO of the company recently.
He would transition to the executive chair of the Amazon Board and will stay engaged in important Amazon initiatives.
When asked about the impact this decision may have on the company and the morale of its employees in India, Rustagi said that there has been a very conscious effort over the last several years to embed the culture of ownership across all the employees.
These range from associates, managers to the leaders.
"Is there an emotion that people go through when someone, whom you kind of associate with on a daily basis and is an inspirational figure (leaves)," said Rustagi.
"Of course there is that emotion associated, but is that impacting our stride, enthusiasm and energy to continue going forward?
"Absolutely not, in fact, I think there is an even greater sense of responsibility (now)."