The new mantra was to align Apple's ambition with the government's, focusing on Modi's favourite themes of Make in India, employment generation and India as a high-tech export hub.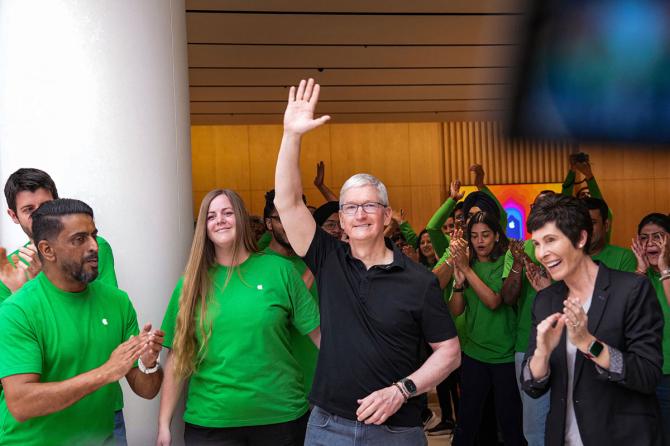 The inauguration of the Apple stores symbolise the Cupertino, California-based conglomerate's ambitions to make India a manufacturing and export hub.
They also mark the end of a roller-coaster ride for Apple, ever since Cook's first visit to India seven years ago. Then, it was reported, his meeting with Prime Minister Narendra Modi did not go so well.
That was not unexpected. Days before his arrival, the government had rejected Apple's request for import and sale of refurbished phones in the country. And the response to Cook's proposal to set up Apple-owned retail stores was to ask the iPhone maker to manufacture in India.
It's 2023, and the optics are quite different.
The Apple Store inauguration, delayed by Covid, is just one element in the conglomerate's India story.
Apple is now a showcase success story of the government's signature production-linked incentive (PLI) scheme.
It is one of the country's largest exporters of mobile phones through its three vendors -- Foxconn, Wistron and Pegatron -- pegged at over Rs 40,000 crore (Rs 400 billion) or 45 per cent of total smartphone exports from India in FY23.
In FY22, it accounted for 23 per cent of smartphone exports.
Based on its PLI commitments through the three vendors, between 12 and 18 per cent of its global smartphone assembly production will shift to India from China by FY26.
At the same time, Apple's domestic revenues are picking up and hit Rs 33,000 crore (Rs 330 billion) in FY22.
Yet it has not been an easy ride.
In 2017, just a year after Cook's visit, Apple started on the wrong foot by asking for 15-year duty concessions (on capital equipment, components, consumables for smartphones) as a condition to set up manufacturing, service and repair and a reduction in customs duty on completely knocked down and semi-knocked down devices to be assembled in India.
It also sought relaxation on the contentious 30 per cent local sourcing condition for foreign direct investment in single-brand retail stores.
Nirmala Sitharaman, then commerce minister, rejected both proposals in Parliament through a written reply.
The doors to India seemed to close for Apple Inc.
Then it changed tack; instead of long-distance management, it put together an India team in 2018 that included local experts who would work closely with the government and industry associations.
The new mantra, as a senior executive who has been associated with the company said, was to align the company's ambition with the government's, focusing on Modi's favourite themes of Make in India, employment generation and India as a high-tech export hub.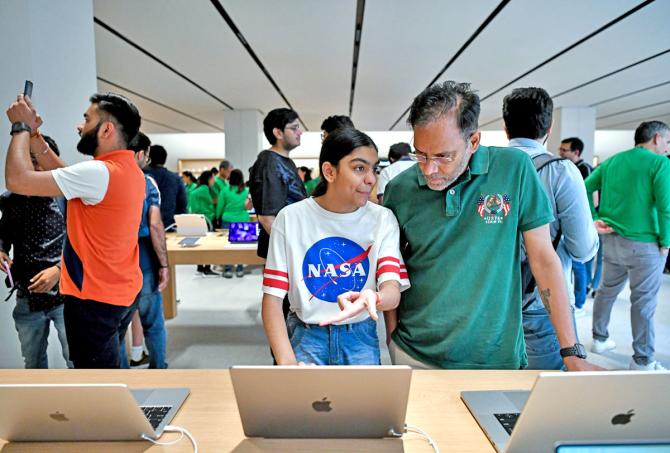 Continuous engagement with the government, flexibility in approach and dollops of patience worked, said sources associated with the government outreach.
After a hectic three years of negotiations, Apple managed to convince the government to tweak some of the rules of single-brand retailing.
The big one was that the government in 2019 agreed to account for the manufacturing value of its vendors for determining 'local sourcing' (that's because Apple does not manufacture anything anywhere in the world).
The value of both exports and domestic sales would be taken into account.
In return, Apple committed not to play the pricing game in its stores so that local retailers would not be undercut.
The government also allowed them to set up an online store before the physical store and extracted a commitment that this channel would not be used for heavy discounting.
Apple saw a big opportunity in shaping the PLI scheme, especially with the government identifying mobile devices as a key area. But the project needed deft handling.
For instance, in the initial draft, the minimum value of the phone eligible under the PLI scheme was pegged at $300. But many competitors protested, saying this price would only benefit Apple as very few of them made such expensive phones.
Apple did not oppose a move by the government to bring it down to $200.
At the same time, the minimum investment requirement for global players was brought down from Rs 1,500 crore (Rs 15 billion) to Rs 1,000 crore to accommodate a global competitor that had made a large investment in a plant.
The fact that its vendors and its supply chain have generated jobs for over 100,000 workers, of which the three mobile assemblers account for 60 per cent, has helped with negotiations.
Geopolitical realities were also considered. For instance, Apple had wanted to bring in Chinese giant BYD, its largest vendor, for assembling iPads, but dropped the plan after the government hinted it was not inclined to encourage Chinese players.
So for AirPods, Apple is going with Foxconn and not with Chinese partners Luxshare Precision.
At the same time, the company is also aware that the decision not to clear FDI for Chinese component suppliers to set up manufacturing facilities in the country could severely impact the domestic supply chain ecosystem and localisation commitments made by the PLI-eligible companies of 40 per cent by the end of the PLI scheme (from 12-18 per cent for Apple currently).
The US company decided not to go alone on this matter but collaborate on what is clearly an industry issue.
Together with ICEA, the association for a majority of mobile device makers in the country, Apple executives undertook a series of discussions with the Ministry of Electronics and Information Technology (MeitY) and found a middle ground that would benefit local manufacturers such as Lava and Dixon Technologies as well as Apple Inc.
Based on the discussions, Apple would submit a list of Chinese suppliers it needed in India to MeitY (which has cleared 12 of them so far). Then it would have to seek joint ventures with Indian partners who would have a majority stake.
But this process, too, would require government approval. It's not a perfect solution, an expert said, but it balances geopolitical realities and business imperatives.
It is also trying to bring in more flexibility in the country's archaic labour laws to enable the creation of the kind of mammoth factories that has enabled China to become a cost-competitive destination for global manufacturing.
Sources said Apple is quietly persuading some of the states to allow hostels within factory premises for women and many have shown a positive response.
But Apple has some impending headwinds to weather, too.
Just like Google, it is under scrutiny by the Competition Commission of India for alleged violations such as forcing developers on their store to pay large commissions, directing them to use their billing system and so on.
Apple has dismissed these allegations in various forums -- but it is an area that may well have engaged Tim Cook's attention in India.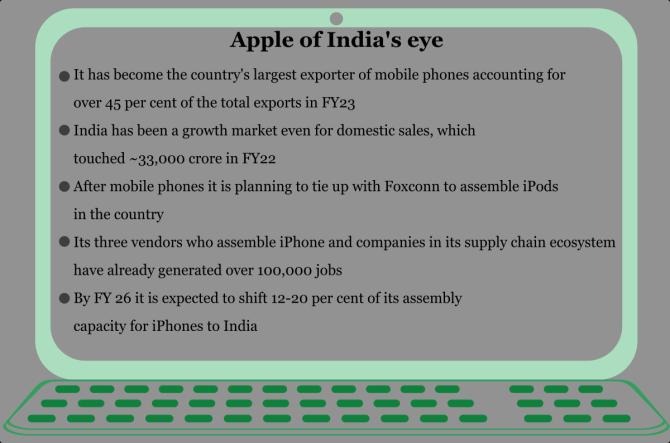 Feature Presentation: Ashish Narsale/Rediff.com