These exist in a unique world of by-invitation-only properties -- those that are never advertised and which money alone cannot buy.
One cannot simply walk in for a tour of these apartments.
A buyer must first meet the developer's targeted social criteria to get invited for a walkthrough of the property.
Veenu Sandhu, Nikita Puri, Pavan Lall and T E Narasimhan take you for a guided tour of these uber luxury properties.
The din of traffic is left behind. And so are the dust, grime and potholed roads that Millennium City, Gurugram, has grudgingly learnt to live with.
There is no place for any of these inside this super-exclusive and luxurious world that operates with clockwork precision, thanks to a small army of workers.
Round-the-clock security guards and CCTV cameras keep an eye on every inch of the land, a large chunk of which is defined by an undulating golf course that is dotted with lakes and which sits at the foot of the Aravalli Range.
This closely guarded and carefully operated complex in Sector 42 is the showcase of real estate developer DLF's finest luxury homes.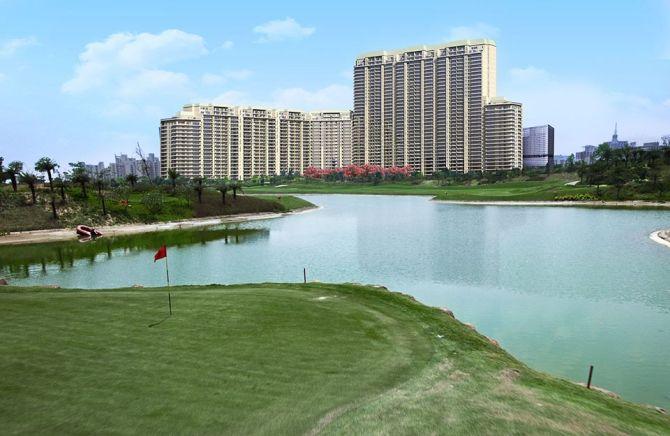 The jewel in its crown, The Camellias, is, however, yet to be unveiled.
These will be apartments -- each stretching across an entire floor and measuring between 7,400 sq ft and 16,000 sq ft -- the bare shell of which will cost upwards of Rs 25 crore (Rs 250 million).
The interiors will be left for the owner to design according to taste. There is no limit on how much s/he can spend on it, over and above the initial cost of Rs 25 crore.
You could call these apartments bungalows in the air -- bungalows that will choose their owners, and not the other way round.
The Camellias exists in a unique world of by-invitation-only properties -- those that are never advertised and which money alone cannot buy.
One cannot simply walk in for a tour of these apartments.
A buyer must first meet the developer's targeted social criteria to get invited for a walkthrough of the property.
Or, the developer may draw up a list of people he thinks would 'add value' to the property and then reach out to them.
A few years ago, when six designer apartments in one of Bengaluru's posh neighbourhoods were about to hit the market, Knight Frank, the real estate consultancy firm marketing the project, drew up a longlist of 1,000 potential buyers, all millionaires.
Of them, 600 were shortlisted. Finally, only 20 were sent invitations.
People with questionable antecedents and whose businesses are not above aboard or who sport names that other people would not want to associate with are generally filtered out in the process, says Mudassir Zaidi, executive director-north, Knight Frank India.
Bad loans, for instance, are a red flag.
The car one drives, family background, bank balance and previous residences, all go into building a profile.
What makes these properties so unique is that they are more than just luxurious homes. They come with the promise of exponentially improving the owner's quality of life.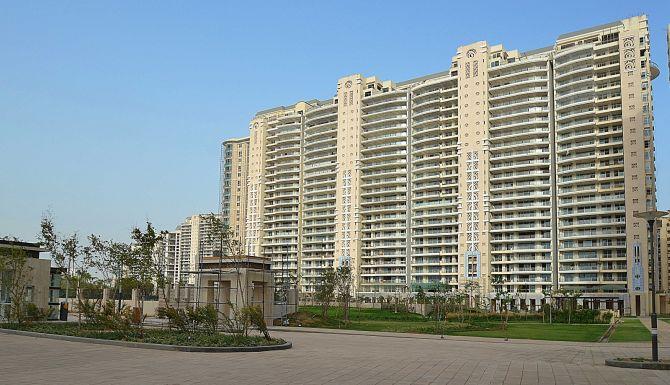 The Magnolias, DLF's previous über-luxury project that The Camellias is expected to better several times over, gives a sense of what is on offer.
The apartments here come with a club facility, which residents have to pay for separately, but which gives them access to a state-of-the art gym, massage parlours, Pilates and ballet classes and an in-house movie theatre that plays the latest releases.
Not to mention a restaurant where the chef can dish up what you want, when you want it and deliver it at your doorstep.
There is also a paid-for concierge service, Quintessentially, which has done everything from organising a trip to the Antarctic for a resident who wanted to propose to his girlfriend on an iceberg, flown in an Australian wine for another who had tasted it on a trip abroad, and planned a party with the Pyramids in Egypt as the backdrop for yet another.
"Luxury lies in the basics, too, like ensuring that the plumber reaches you at 2 in the morning if you need him to," says Aakash Ohri, senior executive director (business development), DLF Home Developers.

Far away in Bengaluru, Quintessentially, the concierge and lifestyle management service that has offices across 63 countries, is at work at the Embassy Boulevard too.
Its tasks include arranging last-minute reservations at a Michelin-starred restaurant or getting a resident a Shih Tzu toy dog.
Embassy Boulevard, a 51-acre, über-luxury gated project with 170 villas costing Rs 8.5 crore (Rs 85 million) to Rs 18 crore (Rs 180 million), is located about 12 km from Bengaluru airport amidst tree-lined avenues and landscaped gardens.
Being a resident here automatically grants you access to such prospects as membership to the BLVD Club, which has the usual spa-like amenities and 15-odd guestrooms, the Embassy International Riding School (which also has ponies for children) and an international school.
In the heart of the city is the 33-storey Kingfisher Towers in Bengaluru's central business district.
Here, the first thing that strikes you is the stunning view of the city from the living room: The rich green canopy in Bengaluru's beloved Cubbon Park, the palace-like Vidhana Soudha (the city's seat for legislature) and the brick-red Bangalore high court.
Built on what was once Vijay Mallya's 4.1-acre ancestral home, the property has 8,000 sq ft apartments, each with three-four bedrooms, multiple study rooms and a personal yoga/gym studio.
The complex, which is connected to the tony UB City, also has two swimming pools, a restaurant, a helipad, badminton and squash courts, pool and billiard rooms, a banquet hall and five car parks.
The penthouse on the 33rd floor, known as the White House, has its own private entrance and belongs to Mallya.
This April, two apartments here sold for Rs 35 crore (Rs 350 million) each.
Ironically, when you are selling an apartment that costs north of Rs 30 crore (Rs 300 million), it's not just about money anymore.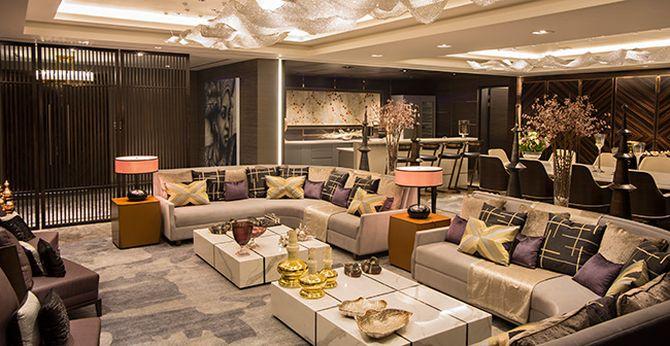 More so, if there are fewer than 40 such units available for sale, like at the Four Seasons Private Residences by Provenance Land in Worli, Mumbai.
The tower, which has a total of 50,000 sq ft of saleable area, has just one apartment on each floor -- 38 apartments in all, of which half are sold.
With interiors inspired by India's jewels and precious stones, this complex is primed to be ready by end-2020.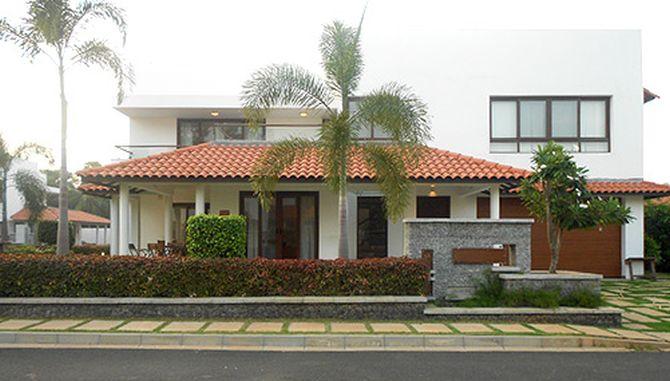 Head over to Chennai and there is the Buckingham Gardens, developed by Raj Waterscape, on Chennai's East Coast Road, just off the Old Mahabalipuram Road.
This has 17 villas [priced Rs 10.5 crore (Rs 105 million) to Rs 11.5 crore (Rs 115 million)] spread over 10 acres, with the Buckingham Canal on one side and a vast stretch of forest on the other.
It boasts of windmill-generated power, luxury boats exclusively for the residents, boat parking yard, two flood-lit tennis courts, indoor and outdoor party halls, café, spa, central sewage treatment plant, electrified fence along the property's boundary and home automation solutions.
The target is the entire spectrum of high net worth individuals (HNIs): CEOs, business personalities, the start-up community, non-resident Indians (NRIs) and IT professionals.
How the developer reaches out to and woos these exclusive buyers is an art in itself.
A couple of times every month, Ankit Shukla, the cluster head of luxury projects for the Prestige Group, which is developing Kingfisher Towers, can be found in the luxury hotel, Conrad Bengaluru, talking to potential buyers over coffee or a drink.
"We talk about the economy, about manufacturing issues if the potential buyer is from, say, the leather industry, or about government regulations, but we never talk about the property or its budgeting," says Shukla.
The whole idea is to engage -- and gauge -- the potential customer to see if s/he fits into a community of like-minded people.
Another way of reaching out to HNIs is to connect with them at some of Bengaluru's elite clubs, such as the Bangalore Club and the Bangalore Golf Club. Or through their wealth managers.
Ohri says they invest heavily in the customer-sourcing process, which works under the radar but is precise and effective.
"At any given time, we have a team making a pitch to, say, 20 prospective buyers in the world," he says.
Having been in the luxury real estate business for years, they already have their ear close to the ground. And then the golf club, which brings in some of India's top golfers, leading businessmen and corporate honchos, also helps tap the 'right kind of people'.
"The overall ultra-luxury sector represents 5 to 6 per cent of India's real estate pie," says Anuj Puri, chairman of Delhi-based Anarock Property Consultants.
The by-invitation-only segment is a fraction of this. This makes it critical to carefully screen the buyer's credentials.
Only then are the invitations -- which can include Swiss chocolates, Swarovski pieces and green tea from Italy -- sent out.
"Luxury selling isn't selling at all," says Shukla. "It's a pull strategy."
Adarsh Jatia, MD of Provenance Land, says they look at three target groups: Established business families from Mumbai who live in expensive neighbourhoods but in ageing structures; individuals who have recently sold older homes in South Mumbai and are looking to deploy capital in a modern space; NRIs as well as proprietors of India's top 200 companies who live outside of Mumbai and want to acquire an address in a central location.
While Jatia has a select few "channel partners", he says word of mouth is the best invitation, but he also engages in exclusive activities for prospective clients.
These have included cocktail and dinner dos at a show flat with the highlight being art shows curated by prominent artists such as Jitish Kallat, dining experiences with global chefs such as Massimo Bottura and Gary Mehigan, and fine watch exhibitions where aficionados come together.
The point of it all: Build activity that binds clients with the product as the backdrop. It's as exclusive an invitation as possible, without any pressure to sell.
"The participants come for the events and at some point realise that they are having a great time, and that this could actually be theirs," Jatia says.
"The activities are always elegant, never driven by high-pressure sales."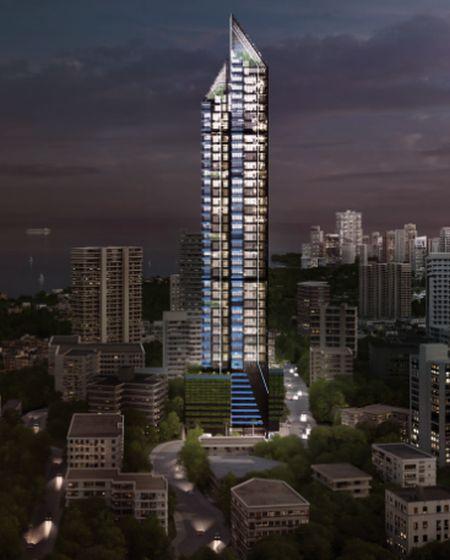 For instance, at Mumbai's Lodha Altamount (Rs 50 crore/Rs 500 million in the upper bracket, according to market experts), a Pablo Picasso masterpiece, La Plage, Juan-les-Pins, rests in the lobby.
The artwork was showcased at an exclusive champagne preview for potential buyers before it went up for public display at the development, says Arvind Subramanian, regional CEO, Lodha Group.
In Chennai, Buckingham Gardens developer George B Cherian recently sent out an invitation to 200 people for a special music evening at the site.
Along with it, he sent mangoes and vegetables handpicked from the organic gardens near the villas.
And in Pune, where Panchshil Realty's Yoo Villas project has 80 villas, of which 17 are priced at Rs 30 crore (Rs 300 million) each, the company held a Manish Malhotra fashion show at the site around a 400-metre circular ramp in March this year.
"A total of 300 guests, including celebrities and business owners, were invited," says Mohit Gupta, vice-president, Panchshil Realty. Tulsi Tanti, chairman and managing director of Suzlon, bought four of these Rs 30 crore villas at the event.
This was a quick deal. Usually, such projects are marked by long gestation periods, as well as long selling periods.
As the developers iterate, they are in no hurry to close the deal.
Once it took almost a year for a developer to convince himself of a potential buyer's credentials and then for the buyer to sign on the dotted line.
This, however, is not the end of the game, says Ohri.
It is the beginning, with the developer then working to ensure that the by-invitation-only home delivers on its sky-high promises.