A live video of the interactive session will be posted on Zuckerberg's as well as Modi's Facebook pages on that day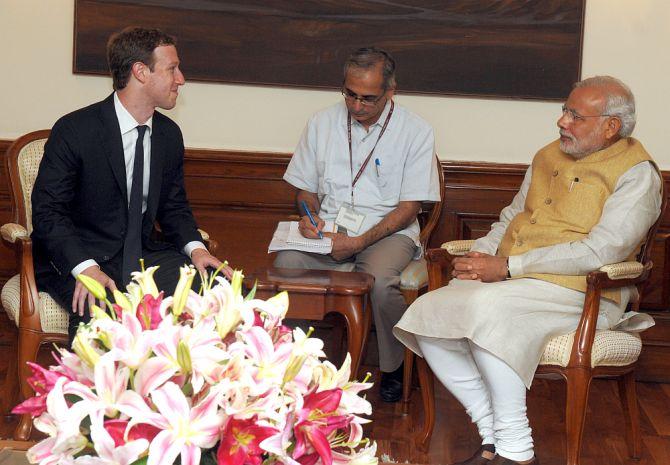 Prime Minister Narendra Modi will be visiting the company headquarters of Facebook, the online social networking service major, during his US visit this month.
Mark Zuckerberg, the founder and chief executive of Facebook, confirmed the visit to the Menlo Park, California, headquarters for an interactive session.
"I'm excited to announce (this). . . (we) will discuss how communities can work together to address social and economic challenges…The event will be on Sunday, September 27 at 9.30 am Pacific Time," read Zuckerberg's post.

A live video of the interactive session will be posted on Zuckerberg's as well as Modi's Facebook pages on that day.
The chief executive officer had visited Modi during an India trip last year.
He said he considered it an honour to host the PM and Zuckerberg requested his thousands of followers to post their queries as comments below the post, assuring, "We'll try to get to as many as possible."
The post has already been widely shared, with about 172,000 likes and 7,300 comments within an hour.
With increasing use of smartphones and more internet accessibility, India is a key market for Facebook.
"India is its largest app developer community from outside of the US.
"More than 75 per cent of top-grossing apps in India are integrated with Facebook," Ime Archibong, director of product partnerships, Facebook, had told Business Standard when he was in India last month.
"Of the 5,000 app developers on FbStart, about 1,000 are from the Asia-Pacific area and 40 per cent are from India.
Apart from Facebook's investment strategy in India, internet.org, a campaign by Facebook with Reliance Communications to support net neutrality in India, is also expected to be a key issue Modi and Zuckerberg will discuss.
While Zuckerberg is an open supporter of net neutrality, the topic has been subject to large discussion and debate in India.
This will be Modi's second US visit after he was elected PM last year.
The seven-day tour will start on September 23. He will visit the Silicon Valley, including the Google campus, where he would meet Chennai-born Sundar Pichai, recently appointed Google's chief executive.
Image: Mark Zuckerberg meets Prime Minister Narendra Modi in New Delhi on October 10, 2014. Photograph: Kind courtesy, PIB.