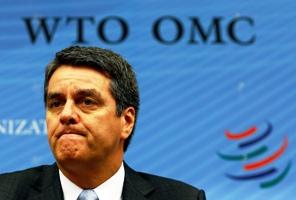 With the WTO giving time to the US and India to bridge their differences over the contentious food security issue, the last day of the trade talks in Bali is expected to be longer than usual to avert a collapse of the negotiations.

Commerce and Industry Minister Anand Sharma was scheduled to return today 'but he is not going,' sources said, adding, "the last ditch effort to reach on a consensus is expected to go on till late".

When asked about the possibility of talks getting extended for another day, World Trade Organization spokesperson Keith Rockwell said: "The concept of time is flexible in WTO.

"I think it will be a long day".

At a late night meeting on Thursday, WTO Director General Roberto Azevedo called an urgent meeting of the trade ministers of the US, India and Indonesia to end the impasse and clinch a deal on the 12-year-old Doha round.

During the meeting, which was attended by Sharma, US Trade Representative Michael Froman and Indonesian Trade Minister Gita Wirjawan, the US offered few options to India, which sources said, were not acceptable to New Delhi.

The talks to resolve the issue between the US and India are expected to continue today and also new proposals are likely to be made.

Sharma, however, had been stressing that
India would not compromise on the food security issue.
"It is better to have no agreement than to have a bad agreement. . .", the Minister had said.
"It is (food security) undoubtedly that a deal on food security will have a catalytic effect on trade facilitation," Sharma said, adding, 'a deal in food security will be helpful' for the complete Bali package.
On whether WTO has some plan B in case of failure of Bali talks, Rockwell said, "There have been no consideration on that…
"There are many delegations that have concerns on the elements of the package...certainly India and the US are important players."
on Thursday, Azevedo held a 90-minute meeting with Sharma to end the stand-off following the rigid stand taken by India that there can be no compromise on its food security programme to protect two-thirds of its population by giving subsidised grains.
Developed countries such as the US and the EU are asking India to accept a peace clause, which offers four years of immunity against penalties imposed for breaching the farm subsidy cap of 10 per cent under the WTO Agreement on Agriculture.
Hosts Indonesia share their view.
Image: Roberto Azebedo, new Director-general of the World Trade Organization gestures during a news conference at the WTO headquarters in Geneva September 9, 2013; Photograph: Denis Balibouse/Reuters