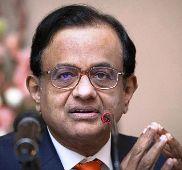 The government will not factor the impact of diesel price hike by oil companies while computing the oil subsidy bill for the current fiscal, Finance Minister P Chidambaram said on Thursday.

"I am not factoring that (impact of price hike on oil subsidy) at the moment.

"I am proceeding with the basis that the subsidy bill remains the same.

When and how they (oil companies) will make small corrections, I can't say," he said.

He was responding to a question on how the decision of the Cabinet to allow oil companies to increase diesel prices would impact the oil subsidy bill.

The Petroleum Ministry, he added, has allowed oil companies to "make small correction (in diesel prices) from time to time".

The government in December obtained Parliament approval for raising the oil subsidy bill by Rs 28,500 crore (Rs 285 billion) over and above the amount earmarked in the Budget for 2012-13.

With the additional allocation, the total oil subsidy bill in the current fiscal will soar to Rs 72,260 crore (Rs 722.6 billion).

Concerned over under-recoveries by oil companies, the Cabinet Committee on Political Affairs earlier in the day authorised oil marketing companies to make price correction from time to time.

Besides, the CCPA also decided to raise the cap of subsidised LPG cylinders from six to nine per household in a year.

These decisions are expected to improve the bottom line of the oil marketing companies and at the same time contain the oil subsidy bill of the government.
Image: P Chidambaram