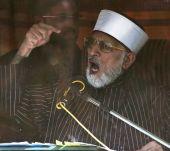 As the Pakistan government made moves to hold talks with Tahir-ul-Qadri on Thursday, the agitating cleric told his supporters he was giving "democracy a final chance" and asked them not to leave the protest site until a written agreement was hammered out.
Qadri extended a deadline he had set for the Pakistan government -- to act on his demands to quit and dissolve the national and provincial assemblies -- after being contacted by emissaries for a dialogue.
Qadri had earlier given the government a deadline to act on his demands by 3 pm.
He later addressed his supporters camping on Jinnah Avenue and said he had now given the government time till 3.45 pm.
The cleric said the government had contacted him about holding talks and sought more time so that a delegation could meet him at the site of his protest near parliament.
He said a delegation of all parties in the ruling coalition, led by the Pakistan People's Party, was coming to meet him and discuss his demands.
Qadri urged his supporters not to leave till the talks were completed and a written agreement was hammered out.
The Pakistan government has formed a four-member committee to hold talks with Qadri. The panel includes Religious Affairs Minister Khurshid Shah, Pakistan Muslim League - Q chief Chaudhry Shujaat Hussain' senior Muttahida Qaumi Movement leader Farooq Sattar and Awami National Party leader Afrasiyab Khattak.
Prime Minister Raja Pervez Ashraf directed the committee to hold talks with Qadri.
Qadri said he had set only one condition for talks -- that Interior Minister Rehman Malik should not be part of the government delegation.
"We will leave only after victory," he said from inside his bulletproof container.
Qadri has given no indication of what he intended to do if the government fails to act on his demands.
"There will be no protest or sit-in tomorrow. We have to finish it by the end of this day. I am giving talks, peace and democracy a final chance," he had said earlier in the day.
The cleric, who heads the Minhaj-ul-Quran organisation, and his followers have been staging a sit-in near parliament since Tuesday. They started their 'long march' to Islamabad from Lahore on Monday.
Since he marched from Lahore to Islamabad with his supporters, Qadri has set several deadlines for action on his demands, which have been consistently ignored by the government.
As he delivered his speech on Thursday, media commentators noted that Qadri was speaking from inside his bulletproof and heated container while his supporters stood outside in pouring rain, braving the bitter cold of winter.
Over the past two days, there has been considerable criticism of Qadri in the media and social networking websites for bringing scores of women and children to participate in the protest in Islamabad.
Many of the protestors have been sitting out in the cold and sleeping in the open.
The ruling Pakistan People's Party has insisted that Qadri's demands cannot be implemented without violating the Constitution.
Information Minister Qamar Zaman Kaira has pointed out that Qadri was demanding sweeping electoral roles even though the cleric cannot himself contest polls in Pakistan as he is a Canadian national.
The PPP's efforts to stand up to Qadri received a shot in the arm on Wednesday after opposition parties, led by the Pakistan Muslim League – Nawaz, said they would oppose any unconstitutional or unlawful attempt to derail the democratic system.