The Mahindra Alturas G4, which was launched on Saturday in Jaipur, is a true-blue premium SUV combining a powerful engine, luxe interiors and a beast-like exterior, says Rajesh Karkera/Rediff.com.
Mahindra & Mahindra's most premium vehicle, the Mahindra Alturas G4, has finally been launched as a one-trim (that is, no variants) model at a single price across India. It will cost Rs 26.95 lakhs for the 2WD and Rs 29.95 Lakhs for the 4WD version.
Royalty Redefined, as M&M billed it, was launched in Jaipur over the weekend in the shadow of former royalty, with Padmanabh Singh of the former royal state of Jaipur showcasing his skills in a polo match.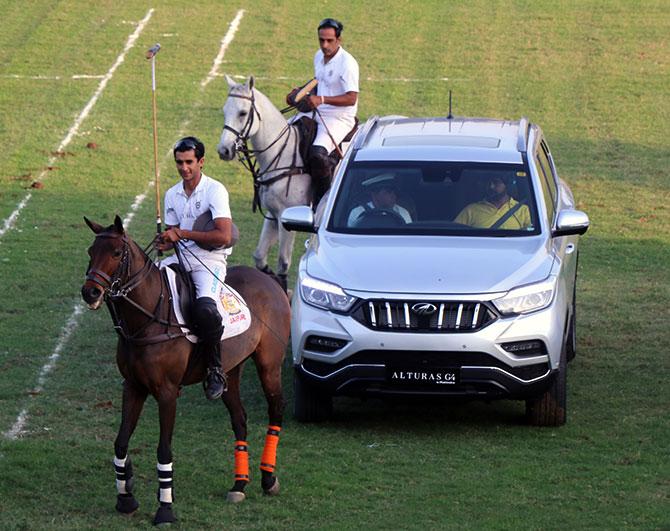 The Mahindra Alturas G4 will be M&M's new flagship SUV. First showcased at the 2018 Auto Show in Noida, this is essentially a 4th generation Rexton which has been rebadged by M&M as the Alturas G4.
Rebadged, repackaged, or you could also say completely remade, actually. Because what you see now is a completely new vehicle.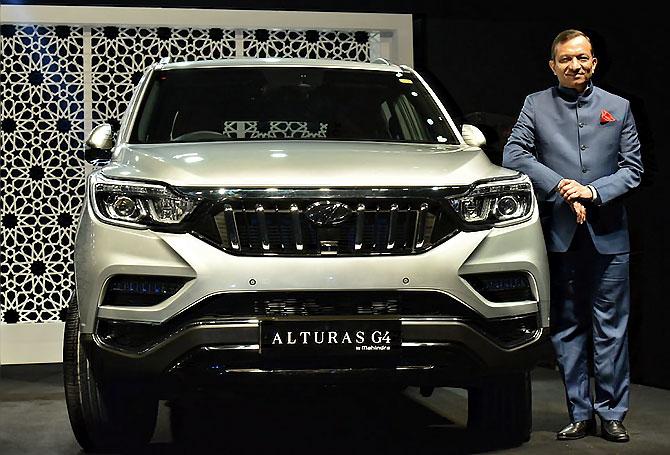 The Alturas G4 is a bigger vehicle, with more muscle, wider wheel arches and meaner, bolder grille which is now M&M's signature.
The Alturas G4 gets twin-chamber HID headlamps with LED DRLs, LED fog lamps and cornering lamps.
The tyres sit on 18 inch diamond cut alloy wheels and the car is surrounded by premium chrome on all sides. The rear is adorned by stunning tail lamps that curve on to the boot door as well.
Packed with premium features, the Alturas G4 has an electrically operated tailgate which is very different from the others offering this feature. Here all one has to do is stand behind the vehicle with the keys on one's person for a few seconds and the tailgate opens slowly after giving out warning beeps.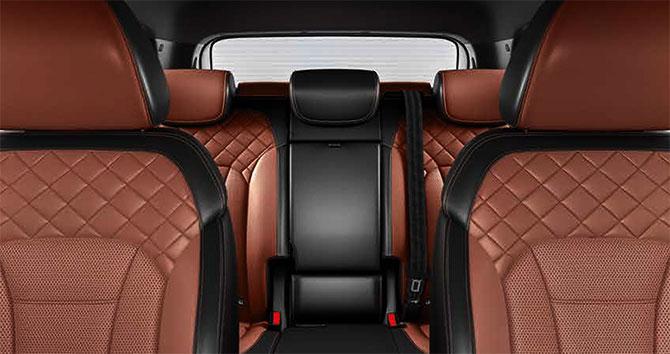 As you scan the interiors, you think, finally, here's an M&M vehicle in which the insides have been designed with close attention to detail and finesse.
The cabin feels rich and premium. The dual tone tan and black upholstery is made from Napa leather which is considered to be the best in comfort and luxury.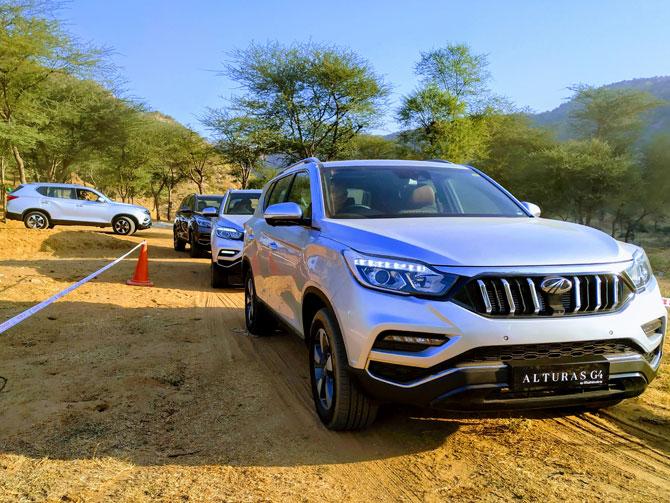 Coming to the drive, this huge 7-seater beast can really take on rough territory. It is a true-blue premium SUV built on the traditional ladder frame chassis, unlike the modern SUVs that feature the monocoque architecture.
This 2.2 litre Ssanyong engine, which churns out 178BHP @ 4000 RPM and a torque of 420Nm @ 1600-2600 rpm is mated to a Mercedes sourced 7-speed automatic transmission which is the smoothest one in an SUV this size. You barely feel the shifting of gears in this vehicle which I must say is so quiet even while off-roading!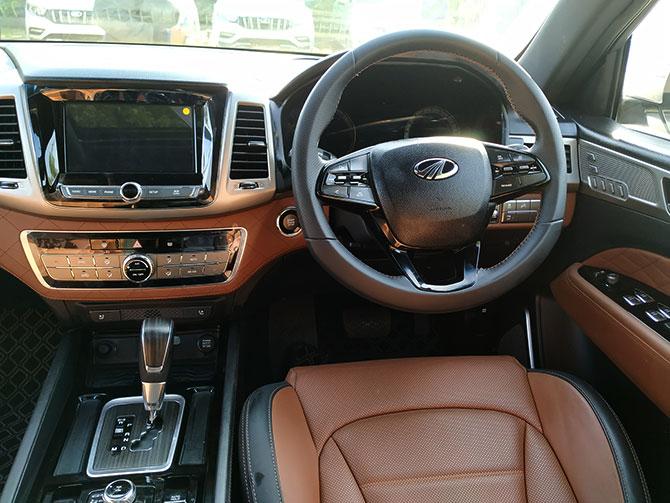 Surprisingly, this huge offering from M&M maneuvered the corners quite slickly and even though there is a slight roll considering the size of the car, driving it feels very safe and easy.
All thanks to the active rollover mitigation system which takes inputs from ESP sensors and applies brakes to individual wheels, thus reducing the driving torque when there's a risk of rollover.
What it basically means is that you don't feel like you are driving a bus when you sit at the wheel.
My only worry while off-roading on the desert sands of Jaipur was that the weight of the vehicle might get me stuck in the sand. But thankfully that didn't happen, all thanks to the traction control and the 4WD Low mode which can be accessed with the touch of a button and the turn of a knob respectively.

In terms of safety, the car comes with 9 airbags and a body made of high strength tensile steel, making this beast the safest one on Indian roads. No wonder this car has scored 5 stars in the Korean New Car Assessment Programme (NCAP) for safety guidelines.
M&M has given many new features in this car, both important ones as well as bells and whistles. An important first is the 360-degree external camera view, which we first saw at the Nissan Kicks preview. But here M&M are out with it in the Alturas G4. This is a boon for city driving and parking.
One of the bells and whistles which cheered me up was the changing tone of the turn indicators. At first I thought there was something wrong when the turn indicator made a new sound, before I caught on and smiled to myself at the novel thought.
Overall, for a vehicle this size, fit and finish, the Alturas G4 does look like a perfect value for money. With M&M's affordable service backing it and a brand that boasts of nothing but SUV capabilities on the road, this one is a winner.