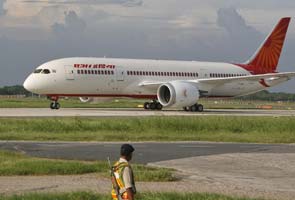 Air India's troubles with its Dreamliners seem to be unending with one of these planes, carrying over 200 passengers and crew, suffering a crack on its windshield while flying to Kolkata from New Delhi.
The aircraft, operating flight AI-020, landed safely at Kolkata airport on last evening even after the cracks appeared on the outer layer of its windshield, airline officials said.
As soon as the cracks were noticed on the right side of the windscreen, the pilots decided to fly to Kolkata without diverting the plane to any other airport as the inner layers of the screen were found intact, they said.
As the Boeing 787 Dreamliner was grounded for repairs, the return flight was cancelled and alternate arrangements made to fly the passengers booked on this flight from Kolkata, the officials said, adding the aircraft would be back in service soon after the entire windscreen is replaced.
Cockpit windscreens are made of several layers of strong tempered glass with nearly two inches of thickness to counter various forces like airspeed, varying temperatures and bird-hits while maintaining pressurisation of the cabin.
Several such incidents of windshield cracks suffered by the Dreamliners of Air India have been reported in the past.
Last month, another Dreamliner flying from Delhi to Frankfurt suffered a windshield crack and had to return. In November last, a similar incident happened on Air India's Boeing 787 flight while landing at Melbourne from Delhi.
This new aircraft has also been suffering technical snags and Air India has taken up these issues with aircraft manufacturer Boeing.
Following this, the US manufacturer has stationed a team of its technical staff in India to meet such exigencies.