Tariff cap offers Ola relief in its battle with Uber. Though it might hurt their earnings, Ola believes the Karnataka high court's judgment levels the playing field with Uber, reports Alnoor Peermohamed.
Illustration: Uttam Ghosh/Rediff.com.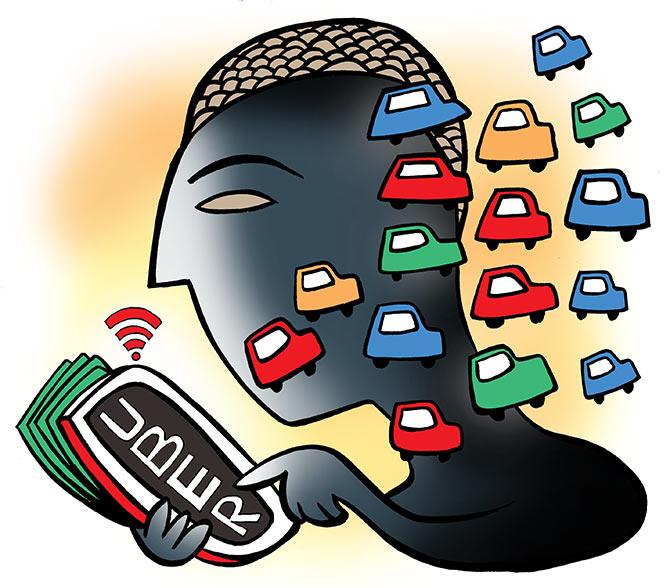 Uber founder Travis Kalanick hobnobs with Sachin Tendulkar, India's most famous brand ambassador turned lawmaker. And gets an audience with Prime Minister Narendra Modi to push his brand -- a company that is valued at $65 billion with no assets on its books in the country.

Kalanick is determined to win in India, the last large open internet market, after he lost out in China to local rival Didi Chuxiang, which had the backing of the Chinese government.

Contrast this with India: Bhavish Aggarwal, the co-founder of India's largest taxi aggregator Ola and poster boy of the country's startup ecosystem, has pleaded with the government to protect his and the consumer internet ecosystem from companies such as Uber and Amazon. Modi, he says, should do for Ola what China did for Didi.
How Modi, who is keen to get global investments to India, responds needs to be watched.

"I think the consumer internet sector isn't given as much protection as the infrastructural sectors as it is a small transaction value per sale. This is where China really differed from everyone else. There needs to be some sort of priority given to this sector," said Aggarwal at a technology summit in Bengaluru last week.

But for now, Ola is playing its cards right.
When the state of Karnataka sought to regulate app-based taxi companies under the guise of consumer protection and put an end to the free run they had so far enjoyed, market leader Ola bowed down, while Uber braced for war.

Karnataka's rules, which forced aggregators to cap fares to a prescribed ceiling had hit both the operators hard. The quality of their service suffered, and customers often experienced long waits for cabs to arrive as their mechanism to bring drivers to an area of high-demand was now broken.

Uber, known for taking on local authorities across the globe, filed a petition in the Karnataka high court in June, alleging that the rules were unconstitutional. The company ended up losing the battle, seen as a grave loss for disruptive new-age businesses in the country.
But the seemingly odd gainer of this has been Ola.

The Indian company had already secured a license to operate cabs in Bengaluru, among the country's biggest markets for taxi hailing apps, while Uber needs to apply afresh.

Giving cash-rich Uber a free run in the Indian market will certainly drain Ola, but with its wings clipped the Indian firm could have some hope of salvaging a victory. Ola's advisors saw that complying with rules was better than taking on the government.

Karnataka became the first state in the country to have a formal set of rules backed by law to regulate app-based taxi aggregators, in order to ensure level playing field for traditional taxi operators and radio taxi operators against the venture-backed Ola and Uber.

Uber's battle in the Karnataka high court hinged on the argument that it was a technology company and not a transportation provider, unlike what was claimed by the state.

"Uber will facilitate your payment of the applicable charges on behalf of the third-party provider (drivers on its platform) as such third-party provider's limited payment collection agent," reads the company's own policy statement. The high court pointed to Uber's terms to dismiss its claim of just being a technology platform, but a service provider who gets a commission for organising taxis to consumers to pass a judgement against the US firm.

The landmark judgment is now giving a signal to more states, like Maharashtra, Delhi, Gujarat and West Bengal, to confidently regulate taxi aggregators. Ola continues to choose compliance, even if these laws hurt its own potential for the simple fact that it establishes a partial level playing field vis-à-vis Uber.

There continues to be the fear that Uber will outspend its local rival in giving lower-cost rides to customers and higher pay to drivers, which Ola might not be able to match that. It is for this reason that firms such as Ola and Flipkart have come together, in demanding an anti-capital-dumping policy from the government, to ensure there's a level playing field in the Indian market.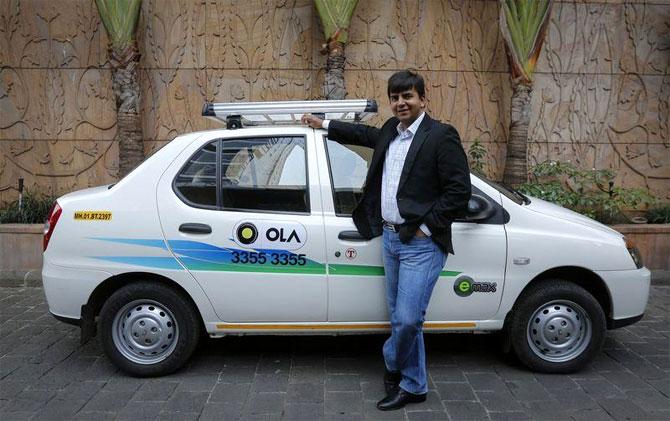 IMAGE: Bhavish Aggarwal, CEO and co-founder of Ola, an app-based cab service provider, in Mumbai. Photograph: Reuters/Shailesh Andrade.
In August, Uber announced that it was winding up its China operations, selling its arm to rival Didi for a minority stake in the company. While China is a hard market to crack for foreign firms, because of its protectionist regime, the real reason Uber lost there was Didi's far-larger war chest with which it subsidises rides.

Investors were growing wary of Uber's $1 billion-plus expenditure in China on an annual basis, and the fact that Didi was matching and even beating it. In the end, it pulled the plug realising that Chinese investors had a far larger appetite than its own, instead diverting its focus on winning in the next large market, India.

If the situation in China is anything to go by, the winner in India's app ride hailing space will be the one that is able to pull bigger purse strings. As it stands today, that winner will be Uber which has raised close to $15 billion from investors and faces little resistance when looking to raise more.

Ola, on the other hand, thanks to an overtly competitive Uber, is struggling to raise money at a valuation it is happy with. Investors are wary of Uber's investments in India: A substantial portion of the $3.5 billion the company raised from Saudi Arabia's public fund and capital that was meant for China which is now being diverted to India. Even Ola's largest investor, Softbank, recently marked down the value of its stake in the company.

Assessing this situation, Ola now wants the Indian government to curb Uber's 'capital dumping' in order to save its skin. The company, which drove its local rivals to the point of breaking down, by heavily subsidising rides for customers and paying drivers better, is now seeking a remedy.

"When you see the capital story, that's where the Indian ecosystem is at a disadvantage. There's no local capital and it's much easier for non-Indian companies to raise capital because they're profitable elsewhere. Call it capital dumping, but it creates a very unfair playing field for the Indian startups and something needs to be done about it," said Aggarwal.