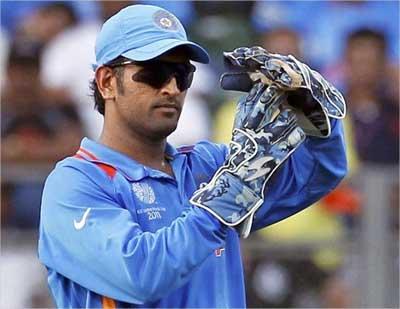 With a drop in the number of endorsements and the fees he commands, the iconic cricketer is casting himself in a new image. Can he get his groove back?

MS Dhoni has been staring down television screens and hoardings exhorting people to buy into the promise held by Exide Life Insurance, a private insurer that has just signed the cricketer on for an undisclosed sum.
For Dhoni, this is a far cry from the usual list of products he endorses -- colas, snacks, sportswear and such others -- all typically targeted at young consumers.
This is his first insurance endorsement and also one where he dangles a very different pitch; trust, stability and long term relationships against the speedy, young sharpshooter that he was once seen as.
The number of brands he endorses has come down from 21 to almost half the number and his brand fees, from about Rs 9-10 crore (Rs 90-100 million) a year to Rs 5-6 crore (Rs 50-60 million).
Can the captain steer himself out of the rough patch?
Many dispute that he is in a rough patch at all and cite his recent deals as proof.
The Exide Life Insurance marketing campaign with its tagline 'Lamba saath, bharose ki baat' (long term relationships spell trust) and the recent deal with Lava phones.
With Lava, he has a three year contract while Exide refused to divulge the details.
Mohit Goel, director (marketing), Exide Life Insurance says, "Dhoni's appeal cuts across geography, gender and age groups."
Solomon Wheeler, vice president and head (marketing & communication) Lava, says that he is one of the most successful captains in Indian cricket.
"His brand appeal cuts across demographics," he says. Both brands are looking at Dhoni as an icon for the masses, but does the shrinking list of endorsements, the drop in fees and his poor form justify their faith?
According to several sports management professionals, with Dhoni's retirement from the test format it is only natural that the number of brands will come down, but that is no reflection on his value.
Still, companies looking to get him on board are coughing up around Rs 3-4 crore (Rs 30-40 million) short of the amount they paid him a couple of years back.
"Dhoni will continue signing brands because he is at that level.
However, the frequency and value of these signings may slow down and the duration of the contracts may vary.
Brands won't not want him," says Indranil Das Blah, partner and COO at CAA KWAN, a sports and celebrity management agency.
"Brand Dhoni is here to stay. I don't think it is fair to compare the value only in terms of endorsement fees, because the perceived value of a cricketer like Dhoni is much more," says Jagdip Kapoor, founder-CEO Samsika.
Will there be a shift in his positioning however, given the emergence of the young brigade of Virat Kohli, Rohit Sharma and Suresh Raina? Virat, many believe has usurped Dhoni's place in the endorsement sweepstakes, pushing him into the role of a mentor-leader from a cool and fast talking youth icon.
Even so, experts say Dhoni will still be relevant.
"Unlike some of his seniors, MS (Dhoni) has been able to add many facets to his personality.
"And the fact that he isn't docile or unimpressive in his interactions with the media has helped build a strong resonance," says a brand manager on the condition of anonymity.
Controversies help too as that keeps the cricketer in the news.
However it can backfire, as was the case of Dhoni's entanglement with Amrapali Housing when the builder reneged on his commitment to the buyers and that, perhaps, led him to safer shores such as insurance.
Arun Pandey, chairman, Rhiti Sports Management (the company that manages Dhoni's endorsements) says, "Life Insurance is one of the most important long term investments and brands have to be extremely conscious when it comes to associating with celebrities."
For Dhoni he says, "I am glad we took our time to find the right partner in life insurance and am sure this will go a long way."
SCORE CARD
IPL FEES
Rs 12.5 crore (Rs 125 million), recently bought by Pune Warriors after Chennai Super Kings was disbanded
ENDORSEMENT FEES
Estimated at Rs 5-6 crore (Rs 50-60 million a year, down from Rs 8-9 crore (Rs 80-90 million) around a year back
BIG BRANDS
Pepsico (Pepsi and Lays),
MRF (sticker on the bat),
Exide Life,
Lava phones,
Orient PSPO,
Grand Midwest (A Dubai-based hospitality and event management company)
LAST CENTURIES SCORED
ODI -- October 2013, against Australia, Mohali-139*
Test cricket -- Feb 2013, against Australia, Chennai-224
BRAND ASSOCIATIONS
Co-branded ventures: SportsFit by MSD (gyms), Seven (running, training, indoor, and athletic-leisurewear apparel and footwear), FitSoul.com (online fitness portal)
Has just launched a campaign with Exide life Insurance, his first endorsement deal with an insurance company
Early this year, he backed out of a deal with Amrapali Housing after being trolled on social media by angry residents for the builder's inability to meet deadlines
Image: MS Dhoni. Photograph: Reuters