Amitabh Khosla
Country Director, International Air Transport Association
'The Group of Ministers' proposal can potentially bring relief to the high price of ATF, provided the imported ATF is not subjected to state sales tax, or any other similar new tax'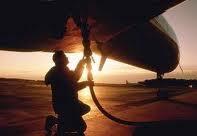 India's carriers are hurting.

This is partly a result of the lack of coordinated policies across government ministries.

Indian aviation has deep-rooted problems that need comprehensive and coordinated solutions, and high aviation turbine fuel pricing is certainly the most urgent.

Hence, the proposal of the group of ministers to allow domestic Indian carriers to directly import ATF is certainly a welcome development.

Airlines need to be allowed to function as normal businesses that have the same commercial freedoms as any other business entity. But the GoM's proposal is only a first step, albeit small, towards untangling the maze of regulations that confounds India's airline industry.

There are two main causes for the high fuel price that need to be addressed:
the high state sales tax, which is 20 to 30 per cent on the base price of ATF; and

the lack of effective competition among ATF suppliers.
On average, fuel accounts for 30 per cent of an airline's operating costs.

For Indian carriers it is 45 per cent. Even in a good year -- as aviation experienced in 2010 -- airlines struggled to make a 2.9 per cent margin on an industry-wide basis.

For India's airlines, carrying the cost burden of an extra 25 per cent, on average, on fuel is simply not sustainable in a ferociously competitive industry.

It is akin to sending a boxer into the ring with his hands tied.

There is, indeed, no public policy benefit to the Indian economy in keeping aviation fuel prices high.

The GoM's proposal to allow Indian carriers to import ATF is though not the silver bullet that will solve the woes of the carriers.

Nonetheless, it can potentially bring relief to the high price of ATF, provided the imported ATF is not subjected to state sales tax, or any other similar new tax.

But one other important step that is needed for India is to introduce effective competition among ATF suppliers.

The three public service undertaking oil suppliers in India have market dominance, primarily because they control key ATF supply infrastructure at airports, such as fuel storage facilities and pipelines.

The barrier to entry for another ATF supplier is high since it is not economically feasible to have duplicated supply infrastructure.

The result is limited or no competition since the PSU oil companies are unlikely to allow airlines or other competitors access to the infrastructure, or do so at a reasonable price, unless the government or the Competition Commission of India mandates this.

We see this at two of India's largest airports.

Delhi Airport still does not have any new ATF suppliers despite seemingly providing open access and having a common-use facility at the airport, while new entrants at Mumbai Airport have not gained access (at efficient prices) to the fuel pipelines owned by oil PSUs.

The experience in India's power and telecom industries tells us that fair and reasonable access for third parties to essential infrastructure facilities can promote effective competition.

This can be the same for ATF supply.

But the government needs to establish a right of access by third-party suppliers to ATF infrastructure in order to inject a more competitive ATF supply market at Indian airports.

India has enormous potential for growth and for aviation to play an even bigger role in the economy.

But as we have seen over these last months, it faces many challenges.

India can be a great market for aviation and that aviation can contribute tremendously to economic development.

But this will only happen if some big hurdles are overcome.

Much could be overcome by developing government policies that allow airlines simply to get on with the business of providing connectivity.

In a nutshell, the GoM's proposals are a step in the right direction.

But let's take bolder steps: "declare" the key fuel infrastructure currently owned by the PSU suppliers and urgently establish a National Access Regime for ATF to allow users, including airlines, access to critical fuel infrastructure at a reasonable price.


G C DAGA
Former Director (Marketing), IndianOil

"The sanction for airlines to import ATF is not new. In the late nineties, the government allowed it through IndianOil. But due to several sales tax and operational issues, the scheme did not take off"

The trigger for the need for importing aviation turbine fuel by domestic airlines vis-a-vis using indigenously produced fuel is primarily to save on sales taxes.

This is probably their only direct savings since ATF import does not attract customs duty, while indigenously produced ATF attracts high state-level taxes that are not in the hands of oil companies or airlines, it being the prerogative of state governments to fix sales tax rates.

It is possible that on witnessing a fall in sales tax revenues owing to direct ATF import by airlines, state governments can also start imposing some kind of an entry tax on ATF to offset their revenue loss.

In which case, this can offset the so-called 'savings in sales tax'.

Also, airlines cannot deal with ATF like oil companies, for whom this is their prime business.

Therefore, airlines will certainly find problems handling ATF imports on their own.

Oil marketing companies have dedicated pipelines to move ATF from storage points to airports in some of the cities like New Delhi, Mumbai and Bangalore.

More such dedicated pipelines are also planned by OMCs.

This not only facilitates easy transportation of ATF to airports, it also reduces congestion on city roads by eliminating tank-trucks to carry ATF and is economical.

For airlines though, the imported ATF will have to be transported through tankers since they have no pipeline facilities of their own, or even access to OMC infrastructure.

But this will itself be a major challenge for airlines, as will developing and handling port infrastructure for ATF and transportation to airports across the country.

For instance, an airline that wants to import ATF for use in a land-locked city like Delhi will have to receive the imported ATF parcel on the west coast and then move it all the way to Delhi either through tank-trucks or tank-wagons.

This will involve huge costs. Moreover, ports have limited infrastructure and handling capacity.

Further, if the ATF import parcel size is not economical or large enough, then the freight component of imported ATF will also go up, which may to some extent offset the savings in sales tax.

Even assuming airlines manage to enter into a pact with OMCs/common-carrier pipelines to transport ATF from the port to city airports, they will still be left to handle the stringent quality control aspects during pipeline transfers, which may involve initial flushing of the pipeline with kerosene before ATF is pumped, and/or downgrading substantive quantities of ATF, which OMCs are able to dispose of as kerosene.

(Kerosene and ATF are in the same distillation cut and all ATF not meeting stringent aviation QC requirements is downgraded and sold as kerosene.

This is a typical oil industry practice.) How are airlines going to handle this? If they ask OMCs to handle it for them, it will certainly come at a price that, too, can impact sales tax savings.

Product quality is another major issue that airlines will face in importing ATF.

The fuel quality will have to be certified at the ports as well as at various unloading points.

Any deviation in quality, particularly in terms of water and sedimentary contamination, can be disastrous to the airline.

Oil companies have full-fledged QC testing facilities at their airport locations, something that airlines do not have.

So how are airlines going to handle important factors such as quality control that has a bearing on the safety of its crews and passengers?

Imagine the ATF requirements of airlines in small quantities of five to 10 kl and up to even 1,000 kl a day at more than 100 airports in India, which is a typical requirement of an airline every day.

It is a logistical nightmare that is beyond the abilities of any airline company to handle.

Therefore, they need to think hard before they take the plunge.

In fact, the so-called sanction for airlines to import ATF is not new.

In the late nineties, the government allowed airlines to import ATF through IndianOil.

However, because of several sales tax and operational issues, the scheme did not take off in a big way.