You will be much better off buying the required plans directly from life and general insurers, experts tell Chirag Madia.
Illustration: Uttam Ghosh/Rediff.com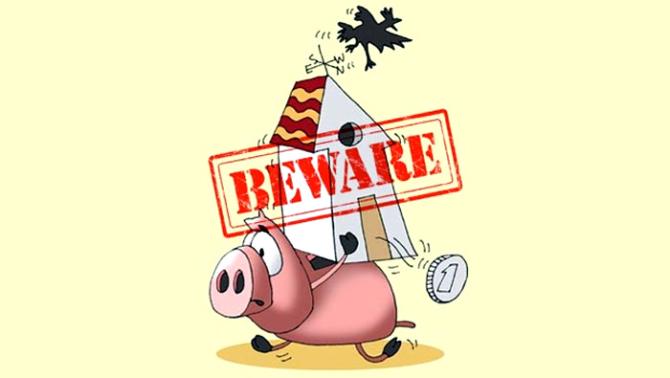 Often, when a person is sanctioned a home loan, banks or housing finance companies also try to sell him home loan insurance (also known as mortgage redemption insurance) or home loan protection plans (HLPPs).
These plans are for three-five years for individuals and up to five years for group plans. Typically, the premium is 0.8-1 per cent of the sum insured.
"This policy pays the sum assured when the policyholder has been diagnosed with any of the 13 critical illnesses covered, accidental death and permanent disability," says Puneet Sahni, assistant vice-president, product development at SBI General Insurance.
Financial planners, however, disagree. They believe you should avoid products that come bundled with a home loan.
Why avoid home loan insurance
Home loan insurance is part of the banker's sales pitch when extending long-term credit, such as a home loan. In fact, banks sometimes link sanction of the loan to purchase of insurance plans sold by them.
There is an implicit threat that they won't give you the loan unless you buy these plans.
"Don't feel compelled to buy these plans. There are very clear RBI (Reserve Bank of India) guidelines which say banks can't bundle insurance products with home loans," says Deepesh Raghaw, founder, PersonalFinancePlan.in, a Sebi-registered investment advisor.
Usually, there are three types of HLPPs.
One, a reducing cover plan. As the name suggests, the cover keeps falling as the loan dues drop. However, this can give rise to some troubles.
Suppose the interest rate was 8.3 per cent at the time of taking a loan and rises thereafter. The borrower's repayment will be slower and his principal dues higher than in the original schedule.
But, the insurance cover, as said earlier, will keep reducing according to the original schedule.
In the case of the borrower's untimely death, the loan cover could be lower than the principal outstanding. In which case, the family might have to pay part of the unpaid loan from its pocket.
Then, there are fixed cover plans. A better option if you are buying such a product as there is no fear of any change in amount. The third option is a hybrid one. In this, the sum assured is fixed for a few years and then falls.
These plans are also more expensive than a term cover that you would buy directly from a life insurer.
"Since a bank sells the plan, there is a commission involved, which makes it more expensive," says Raghaw.
Another fact is that the bank takes the entire premium for the home loan insurance policy upfront. Once you have paid the entire premium, you lose all flexibility. If you shift your loan to another bank or prepay it, you will not be reimbursed any part of the premium.
Since these policies tie the customer with the bank, it will be happy to extend a loan to you for paying the premium. This means you will end up paying interest not only on the home loan but also on the loan taken to pay the premium for covering the original loan.
Term plan could be a better option
Instead of buying home loan insurance, hike your term cover to take care of the additional liability you have taken on in the form of a home loan. A term plan offers protection for a longer duration.
"A term plan covers the policyholder for 20-30 years, while a home loan insurance covers him only while the loan is in force. In case a person prepays the loan and closes it early, the life cover he has through home loan insurance also ends," says Suresh Sadagopan, founder, Ladder7 Financial Advisors.
A term cover will cover not only the outstanding home loan but also take care of other financial needs in case of the policyholder's untimely death.
When can your claim be rejected
Sometimes, banks fail to remit the premium on a customer's policy to the insurer. In that case, the claim gets rejected.
The same happens if the policyholder's family fails to submit the autopsy report for claiming death benefit under accidental death.
If you buy a cover from a bank, collect your policy document and have it in your possession. And, if you really want a critical illness, accidents and disability cover, buy it separately from a general insurance company.
Avoid claim rejection
Sometimes, policy holders make the mistake of not disclosing existing diseases or give wrong information in the proposal form, resulting in claim rejection under HLPP.
"Claims can get rejected if pre-existing diseases are not disclosed while buying the policy. If a policyholder has diabetes and has not declared it and later has a critical illness because of diabetes, the claim can get rejected," says Sahni.
Natural deaths and suicides are also not covered by HLPPs.
To avoid claim rejection, policyholders should keep in mind a few points.
"The customer should fill the proposal form himself, carefully stating his/her personal details and health profile. He also needs to ensure that the information provided in the proposal form is complete and accurate. After receiving the policy document, verify that all the information therein is accurate," says Sasikumar Adidamu, chief technical officer (non-motor), Bajaj Allianz General Insurance.