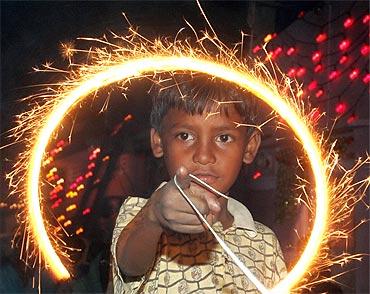 Illegal Chinese imports, stringent regulations, legal tussles cost industry Rs 2,000 crore (Rs 20 billion)

Sivakasi, the country's main centre for production of fireworks, is caught in the grip of illegal Chinese imports, increasingly tough rules and legal threats to bursting of crackers during Diwali.

Three years ago, about 300,000 people were employed in making fireworks in and around this small town, 500 km from here.
The Tamil Nadu Fireworks and Amorces Manufacturers' Association estimates employment has declined to 200,000.

Of Sivakasi's 848 factories, 150 are up for sale and the number will double by next year, according to the Association.
The town produces 85 per cent of the country's fireworks.

K Mariappan, senior member in the advisory council for the Association, said the Rs 4,000-crore (Rs 40 billion) industry at Sivakasi had lost almost half its business to illegal Chinese imports and on account of stiffer rules and legal threats to fireworks.

The association claimed 2,000 containers of illegal Chinese fireworks had arrived in Uttar Pradesh and Punjab for this Diwali.
Government sources agreed the contraband was coming in through ports.

A consignment worth Rs 17.4 crore was recently seized at Mumbai, an official said. He added barely 10 per cent of containers were checked because of inadequate scanning infrastructure.

An industry representative said the commerce ministry was trying to curb illegal imports but its instructions had not been converted into action on the ground.

Rajasingh Chelladhurai, managing director of Jumbo Fireworks, said during the months before Diwali in earlier years, workers at Sivakasi worked round the clock. Today, workers work only during the day. Chinese fireworks are 50 per cent cheaper than those made at Sivakasi.

Chinese fireworks are produced using potassium chlorate, which can ignite on friction.
Such fireworks are dangerous, yet people buy them because they are cheaper, Association members said.

The Supreme Court recently said it would consider limiting fireworks on Diwali to between 5 pm and 10 pm. Hearing a petition filed in the name of three toddlers, seeking a ban, a bench of Chief Justice H L Dattu and Amitava Roy asked the solicitor-general to respond within a week to six suggestions provided by the petitioners' counsel, A M Singhvi.
The next hearing is on Tuesday.

An employee of Kaliswari Fireworks, one of Sivakasi's largest units, said, "The emission by fireworks manufactured in China have been determined as hazardous because they do not meet the prescribed standards."

India is the largest producer of fireworks in the world, after China.
Yet it was missing a Rs 15,000 (Rs 150 billion) to Rs 20,000 crore (Rs 200-billion) export opportunity to China, the Association claimed.

"Many countries are ready to buy Sivakasi products. India will gain global respect by exploiting the export market," it added.