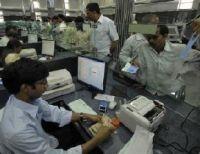 The headcount in India's top private banks is on the rise, despite a slowing economy and uncertain business environment.
Large private banks in the country appear to be on a hiring spree, with many of them doubling their staff count in the last five years.

ICICI Bank, the largest private sector lender in India, closed last financial year with 72,226 employees compared to 35,256 staff at the end of March 2010.
HDFC Bank increased its headcount to 68,165 from 51,888, while Axis Bank almost doubled its number of employees to 42,420 during this period.

Mid-sized private lenders like IndusInd Bank and YES Bank have also been aggressive recruiters with nearly threefold rise in their employee base in last five years.

"A lot of banks have been hiring in anticipation of a revival in economic growth. Some of them were also expanding their size and building infrastructure to grow their businesses.
While I expect private banks to remain net recruiters, they might not be hiring at the same pace as before," said Ashvin Parekh, managing partner at Ashvin Parekh Advisory Services.

Industry analysts felt that would now been monitoring efficiency parameters (like business per employee and profit per employee) more closely as business growth continues to remain tepid.

Employee productivity, for most private banks, has not seen any significant improvement in the last five years. For instance, ICICI Bank's business per employee during the last financial year was Rs 7.47 crore compared to Rs 10.29 crore in 2009-10.

The private lender has reportedly cut 1,200 jobs - from general managers to junior officers - recently to improve its efficiency parameters.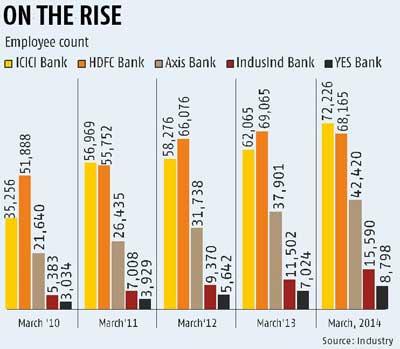 "ICICI Bank periodically reviews its business strategy and aligns its organisation structure to the needs of the business. Such organisation restructuring brings in efficiency and improves productivity, translating into better business results for various stakeholders. "
"The process of restructuring includes review of manpower, supervisory structure, systems and processes, technology intervention and job designs among other things," a spokesperson of the bank said.
"The bank is taking due care to ensure that the process is handled in a humane and sensitive manner.
Employees who need handholding due to special circumstances in the family are being exempted from this process.
They include women employees who are on maternity leave, employees who children in the 10th and 12th standard and those who are on long sick leave. Freshers have been completely kept out of this exercise. ICICI Bank is a dynamic and growth-oriented organisation. It will continue to hire in accordance with its business requirements," the spokesperson added.