While rising food inflation is a matter of grave concern for a significant chunk of the population and for policy makers as well, it marks a turnaround in the fortunes of the farmer, reports Sanjeeb Mukherjee.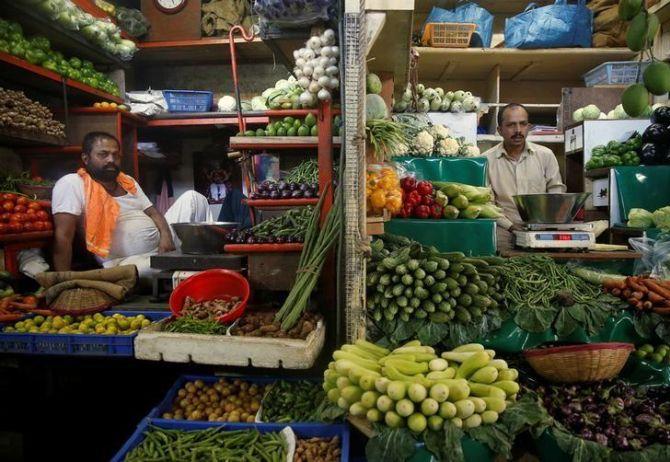 Earlier this month, the ministry of consumer affairs presented a snapshot in Parliament, of the retail price of 22 food items that it tracks on a daily basis from centres across the country, through its well-laid-out network of data collectors and field staff.
The snapshot showed that between January and early December 2019, the retail price of not even one of the 22 food items had declined.
In fact, each and every one of them rose, with packed Vanaspati and soy oil becoming more expensive by a mere two per cent at one end of the spectrum, and onions becoming dearer by a staggering 354 per cent at the other.
Such a widespread and universal spike in retail price of food items is something the country experienced after a very long time.
The last time food prices rose across the board was somewhere around 2012 and 2013.
The increase, which came after four years of a sharp and sustained drop in retail and wholesale prices of major food items -- barring the occasional blips -- not only pushed up overall headline inflation, but also forced the Reserve Bank of India (RBI) to hold on to the repo rate after reducing it by 135 basis points to a nine-year low of 5.15 per cent in 2019.
The signal was clear: RBI expects inflation to be a big concern going forward, and an added headache for it as it deals with falling growth rate.
The consumer affairs ministry data showed that even in case of cereals, notably rice and wheat, retail prices have jumped by almost 12 per cent in the past one year.
The sharp increase has, in fact, forced the Madhya Pradesh government to drop a plan to give farmers a bonus of about Rs 160 a quintal on wheat.
The payout would be over and above the central government-determined Minimum Support Price (MSP) of Rs 1,925.
The decision was taken because market prices are already ruling high in some parts of the state and are expected to sustain in the coming months as well.
While a huge harvest could be a dampener, traders are hopeful that even if the wheat crop in MP is at an all-time high this year, the impact on prices won't be much as general sentiment has improved.
The Union government's firm stand of not buying any surplus grain from states that declare bonus over the MSP for central pool could be one reason for MP shying away from declaring one for next year.
But a bigger reason could be that it simply doesn't need to.
How farmers will gain
While rising food inflation is a matter of grave concern for a significant chunk of the population and for policy makers as well, it marks a turnaround in the fortunes of the farmer.
Studies show that just a fraction of the price that a consumer pays for food gets passed on to the cultivator and the lion's share goes to the middleman and other intermediaries in the value chain.
Yet, the huge spike in several items this time offers great hope to the grower, because even if the increment he gets is a pittance in percentage terms, it is still substantial for him in absolute terms.
Farm gate prices had been plummeting to multi-year lows since 2015-16 due to bumper harvest and the overall slowdown in the rural economy in the aftermath of demonetisation and GST.
The drop in farmers' income wreaked havoc in the rural economy, fueling a series of protests across the country.
As the anger started impacting the electoral prospects of the ruling BJP and it lost three Hindi heartland states of Madhya Pradesh, Rajasthan and Chhattisgarh, the Centre launched an ambitious programme of direct income support through PM-KISAN.
The scheme was expected to cost the exchequer over Rs 75,000 crore a year.
The drop in farmers' income also triggered nationwide calls for waiver of their farm debt, compelling as many as 10 states, including BJP-ruled Uttar Pradesh, to announce farm loan waivers of varying amounts totaling around Rs 2,36,460 crore since 2014-15.
According to the RBI data, till 2019-20, a sum of around Rs 149,800 crore, or 63.35 per cent, has been provided in the Budget in the past five years.
The difference between agriculture Gross Value Added (GVA) at current and constant prices, which sometimes is also a proxy for farmers' income, had plummeted to a negative 0.7 per cent in the second and third quarters of 2018-19, reflecting negative Terms of Trade (T-o-T) for the cultivator.
In other words, farmers were not even earning a fraction of the amount they were spending to grow crops.
The turning tide
The same difference between agriculture GVA at current and constant prices in the first two quarters of 2019-20 has clocked a healthy growth rate of 5.9 per cent and 5.3 per cent, reflecting a change in trend.
In fact, farmers' income during the last two quarters of 2019-20 has been the best since the third quarter of 2016-17.
Effectively, Indian farmers are perhaps getting the best price for their produce after demonetisation.
Milk prices, which had hit rock bottom the past few years due to surplus powder stock and low exports, have started moving upwards bringing some respite for farmers, as the procurement prices has risen in 2019 even during the peak flush season.
Last year, cow milk was being purchased from farmers at Rs 18-21 a litre on average by Amul, one of the country's largest dairies.
This year, it is being purchased at Rs 31-33 a litre, up 50-70 per cent in span of just one year.
Consequently, all major milk players in the country have raised their liquid milk prices by Rs 2-4 a litre.
The consumer affairs ministry data shows that milk prices have risen by about six per cent per litre in the last one year for the consumer in India.
Going forward, market observers say prices of pulses, edible oils and vegetables might rise further and/or stay at their current elevated levels.
But, as R S Sodhi, managing director of Amul said in a recent interview, food inflation for urban India is rising income for rural India.
He clearly has a point.
A study by agriculture economist and NITI Aayog member Ramesh Chand shows that a 10 per cent increase in the price realised by farmers directly raise their incomes by 13 per cent and had a large favourable effect on production as well.
Non-farm the key driver
A rise in farmers' income could push overall rural wages in the coming months, which has turned negative to -4.15 per cent in September 2019 as compared to same period the year before.
However, a more lasting impact on rural wages -- both farm and non-farm -- could be through improving the non-farm side of rural economy, because as studies have repeatedly shown, agriculture is gradually occupying a smaller portion of India's rural landscape.
A discussion paper floated by NITI Aayog some years back showed that non-farm activities and not agriculture, generated more than two-thirds of the income in rural areas in the four-decades starting from 1970-71 to 2011-12.
As the rural economy, which was blamed for pushing down the India growth story, shows signs of revival, it is the non-farm sector which should now attract highest priority of the government going forward.
Photograph: Shailesh Andrade/Reuters.