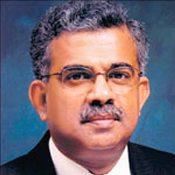 It is not often that the head of a regulator is removed by the nodal ministry, even after the Appointments Committee of the Cabinet (ACC), headed by the prime minister, clears an extension.
But, that's what recently happened to E K Bharat Bhushan, head of the Directorate General of Civil Aviation (DGCA).
Bhushan, who recently got an extension from ACC, was ultimately shifted to the steel ministry as additional secretary and financial advisor. A joint secretary in the civil aviation ministry was asked to take charge.
What could have triggered his exit? Officials widely believe that Bhushan's opposition to a proposal allowing import of 15-year-old aircraft and allowing non-scheduled operators permit (NSOP) were the factors.
But the trigger could have been his plan to issue a show-cause notice to Kingfisher Airlines. Kingfisher denied any involvement in his sacking, and the ministry produced a letter from the DGCA, giving a clean chit to the airline. Bhushan refrained from commenting for the story.
A 55-year-old Indian Administrative Service officer from the Kerala cadre, Bhushan holds a master's degree
in public administration from Harvard University, where he was an Edward Mason international fellow.
He was widely considered one of the most active DGCA heads in the recent past.
Bhushan was responsible for busting a ring responsible for producing pilots with fake certificates, and action was taken even against DGCA officials who were found guilty.
The licence-granting process was computerised to prevent a repeat of such incidents. In a first, he also started the financial surveillance of airlines to make sure they do not compromise passenger safety.
Bhushan's peers call him a no-nonsense officer, who would not take any issue casually.
When a report of an aircraft that was landed by an IndiGo pilot on its front wheels reached Bhushan's table, he checked the pilot's records, only to discover she had a fake licence.
An enquiry was instantly ordered, the pilot sacked, and the system cleaned, with checks and balances put in place.
At a time when the Indian civil aviation is in fiscal straits, with airlines posting huge losses, and employees unsure about their future, Bhushan brought a measure of discipline, rigour, and responsibility to his job, something the ministry will have a hard time replicating.