The fruit size of average kharif vegetables remained lower, due to lack of irrigation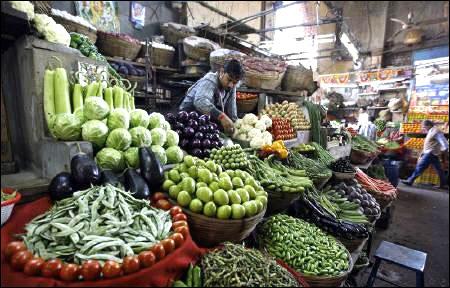 Vegetables are steadily slipping out of the common man's plate, due to skyrocketing prices. Since the monsoon started about three months ago, prices of vegetables jumped by upto 157 per cent.

Data compiled by the Agricultural Produce Market Committee, Vashi, showed prices of almost all vegetables had shot up sharply on lower arrivals.
For example, pointed gourd (parval) has seen a price rise of 157 per cent to trade in the range of Rs 3,000 to Rs 3,600 a quintal on Thursday, as against Rs 1,000 to Rs 1,400 a quintal three weeks ago.
Other vegetables like bitter gourd, brinjal and cauliflower firmed up by upto 78 per cent since September 16.

"There are three major factors that contribute to a price rise in vegetables.
"Firstly, sowing was delayed due to late onset of the monsoon this season.
"Hence, harvesting is likely to witness a proportionate delay. Secondly, the monsoons were deficient in major producing regions like Jalgaon and Dhulia districts in Maharashtra, resulting in a lower yield in these regions.
"Thirdly, there were two-weeks-long extended monsoon showers across these major producing regions which hit matured crops. So, arrivals have become very thin these days," said a senior official at the APMC in Vashi.

The recently ended southwest monsoon season was deficient by 16 per cent.

So, the fruit size of average kharif vegetables remained lower, due to lack of irrigation.

"Apart from that, there are reports of 30 per cent crop damage across Maharashtra.
"So, supply will continue to remain lower this year until new crops arrive at mandis, which is three months away.
"By then, consumers will have to live with high vegetable prices," said Sanjay Bhujbal, a wholesale dealer of cauliflower, cabbage and brinjal in Vashi.

Data compiled by the government-owned National Horticultural Board showed average arrivals of bitter gourd in Mumbai stood at a negligible 20 tonnes in October, as against 27 tonnes last year.
Arrivals declined across all vegetables and markets throughout the country.

Ladies finger recorded a 56 per cent increase, with prices in the range of Rs 2,400 to Rs 2,800 a quintal, from Rs 1,500 to Rs 1,800 a quintal three weeks ago.

Interestingly, its arrivals in the benchmark Ahmedabad mandi slumped to a mere 48 tonnes now, from 72 tonnes on September 16.
In Azadpur mandi (near Delhi) too total arrivals of ladies finger fell to 64 tonnes from 89 tonnes three weeks ago, Agmarket data showed.

"Ladies finger is a very moisture-sensitive vegetable, which -- if it gets wet, has a reduced shelf life.
"So, vegetables attract high moisture this season due to the extended monsoon in September. Consequently, there has been higher spoilage this year as compared to past seasons," said Samir Inamdar, a ladies finger wholesaler at the Vashi APMC.

Around this time, arrivals begin in large quantity from Jalgaon and Dhulia, among other centres.
However, this year, arrivals have been very low from these centres as well.
With the rabi sowing of vegetables on in full swing, and harvesting set to start only by the end of December, vegetable prices are likely to remain high for the next 10 weeks.