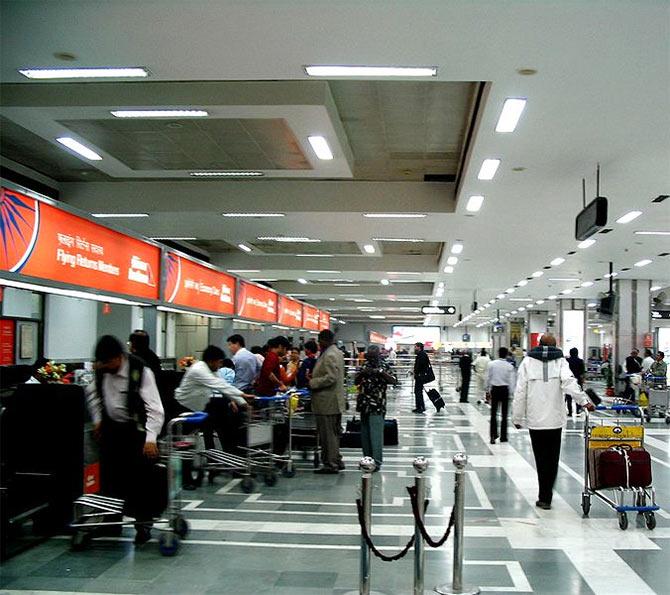 Delays at immigration counters blamed on shortage of officers, increase in passengers arriving on e-tourist visas
Around 200,000 tourists entered India using e-tourist visa (e-TV) in the first two months of this year.
This is equal to 50 per cent of those who arrived in the country using this facility in 2015.
The Union government decided to extend the e-TV facility to travellers in 150 countries, up from the previous 113 countries, on February 26.
The announcement, however, precedes the setting up of additional infrastructure and resources needed to manage the increased influx of tourists.
This has led to long queues at the immigration counters, leaving both the passengers and officials exasperated.
Officials say a passenger takes three-four minutes to clear the entire immigration process -- scrutiny of his travel documents, collection of biometrics and his initial security profiling.
But, he ends up standing in a queue for 35-40 minutes waiting for his turn at the immigration counter. On weekends and peak hours -- between 11 pm and 2 pm — the wait time extends to one-and-a-half hours.
Officials blame it on the shortage of trained staff at immigration counters.
"We are understaffed by 15-20 per cent.
Still, our performance is phenomenal compared to both the developed and the developing nations," said a senior immigration officer, requesting anonymity.
The official reasoned that immigration was the first opportunity where they check a passenger's antecedent to avoid a situation similar to the David Headley episode.
Headley, an alleged operative of Pakistan-based terrorist outfit Lashkar-e-Taiba, made five visits to India to scout the locations for the 26/11 Mumbai terror attacks.
He made videos of two luxurious hotels, a Jewish boarding house, and military installations.
His travels went unnoticed until he was arrested by the US authorities.
Officials say there are 12-13 exclusive immigration counters for passengers arriving on e-TV at the Delhi's Indira Gandhi International Airport.
The authorities want to increase the counters to 20 depending on the number of flights and passengers.
This usually happens on weekends or when there is a bunching of flights, meaning two-three flights landing at the same time.
Besides these e-TV counters, the Delhi airport has another 42-43 immigration counters for other passengers at arrival and departure terminals.
According to Union Tourism Secretary Vinod Zutshi, the reasons behind the long queues at airports include the increase in the number of passengers and shifting of more people to e-TV.
For instance, 1.69 million tourists arrived in India in the first two months this year against 1.55 million in the corresponding period last year, showing an increase of nine per cent.
In February this year, 847,000 foreign tourists arrived in the country compared to 761,000 in the same month last year, recording an increase of 11.3 per cent.
Overall, India received 6.97 million, 7.68 million and 8.03 million tourists in 2013, 2014 and 2015, respectively.
In November 2014, the government launched e-TV for which a tourist applies for visa online and gets an answer within 96 hours, to boost tourism and avoid inconvenience to travellers.
Zutshi said a total of 450,000 e-TV holders visited India in 2015, while 200,000 people visited the country on e-TV in the first two months of 2016 alone.
"We are certainly alive to the issue and are taking remedial actions," he added.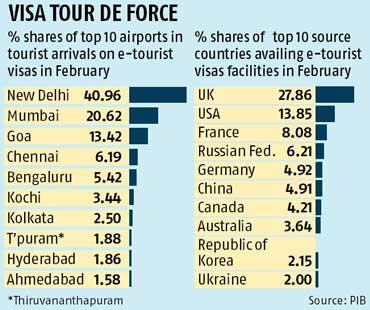 While Zutshi's ministry is planning to hold a joint survey of the airports along with the other stakeholders, there appears to be a blame game and abdication of responsibility.
According to the tourism ministry, it's for the Union home ministry, which has administrative control of the Immigration Bureau, and the Airports Authority of India, to remove the bottlenecks.
Immigration officials say although they are in the process of raising more staff, they find a space crunch at the Delhi airport and have no control over the movements of flights.
"We can't do anything if there is bunching of flights due to a variety of reasons.
We also feel that the Delhi airport is reaching its saturation in terms of passenger capacity," said the senior immigration officer quoted above.
However, the Delhi International Airport disagreed with this view.
"Immigration is a sovereign function, which is looked after by officials deployed by the government of India.
As an airport operator, DIAL has provided adequate infrastructure to Immigrations at T3 arrivals.
As of now, our total Terminal passenger capacity at IGI Airport is 62 million per annum against the actual traffic of 41 million passengers handled in FY15," said a DIAL spokesperson said in an email reply.
The situation is no different at the Mumbai airport, where only half the immigration counters are manned despite availability of space.
Subash Goyal of the Indian Association of Tour Operators says Prime Minister Narendra Modi might have proposed adding of more countries on e-TV, but the bureaucrats are failing to implement the same.
The situation might deteriorate further with more and more passengers opting for e-TVs and the government planning to launch this facility for those visiting India for business and medical tourism.
IMAGE: Delhi Airport. PHOTOGRAPH: Courtesy, Kprateek88/Wikimedia Commons