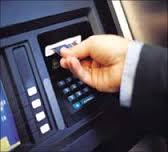 In mid-2013, the Reserve Bank of India had given an in-principle nod to about six companies to roll out white-label automated teller machines, or ATMs owned and operated by non-banking entities, in India.

However, only Tata Communications Payment Solutions has launched operations so far.

Bankers and executives involved in ATM operations said challenges abounded in this segment.

Firming up plans to make the venture viable, negotiating with banks for sponsorships, selecting locations and analysing competition are issues that take time.

As investments in setting up white-label ATMs are high, it is a difficult proposition for many companies, according to London-based Retail Banking Research Ltd.

Except in metro and urban areas, hits (per-day use of ATMs) are low, raising concerns on the viability of these ATMs.

"The interchange fees banks will pay for ATM transactions are fairly low and profits are not going to be easy.

"While the traffic (per-day use of ATMs) is quite good in urban locations, the activity falls sharply in semi-urban and rural areas," said a senior investment banking professional.

An RBI official said the central bank was alive to the situation and was reviewing regulations.

He, however, declined to specify whether the norms would be relaxed.

Robert Chanudy, senior research analyst at RBR, told Business Standard companies in this space were cautious in early months and were tracking the Tata group's progress in this segment.

The Tata group had launched white-label ATM operations in June 2013; it plans to install 15,000 ATMs in three years.

Federal Bank, the sponsor bank for white-label ATMs operations, will be responsible for functions such as cash operations and management, dispute resolution management and reporting to regulators.

RBR said it was possible the first movers (including Tata group) would gain momentum, while other companies might withdraw.

A senior executive of the Tata venture said after the rollout, the company had tweaked the business model to focus on opening ATMs in tier-II locations and beyond.

Presence in metropolitan regions, which have a high density of bank ATMs, will be low on the company's priority list.

Providing round-the-clock security will also impact the rollout plans of white-label ATM companies.

Following the unfortunate event of a Corporation Bank employee being stabbed at an ATM in Bengaluru, police across states are demanding enhanced security at ATMs.

A senior executive of an ATM services company said, "With the move by the police to insist on a guard at every ATM, we have one more cost (at least Rs 30, 000 a month) to grapple with.

"This comes at a time when we are grappling with the issue of thin margins."
Then there is the issue of a conflict between managed ATMs (those run on behalf of banks) and white-label ATMs.
Many of those who have secured an in-principle nod from the central bank for white-label ATM operations also manage ATMs for banks.

The last three months have seen two investments in ATM companies.

While Japan's Hitachi acquired controlling stake in Prizm Payments Ltd, ICICI Ventures invested a substantial amount in BTI Payments Ltd. Both companies are entering the white-label ATM segment and are in advanced stages of rolling out such ATMs.

A P Hota, chief executive of National Payments Corporation of India said all white-label ATM companies were working on financial viability.

NPCI has set up a separate group to help companies begin operations in this space.
Challenges before white-label ATM players

• Managing costs and ensuring viability
• Managing tie-up with various agencies
• Getting experienced people to manage operations
• Security of installations, cash and transactions

Firms eyeing this space

• AGS Transact
• Muthoot Finance
• Prizm Payments
• BTI Payments
• SREI Infrastructure Finance