Centre could ban wheat import from Bangladesh, apart from restricting cultivation in West Bengal and Assam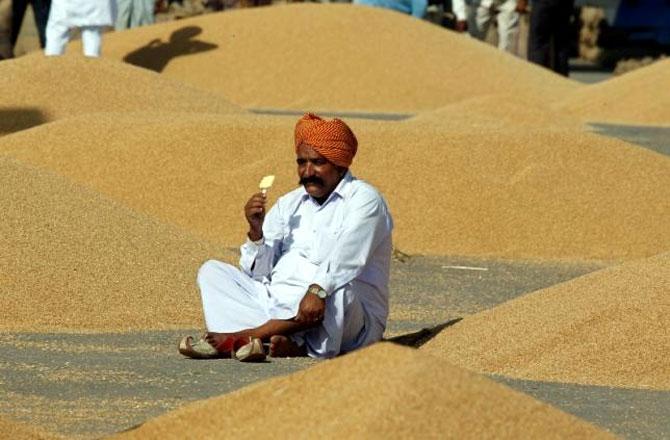 On an average, every Indian eats about four kilos of wheat every month. But India's wheat crop faces potential danger from a disease lurking across its eastern border in Bangladesh, where it has led to the burning down of standing crop in 15,000 hectares.
Wheat Blast is an agricultural disease that can cause more than 75 per cent yield loss in affected fields, rendering the region non-cultivable for years. It is caused by the 'Magnaporthe oryzae' fungus, which also causes Rice Blast. It thrives in hot and humid climates.
The government has taken the development seriously and might consider directing eastern states of West Bengal and Assam to stop farmers from cultivating wheat in border areas, if Bangladesh fails to contain the disease. The government might even ban import of wheat from Bangladesh.
"Quarantine facilities in Bangladesh might not be very good. Hence, infected wheat might have sneaked into the country, but we (India) have very strict quarantine norms, which is why there is no possibility of any infected wheat coming into the food chain," said R K Gupta, acting director of the Karnal-based Indian Institute of Wheat and Barley Research.
Bangladesh detected the first case of Wheat Blast a few months ago. It was notified in the first week of April, sending alarming signals across South Asia. Subsequently, Bangladesh has burnt down the standing wheat crop in 15,000 hectares to control the disease.
Like India, wheat is the second most consumed grain in Bangladesh, after rice. A wider outbreak could be devastating for South Asia, where 300 million malnourished people consume over 100 million tonnes of wheat each year.
India is also in the process of dispatching 35 Wheat Blast-resistant varieties to Brazil and other South American countries, where the disease is believed to have originated. Wheat Blast was first identified in 1985 in Brazil and thereafter spread to Bolivia and Paraguay.
According to Indian agricultural scientists, these varieties would enable South American countries to uproot the disease altogether. According to experts in the Indian Council of Agriculture Research (ICAR), the majority of wheat grown in India is resistant to "Blast infection".
A high-level team of senior ICAR officials visited the wheat growing areas of Assam and West Bengal but could not find any trace of Wheat Blast. "We already have Blast-resistant varieties and our record shows that Indian wheat has not been impacted by any major epidemic in the past four decades. Nonetheless, we are not taking any chances," Gupta told Business Standard. He said that till now there has not been any report of Wheat Blast in India and there is no need to panic.
What is Wheat Blast?
It is caused by the 'Magnaporthe oryzae' fungus, the one which causes Rice Blast. The fungus is known to occur in 85 countries worldwide
Wheat Blast was first identified in 1985 in Brazil and has thereafter spread to Bolivia and Paraguay. It has become a dreaded agricultural disease for South America
It can cause more than 75 % yield loss in affected fields, rendering the region non-cultivable for wheat
In 2011, Wheat Blast was detected in the US but the situation was controlled immediately
Bangladesh first detected the disease some months earlier and notified it in the first week of April
Bangladesh has so far burnt down standing wheat crop in 15,000 hectares to control the disease. Wheat is second biggest grain in Bangladesh
The consequences of a wider outbreak in South Asia could be devastating to a region of 300 mn malnourished people, whose inhabitants consume 100 million tonnes of wheat each year
Photograph: Ajay Verma/Reuters