Under the MGNREGA, employment has to be provided for a minimum 100 days and unemployment allowance if work is not made available.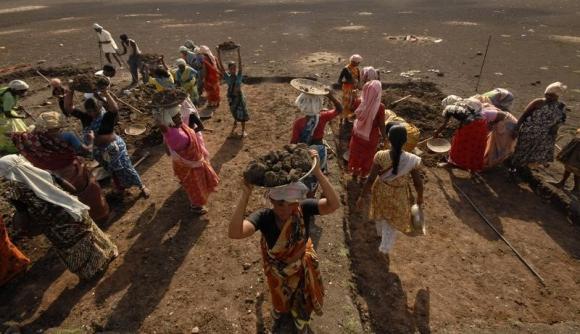 Labourers work on a dried lake to try and revive it under the National Rural Employment Guarantee Act (NREGA) at Ibrahimpatnam, on the outskirts of Hyderabad. Photograph:Krishnendu Halder/Reuters
As the Mahatma Gandhi National Rural Employment Guarantee Act (MGNREGA) celebrates its 10th anniversary, questions are being raised on its existence because of an unprecedented fund squeeze, delays in wage payments, rampant corruption and a sharp drop in employment generated.
State after state in a meeting called to celebrate the 10th anniversary of the MGNREGA criticised the financial cuts, which for some like Bihar and Manipur have lead to a drop in work generated.
Under the MGNREGA, employment has to be provided for a minimum 100 days and unemployment allowance if work is not made available.
"Bihar's total dues to the Centre for the MGNREGA is around Rs 600 crore or Rs 60 billion, which includes payment for work done for which wages have not been paid, but there has been no positive response from the Centre so far," Nitish Mishra, the state's rural development minister, told Business Standard.
He said Bihar had been released funds far less than required for the MGNREGA in 2014-15, which had led to a drop in employment generated.
Assam's Minister for Rural Development Raqibul Hussain felt the MGNREGA's stringent conditions made it difficult for North-Eastern states to receive the full benefits of the scheme.
"The number of person days per households has come down from 68 a few years ago to just 10 in 2014-15, which is a reflection of the funds crunch we are facing," said Manipur's Rural Development Minister Francis Ngajokpa.
Unofficial estimates show funds released for the MGNREGA till September 2014 were around Rs 10,000 crore (Rs 100 billion) less than in the same period of the previous year.
Against the Rs 5,296.19 crore (Rs sanctioned for Andhra Pradesh, Rs 2,500 crore (Rs 25 billion) had been released till December.
The state has spent more than the released amount. Its outstanding dues on January 1, 2015, were Rs 1,397 crore (Rs 13.97 billion).

The squeeze is being felt even in states ruled by the Bharatiya Janata Party.
Chhattisgarh's Rural Development Minister Ajay Chandrakar pointed to the difficulty in implementing electronic transfer of wages, suggested as a measure to reduce delays.
He said of the 146 blocks in the state 86 were in Naxal-dominated areas, where the banking network was poor and implementing electronic transfers difficult.
Union Rural Development Minister Chaudhury Birender Singh, however, said of the Rs 34,000 crore (Rs 340 billion) budgeted for the MGNREGA, around Rs 27,000 crore (Rs 270 billion) had been released and the rest would also be allocated after adjusting the unspent amount.
"Timely payment under the MGNREGA is essential as it is a demand-driven scheme, but you all should also understand that the rural development ministry is not the only one involved in this," Singh said.
He added he would request the finance ministry for more funds for an improved version of the scheme where skill development was a big component.
"The rising liability under the MGNREGA and months of pending wages are virtually killing the Act.
According to government records, 75 per cent of people are not being paid wages on time," social activist Nikhil Dey said at a press conference later in the day. He said if the government wanted to do away with the MGNREGA, it should do so openly.
"It is the typical Gujarat model of growth, where you slowly close down entitlement schemes in the name of development," said Jayati Ghosh, professor of economics at Jawaharlal Nehru University.