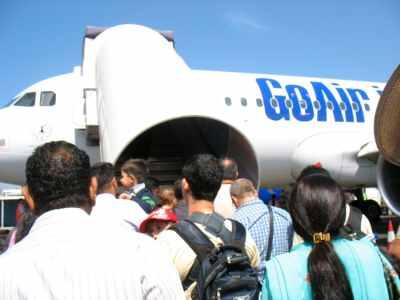 Travels to Gulf accounted for 40% of India's international air traffic in 2016.
Unfazed by the slowdown in West Asia, Indian carriers are expanding their network in the region.
IndiGo is launching flights to Sharjah later this month and plans to launch a service to Doha its seventh international destination in April.
GoAir is likely to begin its international operations with flights from Kochi to Doha and Dammam in the second half of the year.
Around 22 million passengers travelled between India and countries in the West Asia accounting for nearly 40 per cent of all international air traffic from India in 2016.
This does not include passengers who travelled onward to other destinations from hubs such as Dubai or Doha.
Indian aviation boom in Gulf
• Kochi airport sees the largest passenger traffic flow between India and Gulf region with around 3.2 million passengers in 2016. Mumbai and Delhi are ranked second and third respectively
• Dubai is the busiest destination followed by Muscat and Kuwait. Around 6.7 million passengers travelled to/from Dubai to India.
• Jet Airways is the largest airline on India-West Asia routes followed by Air India Express and Emirates
• Mumbai-Dubai is the busiest route with over a million passengers annually followed by Kochi-Dubai and Delhi-Dubai.
This makes the region an attractive bet for Indian airlines.
However, business was impacted last year and demand growth did not match the growth in capacity. Airline yields, which are revenue charged per passenger, came under pressure as low crude oil price impacted local economies.
Both Air India Express and Jet Airways have said their financial performance was impacted due to weakness in Gulf market.
But this is not turning to be a dampener for Indian carriers' plans. While the demand may not be at its peak the market assures a steady year-long traffic.
Air India Express which earns about 90 per cent of its revenue from Gulf routes is introducing a Delhi-Bahrain-Doha service in summer. Recently it added flights to Dubai and Abu Dhabi from Delhi besides increasing frequencies on Gulf routes from Kerala.
"We have recently announced Sharjah as our 6th international destination. We have also introduced new flights to the existing Muscat network. Middle-East has been an important market for IndiGo and expanding operations to Sharjah and Muscat is a testament to the growing demand from the sector," said IndiGo's chief commercial officer Sanjay Kumar in a statement.
Jet Airways flies wide body Airbus A330 and Boeing 777 aircraft to destinations such as Doha, Kuwait and Dubai. Sources say there is no immediate plan to redeploy the aircraft to other destinations as the airline expects the Gulf economies to bounce again.
"The slowdown in Gulf region is on expected lines and is likely to impact Indian carriers more than their Gulf peers. We see the slowdown impacting yields and later even volumes," said Kapil Kaul, South Asia CEO of Centre for Aviation.