Four Canadian ministers of Indian origin are traveling with Prime Minister Trudeau.
Abhishek Waghmare and Subhayan Chakraborty report.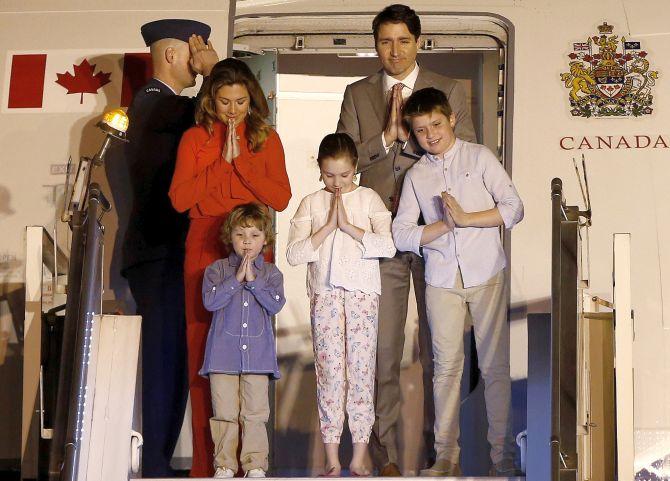 IMAGE: Canadian Prime Minister Justin Trudeau, his wife Sophie Gregoire and their children Ella Grace, Hadrien and Xavier arrive in New Delhi. Photograph: Adnan Abidi/Reuters
As Canadian Prime Minister Justin Trudeau touches down in New Delhi, state and business delegates from both countries are looking at week-long discussions on trade and bilateral relations.
Of the imports worth $4.1 billion (Rs 26,399 crore) from Canada in 2016-2017, pulses -- yellow peas, green peas and red lentils (masur) -- amounted to $1.1 billion (Rs 7,082 crore), more than a quarter of the total, making pulses the central point of the forthcoming trade discussions.
The worth of import of pulses from Canada have come down to about $500 million (Rs 3,219 crore) in 2017-2018, owing to government caps and duties on imports following a supply glut in 2016-17.
The same restrictions this year as well are putting Canada's pulse exporting industry and African pulse growers in a fix.
While pulses would feature both at the dining table and discussions, India and Canada will be looking at realising broader aims of trade expansion and investment promotion.
Currently, both countries are engaged in negotiations of the proposed Foreign Investment Promotion and Protection Agreement and the Comprehensive Economic Partnership Agreement or the free trade pact.
Talks on the FIPPA had earlier been stalled by India's decision to conduct negotiations for all investment pacts under the framework of the model Bilateral Investment Treaty issued by the government in 2015.
"Canada's prime concern is with the clause that in case of an investor-State dispute, a foreign investor can seek international arbitration only when all domestic legal options are exhausted," a senior government official said.
"While India feels this is required to keep control on litigation and reduce the chances of extremely high penalties from international tribunals, most developed nations believe the Indian legal system to be slow and corrupt," the government official added.
India's domestic markets had a deluge of pulses in the last two years: 23 million tonnes and an import of 6.6 million tonnes in 2016-2017, and an equal amount of production is estimated in 2017-2018 with 5 million tonnes of imports already reported till December.
India effectively had 58 million tonnes of pulses against a consumption of about 45 million tonnes for two years; a large excess, due to which the government put a cap on import of tur (red gram) at 200,000 tonnes and moong (black gram) and urad (green gram) at 300,000 tonnes in total, and also hiking import duty on yellow peas and chana while opening up exports of all pulses.
Yellow peas, with a 50 per cent import duty, form the bulk of Canadian pulses imports.
"Transparency, predictability and clarity in trade policy with regard to pulses is the most important point we are trying to put forward in the upcoming meetings," Gordon Bacon, CEO at Pulse Canada, the country's biggest pulses association, said.
Canada does not appear in the top 25 trade-friendly countries of India, with total trade amounting to about $6 billion (Rs 38,634 crore) in 2016-2017 and about $4.5 (Rs 28 crore) million in April-November 2017-2018, just 1 per cent of India's total trade.
"Apart from predictability, we expect that the cargo enroute should be exempt from the changed import policy, and fumigation -- a method of applying gaseous pesticides in the cargo vessel to prevent pest proliferation in India -- regulations should be science-based and country specific," Bacon added.
On the trade front, both governments urgently want to conclude the CEPA talks since trade volumes remain woefully low.
Despite Canada's southern neighbour, the USA, being India's largest export destination, bilateral trade has remained low with the Great White North.
Two-way trade was only $6.1 billion in 2016-2017, down two per cent from the year before.
Raw diamonds and gold are also important Canadian imports.
Exports from India are extremely broad-based with no commodity constituting more than eight per cent of all outbound trade.
Medicines, shrimps and prawns and jewellery are the major export items from India.
India had placed a conditionality that the trade pact cannot be discussed until both nations reach a possible conclusion on the investment deal.
There are 18 members of Indian-origin in the 338-strong Canadian parliament, while four of them are ministers, all of whom are participating in business forum and government-level discussions in Mumbai and Delhi.