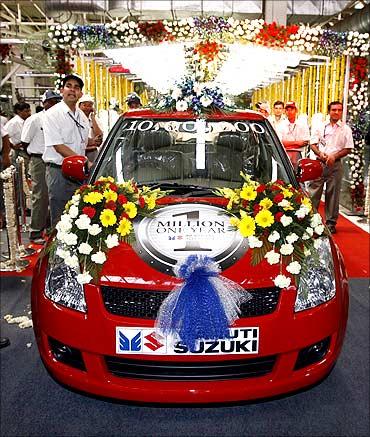 Weak monsoon rains could have a negative impact on India's automobile sector which is seeing early signs of improvement with the sale of passenger cars and utility vehicles rising in May, an industry body said.
"A bad monsoon would certainly mean some negative impact," Vishnu Mathur, director general of the Society of Indian Automobile Manufacturers (SIAM) told reporters on Tuesday.
Mathur said sales of two-wheelers and small cars, which depend significantly on demand from rural areas, would be impacted most if the monsoon is deficient.
India still relies on monsoon rains to irrigate more than half of its farmland and if rainfall comes in below average, as forecast by the country's weather officials on Monday, it would result in lower incomes for rural households.
Car sales in India are likely to rise marginally this fiscal year after two consecutive years of decline as buyers were put off by high inflation and interest rates and slow growth in Asia's third-biggest economy.
"Definitely the sentiment has improved. People have started buying cars again. We hope this is a sustainable thing ... this continues for a few months," said Mathur.
In May, sale of passenger vehicles, which includes cars and utility vehicles, rose 2.76 percent from a year ago on improving consumer sentiment after pro-business leader Narendra Modi came to power with a mandate to revive economic growth.
Car sales rose 3.08 percent in the same period while the sale of trucks and buses, widely regarded as a barometer of the economy, declined by 15.28 percent.
The rise in passenger vehicle sales has come after more than 15 months of decline, excluding August 2013 which was an anomaly, Mathur said, as sales of top carmaker Maruti Suzuki India Ltd surged on a lower base.