The Bangalore-headquartered Britannia Industries, which derives 80 per cent of its revenues from bakery products including biscuits, has faced intense competition from players such as ITC, Priyagold and old foe Parle Products - all vying for greater share of the Rs 10,000 crore (Rs 100 billion) biscuit market.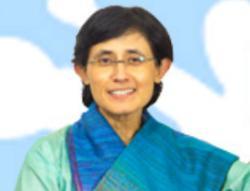 In this interview with Viveat Susan Pinto, managing director Vinita Bali indicates how she proposes to steer the company, which has one-third share of the biscuit market, at a time when growth remains a challenge. Edited Excerpts:

While you have moved into newer categories in foods, bakery continues to be the big driver for you. Will the mix change going forward?

That remains our endeavour. If you look at the food pyramid in India, the largest is cereal and cereal-based products. We are there with our baked snacks. Mind you, we dominate baked snacks that are sweet.

As far as baked snacks that are savoury, we will enter that segment on our own terms. If you look at the next level in the food pyramid, it is milk and milk-based products. We are there with our dairy products.

Of course, there are many more opportunities in the packaged foods market. We have to pick and choose those opportunities where we can create differentiation and therefore have some sort of a competitive advantage over others. We have to help consumers find enough reason to buy our brands.

It must be difficult given the competition and inflationary pressures dogging food companies at the moment.

We have the share especially in the core category of biscuits. The point is we have to put more profit into that share now. So revenue and cost management are critical parts of the strategy to drive profitability.

But the big leg continues to be innovation. How do you stand out of the crowd if you don't have an innovative bunch of products backing you? Take cheese, for instance. We don't just sell cheese in slices, but have cubes, flavoured cubes, cheese spreads, imported cheese etc.

In beverages, we have taken the route of dairy-based beverages in single-serve bottles, infused them with micro-nutrients,
so that it is both tasty and healthy. This we have done under the Tiger brand name.
We will now start the distribution of Britannia Chaas, that is, buttermilk, in single-serve bottles in Mumbai. We move to other cities post our launch in Mumbai.
Most food & beverage categories are moving from in-home to out-of-home consumption. Your take on this.


That is true. Single-serve packs certainly give you the opportunity to take consumption out of the home. It is more of consumption on the go.
We did that in biscuits, for instance. Till a few years ago, packs would consist of 12 to 15 biscuits. The moment you did that, such packs became grocery items that your mother or family member would pick off the shelf, not something that you could quickly consume while on the move.
With single-serve packs containing may be three biscuits, it drove personal consumption. Though volumes have been impacted thanks to the slowdown in discretionary spends, the number of packs have actually gone up significantly.
This is an interesting point, which is linked to this need for personal consumption driven by price points such as Rs 5 and Rs 10, which are critical in the fast moving consumer goods (FMCG) industry.
With the government introducing standard packs in 19 categories including biscuits and dairy, and inflation showing no signs of abating, will the pressure to take up prices increase?


Pricing is a dynamic variable. On an annualised basis, we have taken up prices by about 4-5 per cent. We continue to monitor the situation and will review our pricing accordingly.
We still have the flexibility to tweak with grammage for packs up to 50 grams. Anything above that, yes the flexibility to tweak with grammage does not exist any longer.
We will have to look at what happens with food costs before we take any call on pricing. There is also the aspect of fuel.
When you are operating in an inflationary environment, you cannot be holding prices. That is true. But at the same time we have to consider all variables before taking a price hike.