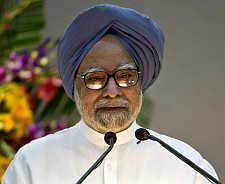 India regards Indonesia as one of its most important partners in the neighbourhood, Prime Minister Manmohan Singh in an interview he gave to the Indonesian newspaper Kompas on the eve of his visit to the nation.
Prime Minister Manmohan Singh left Brunei Darussalam on Thursday for the second leg of his overseas tour that will take him to Jakarta in Indonesia.
"My visits to Brunei Darussalam and Indonesia will further intensify our engagement to our East, which has been at the forefront of our foreign policy, and contribute to peace, prosperity and stability in the Asia Pacific," the prime minister had said before his departure from New Delhi.
India regards Indonesia as one of its most important partners in the neighbourhood and a key constituent of India's Look East Policy, he told Indonesian newspaper Kompas in an interview ahead of his visit.
Here are the excerpts from the interview:
India and Indonesia share old civilisational links and now we are strategic partners. What are the main expectations from your visit to Indonesia?
We regard Indonesia as one of our most important partners in our neighbourhood and a key constituent of India's Look East Policy. Our two countries are among the most populous in the world. We are both pluralist democracies, which share many interests, including maritime security and emergence of a peaceful, stable and prosperous Asia. There is enormous potential for bilateral cooperation across a broad range of areas, including trade and investment, based on our civilisational linkages, which led not only to a fusion of art and culture, but also to a confluence of ideas, values and social ethos. The Ramayana and the Mahabharata, the architecture of ancient temples and stupas, similarities in designs and motifs of handloom textiles, respect for the elderly and the wise – all are our shared heritage. The leaders of our two countries also shared their experiences during our respective freedom struggles, forged Afro-Asian solidarity and led the Non-Aligned Movement.
Our relationship has flourished as a robust, multi-faceted strategic partnership today. We work closely in regional, multilateral and international fora such as the UN, NAM, G-20, EAS and other Asean mechanisms, IOR-ARC and WTO. President Yudhoyono's visit to India in 2011 added greater momentum to the relationship. I am keenly looking forward to my own visit to consolidate and deepen the strategic content of our relationship, strengthen trade and investment relations, and broaden people-to-people linkages.
Trade between India and Indonesia stands at $20 billion. In the context of downturn in the global economy, how do you think the trade/investment relations between our countries can be improved upon? What are core sectors for a fruitful India-Indonesia engagement?
The trend in bilateral trade is positive, though trade saw a minor dip in 2012-13 on account of the global financial situation, and stood at $20 billion. We are confident of achieving the bilateral trade target of $25 billion by 2015. We believe the potential is much higher. We should diversify our trade basket, resolve impediments to trade and investment and encourage higher flow of investments in both directions. A bilateral Comprehensive Economic Cooperation Agreement will open up the potential on both sides and provide strong impetus to growth.
The early signing of ASEAN-India Services and Investment Agreements, negotiations on Regional Comprehensive Economic Partnership and emergence of an ASEAN Economic Community by end-2015 would also have a positive effect on our trade and investment relations with Indonesia.
Our imports from Indonesia have largely been from extractive industries, which should be diversified. India could be a significant source for a broad range of goods, including agro-products, automobile components, engineering goods, IT, pharmaceuticals, meat and meat products and biotechnology products.
Indian companies view Indonesia as an attractive investment destination. We already have significant investments in your country in infrastructure, power, textiles, steel, automotive, mining, banking and FMCG manufacturing. All prominent Indian companies, including Tata, Birla, Reliance, SBI, and many others have a presence in Indonesia. In comparison, Indonesia's investment in India is relatively limited. I invite Indonesian companies to look at the immense investment opportunities that India offers in the infrastructure, logistics, hospitality, and services sectors. It would be of mutual benefit if Indonesia invites Indian investments in education, healthcare, pharmaceuticals and port development.
What are the main agreements/MOUs, which are going to be signed during the visit?
Both sides have prepared a number of MoUs to be concluded. Some of them are between government ministries and agencies, and others are between educational and training institutions. These will reflect the multi-dimensional character of our relationship.
The Asean community will come into force in 2015. India successfully hosted the India-Asean Commemorative Summit in December 2012. How do you see India's role in the ASEAN community?
I am arriving in Jakarta directly from Brunei, where we held the 11th ASEAN-India Summit. I have said on many occasions that our engagement with ASEAN remains the cornerstone of our 'Look East' policy. We admire the progress in ASEAN cooperation and integration, and ASEAN leadership in forging broader regional cooperation and integration. We firmly believe that ASEAN centrality in that process is important for the evolution of a cooperative, rule-based open and inclusive regional architecture. We value Indonesia's leadership role in ASEAN and ASEANcentric processes. We have elevated our relationship to the level of a strategic partnership during the Commemorative Summit we held in New Delhi in December last year. Our engagement with ASEAN covers the full spectrum of political, security, economic and socio-cultural cooperation.
We are keenly following the evolution of the ASEAN community by 2015, and remain committed to extending all possible assistance. Our focus has been on capacity building and on connectivity. We have established several entrepreneurship development centres, centres for English language training, IT centres and vocational training centres in CLMV countries. We offer more than 1000 scholarships to ASEAN countries. We are actively engaged in connectivity initiatives -- both physical and institutional -- to bring India and the ASEAN closer, including through our initiative to build the India-Myanmar-Thailand Trilateral Highway and our support to the ASEAN Master Plan on Connectivity.
China has become a dominant partner in the Asia Pacific region. In this context how do you see India's role in the Asia Pacific region? How can the Asia Pacific region become a strong alliance amidst the seeds of regional disputes, border issues and other issues between Japan and China and India and China?
India and China are two civilisational neighbours. Economic cooperation constitutes a very important part of our relationship and the growth potential of our two economies can provide the engine for greater cooperation and can also contribute to prosperity in Asia and beyond. We have had differences, but we have steadily built a mature and mutually beneficial relationship. We have maintained peace and tranquility on our borders. We also collaborate on a range of regional and global issues.
I am convinced that there is enough space in the world today for cooperative efforts by all sides to meet their needs and aspirations. In this century, when global and regional inter-dependence are growing rapidly, cooperation, consultation and coordination, as also respect for international law and resolution of differences through peaceful dialogue, are indispensable for the peace, security and prosperity of all countries. Regional forums can play a useful role in this process. We, therefore, see immense value in the East Asia Summit, ASEAN Regional Forum, ADMM+ and other cooperative mechanisms in the region. The Regional Comprehensive Economic Partnership is also a major initiative with great promise for our region.
The Indian economy is in a downward spiral from a high growth. Apart from the global recession affecting most developing economies, what have been the main reasons for the sluggish performance of Indian economy?
If you leave aside last year's economic performance, in the previous nine years, the Indian economy has grown at an average annual rate of about eight per cent per annum. This is the highest rate of growth achieved by India in any previous decade. Last year, our growth rate declined to about five per cent, partly because of the recession in the global economy, including the Euro zone and slow growth in US and Japan. India imports nearly 80 per cent of its oil requirement and rising oil prices and slump in exports have hurt our trade balance. There are also some supply side bottlenecks in India, which we are addressing through policy and administrative reforms.
However, our economic fundamentals remain strong. Our savings and investment rates are still over 30 per cent of GDP. Given our capital output ratios, we can restore the growth momentum to eight per cent per year in the short to medium term. We have taken a number of reform measures to boost domestic investments, attract more foreign investments, strengthen the financial sector and improve and simplify the tax regime. We have launched a broad range of entitlement programmes for the vulnerable sections of our population that require special attention of the government. And we are purposefully addressing the fiscal and current account deficits. At the same time, we will persist with our open trade regime. I am confident that the impact of these measures will be visible soon.
The free fall of the Indian rupee has been a matter of concern. The Indonesian rupiah has also depreciated. What are the precautions/measures we need to take as developing countries to bring about stability in the currency?
Emerging economies have been affected by the prolonged global economic crisis and uneven and uncertain recovery. Slowdown in our exports and in inward flow of investments has affected growth and balance of payments. The unconventional monetary policy followed by major developed countries and expectations around its reversal had induced huge volatility in the financial and currency markets. India and Indonesia are part of the G20. The need for enhanced international coordination and communication on policies was emphasised at the G20 Summit in St Petersburg in September. Sustained global economic recovery will benefit emerging economies.
However, each of us also needs to take appropriate national measures to accelerate economic growth, attract foreign investments and boost exports, including by leveraging the competitiveness generated by currency depreciation.
India and Indonesia are gearing to elections in 2014. What are the main issues concerning the people of India which will influence the voters?
We are both strong democracies and elections are a way of life. In today's India, the electorate of close to 800 million is educated and politically well-informed. Many are young and full of energy, enterprise and ambition. They seek a better life for themselves and their children through access to opportunities, jobs, education, skill development, food and health care. All these issues are bound to figure in the run-up to the elections.
India has been playing a big role in development partnership, especially in establishing vocational training centres, training and education. What do you think can be done to make it more effective?
India is a developing country, focused on national development and improving the living standards of it people. At the same time, we are happy to partner in the development efforts of other countries by sharing our experience, expertise and resources in whichever way we can. Human resources hold the key to a country's success. That is why we have laid emphasis on education, training and institutions in our development partnership. We also make a modest contribution in infrastructure development in our partner countries. We have committed, for instance, $9.5 billion in concessional assistance to African countries.
Currently, we offer around 100 scholarships to Indonesian students and officials under various schemes and Indonesia also offers such scholarships. We have also set up chairs of Indian studies in Indonesian universities. Every year, we invite many students, academics, scientists, think tanks and media persons from Indonesia to visit India. We have set up two VTCs in Indonesia, in Jakarta and Banda Aceh, which are doing well, and are ready to set up a similar center in Papua. The recently established the Development Partnership Agency in our ministry of external affairs is providing a new focus to our international development partnership efforts.
I believe that dynamic emerging economies such as India and Indonesia should share their development experience and expertise as this can be more relevant and effective in promoting economic development in the more vulnerable regions and countries of the world.
Source: Kompas newspaper