This is yet another large energy deal for Warren Buffett in the western United States.


A Berkshire Hathaway Inc unit will pay $5.6 billion for NV Energy Inc, the electric utility serving Las Vegas and its power-hungry casinos, in yet another large energy deal for Warren Buffett in the western United States.
Berkshire's MidAmerican Energy Holdings Co said on Wednesday it will buy NV Energy for $23.75 per share, a 23% premium to NV's Wednesday closing price. NV Energy shares rose to $23.90 in after-hours trading on Wednesday.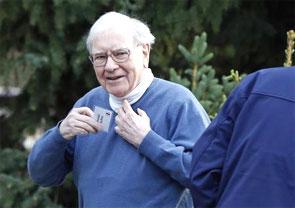 It is not uncommon for shares in Buffett's target companies to trade slightly above the offer price, even where there are no competing bids and Buffett has said explicitly the offer is his best and final one.

"Berkshire has a lot of cash earning very little. If this is a $5.6 billion cash deal, then Berkshire turns low-yielding cash into $330 million of earnings," said Steve Check, president of Check Capital Management, an investment advisory firm, referring to NV Energy's earnings over the last 12 months.

"Nevada has historically been a fairly fast growth area," Check said. "Add it all up, and I'm sure this will be another good, safe investment for Berkshire."

NV Energy, which is based in Las Vegas and serves about 2.4 million people in Nevada, said last month it would accelerate the retirement of its coal-fired power generating facilities and the construction of natural gas and renewable power plants.

"We are pleased to make a long-term investment in Nevada's economy," Buffett, the billionaire investor who is Berkshire Hathaway's chairman, said in a statement.

In 2006, MidAmerican paid $5.1 billion for PacifiCorp, which serves California, Idaho, Oregon, Utah, Washington and Wyoming.

The deal is also complementary to recent MidAmerican investments in renewable energy, including some big bets next door in California. MidAmerican is building the world's largest photovoltaic solar power plant in San Luis Obispo County, as well as a 160-megawatt geothermal plant near the Salton Sea.

NV Energy has just passed 1 gigawatt of renewable energy, with a target of 25% renewables by 2025, and is the largest user of geothermal energy in the United States.

Once the NV Energy deal is complete, MidAmerican will have assets of about $66 billion and its regulated electric and gas utilities will serve 8.4 million customers.

According to a filing with US financial regulators, NV Energy will have to pay MidAmerican $170 million if it terminates the merger under certain circumstances.

The deal is expected to close in the 2014 first quarter.

Lazard served NV Energy as financial adviser, while Sidley Austin LLP, Hogan Lovells and Reno-based Woodburn and Wedge were its legal advisers.