The world's largest retail chain, the $446-billion Walmart, is likely to be the first international player to take off in India with its supermarket format. The Bentonville-based US giant is, in fact, ready with a network of 195 stores across India if it decides to extend its back-end and cash-and-carry partnership with Bharti Enterprises to front-end retail.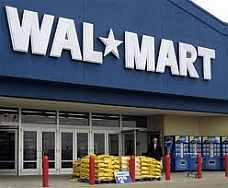 Bharti's retail chain, Easy Day, operates 195 stores in various formats in the country. Walmart entered a joint venture with Bharti in 2006 to provide back-end support to the Indian group's retail stores and also to set up cash-and-carry or wholesale outlets.

On Friday, the Cabinet cleared 51 per cent FDI (foreign direct investment) in multi-brand retail, making way for Walmart to invest in front-end retail stores. It, however, left it to individual states to take a call on where FDI in retail should be permitted.

Of the 195 Easy Day outlets, 47 are located in states (Uttar Pradesh, Chattisgarh, Karnataka, Madhya Pradesh and Himachal Pradesh) against foreign investment in multi-brand retail. Also, another 69 stores are in Punjab, being ruled by the Akali Dal-BJP combine. Punjab is yet to arrive at a decision on whether to allow multi-brand retail FDI, but is likely to say 'yes' some time soon.

Besides the states' decision, multi-brand foreign retailers will have to adhere to a clause on a minimum population of a million in a city to have a store. An area of 10 km around the municipal/urban limits of such cities would also be covered.

The Bharti group did not share information on the specific cities where its stores are located, but Easy Day operates in more than 100 cities, many of which have a population of over one million.

Speaking to Business Standard, Rajan Bharti Mittal, vice-chairman and managing director of Bharti Enterprises, said Easy Day was likely to be the front-end for the retail
JV that the two may sign soon.
Mittal refused to speculate on the quantum of equity Bharti and Walmart would hold in the retail chain. "For 10 months, FDI in multi-brand retail has been in limbo and we haven't had any talks," he said.
Last November, after the government had cleared FDI in multi-brand retail, before it put the decision on hold due to political opposition, Mittal had said the Easy Day brand was established in India.
"Brands are something you create, and don't want to lose," he had said when asked about the renaming of Easy Day to include Walmart in the nameplate of the store.
"FDI is only a financial transaction," pointed out Arvind Singhal, chairman, Technopak Advisors, while explaining why Walmart's technical and operational expertise was already available to Easy Day. The store format or its brand name had nothing to do with FDI, he added.
While Walmart is known for its hypermarkets spread over 100,000 to 200,000 sq ft, Easy Day stores are more like supermarkets with 20,000 to 25,000 sq ft area. "In India, you don't get real estate to open those hypermarkets," Singhal said.
Besides Walmart, international majors such as French chain Carrefour and the UK's Tesco have also been waiting in India for FDI to come. Tesco offers back-end support to Star Bazaar, operated by the Tata-owned Trent. There are 15 Star Bazaar stores in the country.
The states/union territories favouring FDI include Delhi, Assam, Maharashtra, Andhra Pradesh, Rajasthan, Uttarakhand, Haryana, Manipur, Daman & Diu and Dadra, Nagar Haveli, according to commerce and industry minister Anand Sharma. Jammu & Kashmir was also endorsing it through press statements, he said.
Those opposing the move are Bihar, Karnataka, Kerala, Madhya Pradesh, Tripura and Odisha. West Bengal has not been named in the list, though its chief minister and Trinamool Congress leader Mamata Banerjee has threatened to pull out of the UPA coalition if the retail FDI decision is not rolled back.