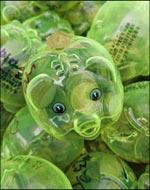 Walden International, a leading global venture capital firm, announced on Friday the successful closing of a $6 million Series A round for BankBazaar.com.

Walden International was the sole investor for this round.

Founded by Arjun Shetty, Rati Rajkumar and Adhil Shetty, BankBazaar.com is a leading financial services, technology and Internet play that enables consumers to avail of the best possible deals whilst applying for loans online.

Superior technology enables in real-time processing of applications, which is a big differentiator.

"Currently, the process of applying for loans in India, from finding the best deal, applying and getting it processed is cumbersome and time consuming. BankBazaar.com's solution not only helps the consumers in getting the best deals on the loans online, but also provides end-to-end fulfillment by enabling online processing of loans. No one in India is offering end-to-end fulfilment online, making BankBazaar.com's proposition unique. It also helps banks in reducing the turn-around-time, enriching customer experience and reduces costs. This is a win-win situation for both banks and consumers. This makes the BankBazaar.com's model extremely attractive." commented Rajesh Subramaniam, managing director of Walden India, who joins the board of directors.
Commenting on the investment, CEO BankBazaar.com, Adhil Shetty said "We are very excited about Walden joining BankBazaar.com as an investor. We believe Walden's track record in helping scale companies globally and their extensive network and experience in the financial services industry in India will benefit us significantly. The funding will help us in enhancing our reach to consumers and offerings across loan and insurance products, thus enriching customer experience. We will also leverage this investment to grow our world class team of financial services and technology talent . The opportunity to fundamentally shape financial services delivery in India lies ahead of us and we will bring on board the best talent globally to drive this change."