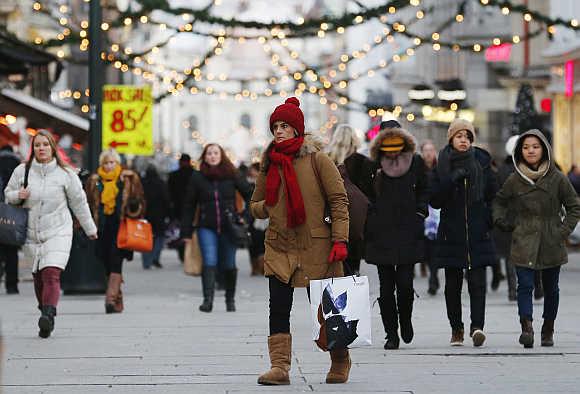 Norway will soon feature in the list of few countries whose nationals get Visa on Arrival facility in India, President Pranab Mukherjee said in Oslo on Tuesday.
"I am pleased to inform you that Norway will feature in the list of few countries to be soon granted the facility of Tourist Visa on Arrival which will greatly facilitate travel for Norwegian citizens to India," Mukherjee said in his speech at a seminar on Business, Science and Technology in Oslo.
The Indian government had in January 2010 launched VoA scheme to attract more foreign tourists to India.
Initially the scheme was introduced for citizens of Finland, Japan, Luxembourg, New Zealand and Singapore visiting India for tourism purposes.
The government later extended this scheme to the citizens of Cambodia, Indonesia, Vietnam, the Philippines, Laos, Myanmar and South Korea.
In his recent visit to the US, Prime Minister Narendra Modi had announced Visa on Arrival for American tourists.
President Mukherjee, who is on state visit to Norway, said India and Norway need to facilitate exchange of students and faculty between them.
"We also need to create an ecosystem that shall facilitate exchange of students and faculty between our two countries and also nurture innovation and enterprise through joint courses and degrees," he said.
Mukherjee also expressed happiness over signing of memorandum of understandings in various crucial areas, including one on diplomatic visa waivers between the two countries.
"I am extremely happy to note that India and Norway are signing several MoUs and Agreements designed to further collaboration between our governments in areas such as diplomatic visa waivers; research and development; joint knowledge sharing programmes; exchange of faculty, scientists and research scholars; and exchange of research materials and information," the President said.
Image: Shoppers walk along Karl Johans Gate, the main shopping street in Oslo, Norway. Photograph: Suzanne Plunkett/Reuters