The e-visa authority project, allowing entry without a physical visa, has overshot the October 2 deadline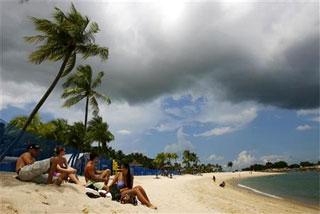 The National Democratic Alliance (NDA) government's plan to issue visa-on-arrival to US citizens may face logistical hurdles, sources said. While the number of tourist arrivals from the US is high, the infrastructure in India is not sufficient to handle the rush, they pointed out. In 2013, India hosted 1.85 million visitors from the US, which accounted for 15.58 per cent of total foreign tourist arrivals. The number of visitors from the US grew 4.4 per cent last year, from that in 2011-2012.

In fact, overall, the government's move to ease entry of foreign tourists into India is likely to take longer than planned. The proposal for an electronic travel authority (ETA) or e-visa to multiple countries, allowing entry through an electronically-stored authorisation and without a physical visa, has already overshot the October 2 deadline.

The previous UPA government had announced the proposal earlier this year, but NDA set the October target. Another step, to expand the list of countries on the visa-on-arrival (VoA) list beyond the current 12 is also witnessing delay. Officials associated with the second project indicated the list might not be increased significantly by December 2014, as had been projected earlier.

The delay in these could hurt the peak tourism season in India, that began in September and will go on till March.

The ETA portal is being developed by National Informatics Centre (NIC), which had been told to have it launch-ready by October 2. The list of countries to be added to the VoA list, yet to be finalised, is still being deliberated on between the ministries of home affairs (MHA), tourism and external affairs (MEA), officials said. The infrastructure support, in terms of personnel, comes from MHA through the Bureau of Immigration.

An NIC official involved with the launch of the portal said ETA was currently being tested and was almost ready but "dates can change based on decisions from the MHA".

Regarding VoA, an official in the ministry of tourism said the first phase, expected in October-November, will not have more than 35-40 countries being given the nod. Approvals have to come from the Intelligence Bureau, MHA and MEA for extending the list. Discussion continues between the three government bodies.

MHA
officials were not available for comment on whether the current immigration infrastructure and personnel strength was adequate to handle a larger number of foreign tourists. The number of foreign tourists with VoA in August grew 59.7% when compared to the same period last year, to 2,705 from the earlier 1,694. During January-August, a total of 17,120 visas on arrival were issued as compared to 12,176 during the corresponding period of 2013, up 40.6%.
Finance Minister Arun Jaitley, in his Budget speech in July, had announced e-visas would be issued at nine Indian airports. "This will facilitate visas on arrival," he had said. "We will begin the facilities in a phased manner."
However, the nine airports are yet to be announced. There's a need to deploy more resources at these nine airports to deal with greater inbound numbers, an official pointed out. Indira Gandhi International Airport in this city has 48 immigration counters, of which five are earmarked for VoA. "It takes 20 minutes or upwards for foreigners to clear immigrations in the VOA queue," said an executive at the airport.
With overall foreign visitor arrivals rising, the new steps around visa relaxation are expected to give tourism a boost. There was a growth of 16.9% in foreign tourist arrivals in August 2014 over same period in the previous year. There were 569,000 such arrivals in August 2014 as compared to 486,000 in August 2013.
Now, apart from the proposal of adding USA to the list of 12 countries that can avail VoA, there is also the added operational responsibility of extending benefits to people holding the Person of Indian Origin (PIO) card. Modi had announced that people with a PIO card will enjoy the benefit of getting a lifelong visa to visit India along with exemption from having to report to police stations during their stay.
Currently, only the Overseas Citizenship of India (OCI) card allows visa-free travel and exemption from local police registration. People who were Indian citizens, or whose spouses, grandparents and parents were, before 1950 can hold an OCI card. However, the NDA government has plans to merge the PIO and OCI cards soon.
"We will also merge the PIO and OCI schemes in due time," – Modi had announced in his Madison Square Garden speech.
While structural changes to internal security seem imminent to facilitate this move, it remains to be seen whether the existing infrastructure and policy measures are robust enough to cope with a greater tourist influx.