'The whole country has to aspire to move up. They should look at their neighbours, see where they are, and should work to get there.'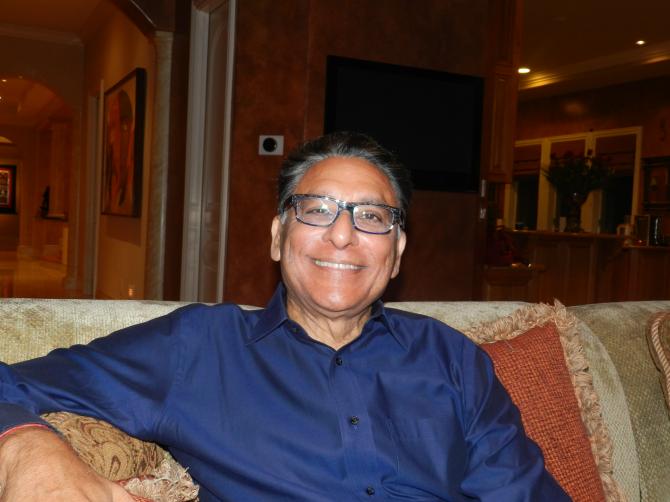 Vinod Dham, the Father of the Pentium chip, entrepreneur and mentor, says Prime Minister Narendra Modi visit to Silicon Valley was about him learning how innovation takes place there as well as to symbolically show he understands
that India's future lies in enhancing innovation and improving and cultivating innovation in the country.

Speaking to Rediff.com, Dham said whether Modi calls it 'Digital India, Start Up India or Stand Up India', "I hope he understands what's the secret behind Facebook, Google, Intel developing the Pentium chip, and what the government
can do."
Asked for his views on Modi's 'Make in India' project and whether India is prepared for it, Dham said, "America went to China 30 years ago to set up manufacturing, the Chinese did not learn manufacturing on their own. So the same thing could happen in India and it is happening. But focus is needed."
"We need a person to 'think' about this, that something needs to be done. Secondly, a person needs to 'express' that it needs to be done. And both those things are absent so far," Dham lamented.

But he seemed hopeful that at least there has been some desire in doing the above things.

"The third thing is to 'implement', and that is where I think lies the biggest challenge," said Dham. "Is he (Modi) going to be able to convince his ministers and other bureaucrats that look, this is not what we just say, this is what we do. And that remains to be seen, because they have just beginning to implement and it will take awhile."

Pointing to the previous government, said there was a vacuum and investors had no idea what was going on.

"Now the whole country has to aspire to move up. They should look at their neighbours, see where they are," Dham said, "and should work to get there."

"I think they also have to follow the Silicon Valley mantra, fail often and fail fast," said Dham.

The government should stay away from innovation, but should stay in the process, making sure they facilitate so that innovation takes place, said Dham.
About the government getting into venture capitalist shoes, in the context of Finance Minister Arun Jaitley announcing an 'India Aspiration Fund' with a corpus of Rs10,000 crores in Union Budget 2014-15, Dham said he was concerned about it because he knows it's a risky business.
"Instead the government should spend that money on funding research universities, that is lacking in India."

"Then in the long term India will have a different environment and that will change our country amazingly, with creativity, certainty and innovation.
It will raise India's level to the world's," Dham signed off.