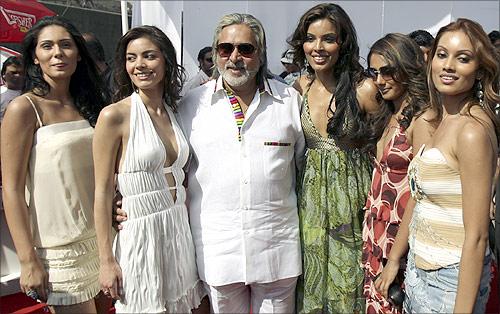 'I used to tell my wife to pack extra food in my tiffin so that I could at least offer that to my colleagues who were living on vada pav.'
'Because of his lifestyle, he never suffered the way we suffered. The miseries and crises of life which we saw, he will never see.'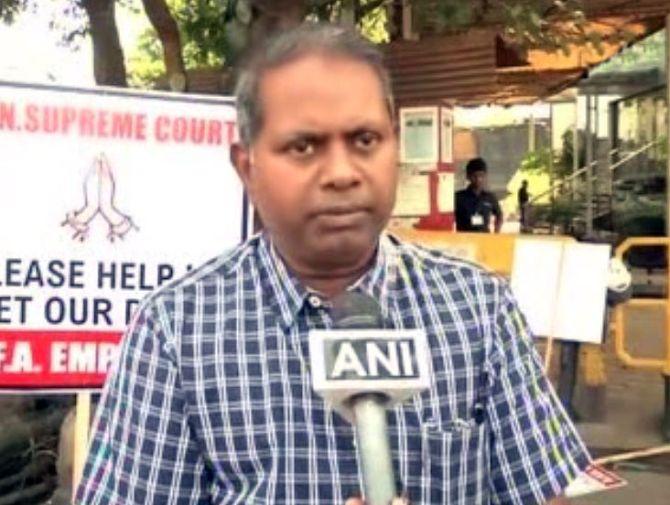 Anirudh Balal, image, left, who worked as a senior manager, airport services and liaison, at Vijay Mallya's Kingfisher Airlines for eight years, speaks to Syed Firdaus Ashraf/Rediff.com about how his life was ruined after the airline ran into rough weather:
'I joined Kingfisher Airlines in January 2005 when it was a very strong company (financially). Before joining Kingfisher Airlines, I was working with the Hotel Corporation o India, an Air India subsidiary.
I had great expectations from Kingfisher. The product was excellent and, till date, I don't see any other airline coming close to Kingfisher in terms of product and services.
Initially, Dr Vijay Mallya concentrated on the airline very well. However, he did not realise that he was spending too much money which the product will not be able to recover.
He was going too fast. He took haphazard decisions at that time. For example, he launched a low cost carrier and later realised that people want to fly business class. He introduced business class five months later, after the airline was already launched.
The Airbus aircraft being used by the airline did not have business class seats. Therefore, it was flown to Switzerland to change the seats.
Another big mistake was committed during the modification of the aircraft, an Airbus A320. Most airlines worldwide have eight seats in business class in two rows. However, Kingfisher put 20 big seats in business class of an A320 which occupied 40 per cent of the aircraft's space. These seats were booked only during peak season. Otherwise, there were hardly any passengers travelling in business class.
Dr Mallya was going too fast. He used to say at staff parties that he wanted to make Kingfisher the biggest airline in India within five years. He said in the first five years, he will buy 100 aircraft.
From May 2011, we started facing problems as our salaries started getting delayed. First, the date of salary credit was pushed to the 7th of every month from the 1st. Then, salaries started getting delayed by a month and, later, by three months.
Dr Mallya was saying he was trying to get some investors from abroad, but he failed. He lobbied hard to get 49 per cent foreign direct investment, but the opportunity was taken away by Jet Airways.
When salaries started getting delayed, we began having a tough time.
I have three daughters and they were all studying at that time. One of my daughters was in the United States pursuing a pilot training course. I found it difficult to even send money to her. She had to work part-time in supermarkets and hotels to fund her lifestyle.
In India, my other two daughters were studying in colleges and I had no money even to pay for their transport. And it was getting worse as I was the only earning member of the family. I had also taken a loan from the bank for my daughter's pilot training programme.
Everything went haywire after Kingfisher closed down.
My daughter did not get a job after returning from the US as, after the closure of Kingfisher, there were already many experienced pilots in the market without jobs and the then civil aviation minister Ajit Singh told other airlines to accommodate Kingfisher pilots.
Therefore, no new pilots got jobs during that period and my daughter had to forego her ambition. Even today, she is barely earning something on the ground. Her flying licence too has expired.
I could not repay her education loan and, therefore, I started getting notices. I took a loan of Rs 1,328,000 and could not pay the EMI (equated monthly installments) because of non-payment of salaries. Every time I received a notice from the bank, I felt ashamed.
My parents came to my rescue. They broke their fixed deposits and gave me money. Consequently, today they have no money and I am trying to support them financially.
I finally resigned from Kingfisher in November 2012 because I did not see any ray of hope of this airline getting revived.
But I was not paid my due salary and not even the gratuity although I had worked with the airline for 8 years.
During those days, I suffered hypertension and went into depression. I was only 43 years old at that time. I had to maintain my house and support the education of three daughters.
I showed a brave face to my family, but privately, I cried a lot. There were other Kingfisher staffers who did not have any money and had to support their elderly parents.
I used to tell my wife to pack extra food in my tiffin box so that I could offer that food to my colleagues who were living on vada pav.
The air-hostesses and other staff working at my office were not able to pay their house rent. Some of them were thrown out by their landlords. This was the plight of Kingfisher employees.
Worse, we used to see Dr Mallya partying when we were not getting even our salaries. The management used to come and give us false hopes. We used to get e-mails that this is a temporary aberration and we will come back with flying colours.
The talks never ended and finally Kingfisher shut down its services on September 30, 2012. The last Kingfisher flight flew from Delhi to Mumbai and after that, engineers across India went on strike.
After that, Dr Mallya declared a partial lockout of the company. The employees went on a strike and never returned on duty, especially the pilots and engineers.
When I went to the office, we consoled each other. Had I sat at home, they would have marked me absent. It continued till November 2012. Finally I found another job.
Many Kingfisher employees did not get a job. Many air-hostesses, who worked with Kingfisher Airlines, never got a job because they had crossed the age limit.
The only people who got paid in Kingfisher Airlines were the employees who worked in the accounts department.
However, the foreign staff was paid salaries on time. We had eight foreign stations and employees working at all those destinations were paid. Dr Mallya never kept any salary of the foreign staff pending.
In London, he also paid compensation to the staffers with dues, but here in India we were not paid even the basic salaries.
Even today, I hope to get my outstanding salary. All staffers have united. Now we are getting support from the media and we are appealing to the government that whatever money is recovered from Dr Mallya, it needs to be paid to former Kingfisher Airlines employees.
There is a provision in the law that if any money is recovered from a defaulter businessman, it has to be paid to the employees whose salaries are due.
Almost 2,000 former kingfisher Airlines employees across India are in touch with each other. We are chipping in Rs 1,000 each to pay for the legal expenses to fight our case against Dr Mallya.
I feel sad that because of his lifestyle and other activities, he never suffered the way we suffered. The miseries and crises of life which we saw, he will never see.
I think he will stay in the UK or some other country. He will enjoy his life and so will his children and his grandchildren.
As for us, he has completely ruined our lives.'