Vedanta group is likely to close its 1 million tonnes alumina refinery at Odisha's Lanjigarh from Wednesday, a move which would affect about 7,000 jobs in the Eastern state.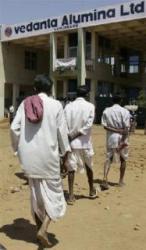 The mining conglomerate, which runs the alumina refinery through an unlisted subsidiary, Vedanta Aluminium Ltd (VAL), had given a closure notice to the state government three months back citing severe shortage of bauxite as the primary reason for the shutdown.

"Suspension of operations (of Lanjigarh alumina refinery) is imminent from December 5 due to non-availability of bauxite. We can not help it, Odisha government is yet to give any assurance on bauxite availability. In its absence, running the plant is not sustainable," a senior company official told PTI.

He added that "we had given a 3-month notice in September to the state government to close operations from December 5 and we are sticking to that date. For last several months, we have been running the plant at lower capacities and incurring losses."

VAL, in its closure notice to Odisha's labour and industries department served on September 5, had said that running the alumina refinery is no longer sustainable "unless Odisha government finds a solution for supply of bauxite."

"The shutdown of refinery is likely to impact 2,500 workforce directly and 4,500 persons indirectly," he further said.

He, however, clarified that "we are not thinking of any retrenchment at the moment."

The company has invested Rs 50,000 crore (Rs 500 billion) in the refinery along with an aluminium smelter of 1.5 mtpa and a captive power plant.

Top officials of Vedanta group, including its chairman Anil Agrawal and VAL's managing director S K Roongta, had also met Chief Minister Naveen Patnaik and state chief secretary in the last 3 months to seek an alternate supply arrangement of bauxite.

According to Vedanta, the Lanjigarh refinery was meant to use high-grade bauxite, which is available in the mines of Odisha and runs on environment-friendly low pressure and low temperature technology.

"We had constructed the refinery on the
premise that bauxite will be sourced from the state itself. However, that promise is yet to be fulfilled. Only one mine - Damanjori of Nalco, which is a PSU - has become operational in the state in last 25 years," the Vedanta official said.
Alumina is the intermediate product to produce aluminium. Three tonnes of bauxite is required to produce one tonne of alumina and half a tonne of aluminium can be extracted from one tonne of alumina.
At about 1.7 billion tonnes, Odisha has nearly two-third of India's total bauxite reserves. They are considered to be of high grade due to its low silica content.
To run the alumina refinery, VAL has a 25-year long off take agreement with Odisha Mining Corporation (OMC) for annual supply of 3 million tonnes of bauxite.
The raw material was supposed to be supplied from mines at the Niyamgiri Hills in the state, where the Supreme Court cleared mining in 2008.
However, the supply problem has continued for the company as mining at the Niyamgiri Hills was subject to approval from the environment ministry, which has not yet given its go-ahead.
Sourcing of bauxite from other states has increased the landed logistics cost for VAL to about Rs 2,300 per tonne, thereby increasing the alumina production cost to about more than Rs 19,000 per tonne.
Closure of Lanjigarh refinery will also impact VAL's aluminium smelter at nearby Jharsuguda, which has an installed capacity of 1.5 MTPA but has been running at 0.5 MTPA capacity. The company has invested Rs 50,000 crore on development of these units.
"Closure of Lanjigarh refinery will also impact VAL's aluminium smelter. Today we have been importing about 0.5 MTPA alumina to make the aluminium, now we will have to import more after closure. This will further increase the cost further," the official said.
According to a Vedanta statement of November 7, the Lanjigarh refinery had produced 423,000 tonnes in the April-September period, 6 per cent lower than the same period of 2011-12 due to "a lower availability of third-party bauxite".
In 2011-12, the refinery had produced 928,000 tonnes of alumina and had a capacity utilisation of nearly 93 per cent.