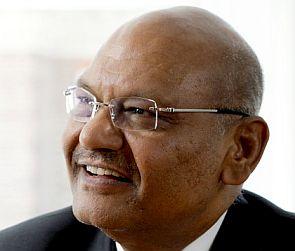 Anil Agarwal, chairman of the Vedanta group, has not started the New Year on a good note.
Sagging crude oil and commodity prices have resulted in the market value of the London-listed Vedanta Resources falling by more than half. In the last six months, Vedanta Resources has lost Rs 17,328 crore ($3 billion) or 57 per cent of its market capitalisation.
Its promoters, who own 70 per cent of the company, have lost close to Rs 12,000 crore in wealth. In India, barring Hindustan Zinc, the market capitalisation of Sesa Sterlite and Cairn India also fell by Rs 25,882 crore or Rs 258.82 billion and Rs 20,310 crore or Rs 203.10 billion, respectively, in the same period (see chart).
On Monday the company's loans were placed on watch with negative implications by Standard & Poor's because the rating agency expects weaker cash flows over the next two years.
"We placed the ratings on credit watch because Vedanta's cash flows are likely to be weaker in fiscals 2016 and 2017 than we previously expected because of falling oil prices," said Standard & Poor's credit analyst Mehul Sukkawala.
A downgrade would affect the company's fund-raising plans at a time when it needed money to bid for coal mines coming up for auction, analysts said.
Vedanta, which owns 60 per cent of its India holding company Sesa Sterlite, derives its income from the performance of its local companies and analysts expect the December quarter to be muted for the group.
"We expect results of Cairn India will be muted due to lower volumes and lower crude prices.
An update on the production ramp-up plan and clarity on extension of the production sharing contract are key," said an analyst with HDFC Securities.
Cairn India contributes 40 per cent to Vedanta's earnings before interest, tax, depreciation and amortisation (EBITDA).
IL&FS Institutional Equities estimates Cairn India's net sales will fall by 13.5 per cent, quarter on quarter, due to lower crude oil prices, but this will be partly offset by higher production and depreciation of the rupee.
It also expects Cairn India to report a 40 per cent year-on-year fall in EBITDA in the December quarter and a similar drop in profit after tax.
Investors were not happy when Cairn India provided a $1.25 billion soft loan last July to its parent Vedanta, which resulted in institutional investors pulling out of the counter.
On a positive note, Standard & Poor's said the weaker performance of Vedanta's oil business was likely to offset the benefits from an improvement in the aluminum business, higher zinc volumes and prices, and better conversion margins in the copper business.
"We expect sequential improvement in metal volumes. Sesa Sterlite will benefit from a ramp-up of new capacities and Hindustan Zinc will benefit from a recovery in mine production.
Despite higher EBITDA from aluminum and zinc, Sesa Sterlite's EBITDA will decline sequentially due to Cairn India," said an analyst with Kotak Institutional Equities.